| | | | | | | |
| --- | --- | --- | --- | --- | --- | --- |
| | 'Like' us on Facebook | Follow us: | | | | |
Posted on: May 14, 2014
Recalling Annamayya And His Immortal Devotion
- Talk by Padma Shri Dr. Shobha Raju
Even as devotees celebrate the 606th Birth Anniversary of the poet saint, Tallapaka Annamacharya (May 9, 1408 – February 23, 1503), we at Radio Sai are glad to offer you this transcript of a special programme to commemorate the same. Annamacharya or Annamayya was a saint, poet and composer who gave us not less than 32,000 songs in praise of his favourite form of God, Lord Venkateshwara, the Lord of Tirupati. Even as the contribution of Annamayya to the carnatic music firmament is unique, his songs, known better as sankeertans also serve as a reminder to men and women to stick to the righteous path. He was one of the earliest literary men of India to speak against discrimination and inequality based on one's caste. Unlike other composers, Annamayya's compositions are in very simple and lucid telugu making it easily comprehensible even to common folk, those for whom his advice was often meant for. Bhagawan Baba too on many occasions recollected the words of this blessed devotee in His discourses.

This special programme is being presented by Padma Shri Dr. Shobha Raju, an eminent musician, devotional singer, writer and composer, known as an exponent in Annamayya Sankeertana. She was granted a special scholarship by the Tirumala Tirupati Devasthanam in 1976 to research the works of Annamacharya. She later founded the 'Annamacharya Bhavana Vahini' (ABV) in 1983 with the motto: "Eradication of Thought-Pollution through Divine Music". One of the central motives of this organisation has been to spread the moral values so beautifully ensconced in the musical compositions of Annamayya. She was awarded Padma Shri by Government of India in 2010 in recognition of her efforts to promote Annamayya sankeertanas. What we offer you today is the translation of the curtain raiser episode of a series on Annamacharya Sankeertanas, to be aired on Radio Sai Telugu Stream, starting 14 May 2014. This was recorded in Radio Sai Studios in Shivam, Hyderabad in May 2014



Sairam to all the listeners of Radio Sai. I am grateful to Radio Sai for giving me this opportunity to share a few thoughts on the occasion of the 606 birth anniversary of the saint poet and composer Annamacharya. Let me begin by sharing with you some highlights on the life of Annamacharya and the message he gave to the world. Some six centuries ago Annamayya was born to cleanse the society through his musical compositions. His sankeertanas helped in eradicating the evil practices prevalent in the society then.
It was the year 1976. The Tirumala Tirupati Devasthanam awarded me their first scholarship to study the literature connected to Annamacharya sankeertanas and work out an action plan for the spread of his musical compositions. When I was studying the Sankeertanas and delving into the life of Annamacharya, a particular reference in a book caught my attention. It was related to the birth of Annamacharya. I would like to recite that poem for you. It runs like this - 'By the grace of god, Annamacharya was born to Lakkamamba, in the month of Vaisakha and with Visakha as the birth star.'

Chinnanna, the grandson of Annamayya, wrote the biography of his grandfather. And the poem, appears in that book. In those days, Tirumala Tirupati Devasthanam was only observing the death anniversary of Annamacharya. I requested the authorities to take note of the birth day of Annamayya and celebrate it fittingly. As the first lady artist commissioned by Devasthanam to spread the message of Annamayya, my first assignment was in 1978 to celebrate the birth anniversary of Annamacharya. I presented the life of Annamayya as an audio documentary and placed it at the lotus feet of the Lord.
The Essence of Vedanta for the Common Folk

Annamacharya composed 32,000 keertanas in praise of the Lord. Studying and understanding Vedas in Sanskrit is not an easy proposition. But Annamayya has filled his Sankeertanas with the essence of Vedas. If we understand the keertanas, it is enough to say that we have understood the essence of Vedas. That is why I prefer to call Annamacharya keertanas as 'Sankeertana vedam'.

If you want to communicate a message to others, instead of just saying it in words put it in the form of music, put it in the form of song and its impact will be greater and people will understand it much better. Annamacharya did just that. He did not simply add music to what he said, but the content itself was thought provoking and suffused with God Consciousness. His keertans were an antidote for the ills of the society. For example, discrimination on the basis of caste, was rampant in the society then.

Even though Annamacharya was born in a high caste, he understood the ill effects of discrimination on the basis of caste and hence tried to cleanse the society by providing poignant messages through the medium of his Sankeertanas. The sankeertana, 'Brahmam okkate, Parabrahmam okkate. (God is one, that Supreme God is only one)' depicts this message. This is in line with the Bhagawad Gita sloka, 'vidya-vinaya-sampanne brahmane gavi hastini suni caiva sva-pake ca panditah sama-darsinah. (The person with wisdom and humility by virtue of true knowledge, sees with equal vision a learned and gentle brahmana, a cow, an elephant, a dog and an outcaste.' Annamayya portrayed this thought in the form of a folk song. The essence of Upanishadic literature is revealed in this sankeertana in the opening three words 'brahmam is one.' Annamayya had the ability to put profound thoughts in simple words.

Bhagawan Answers a Prayer Through a Dream

In 1982, due to certain unavoidable circumstances, I had to shift my residence from Tirupati to Hyderabad. To fulfill the promise I had made to the Lord, of working towards the propagation of the Annamayya philosophy, in 1983 the Annamacharya Bhavana Vahini was set up. A person with no ability like me, needed God's grace to run this organisation. That time my father was insisting that I get married as I had two sisters also. I had a wrong notion that marriage would be a hindrance to my spiritual progress. The God of Seven Hills (Tirupathi Venkateshwara) would not talk to us, but Bhagawan Sri Satya Sai Baba is an Avatar, so I decided I will go and ask Bhagawan whether to marry or not and follow His command. I went to Puttaparthi. I was sitting in darshan line both morning and evening but Swami did not look at me for three to four days. I composed a few songs seeking the attention of Bhagawan. I said, 'Swami are You listening to me or should I increase my pitch to make it audible to you? You are God, are You not aware of what is going on in my mind?' But Swami did not answer my prayers, may be I have not reached that stage to receive His attention, I thought. Crestfallen I returned to Hyderabad.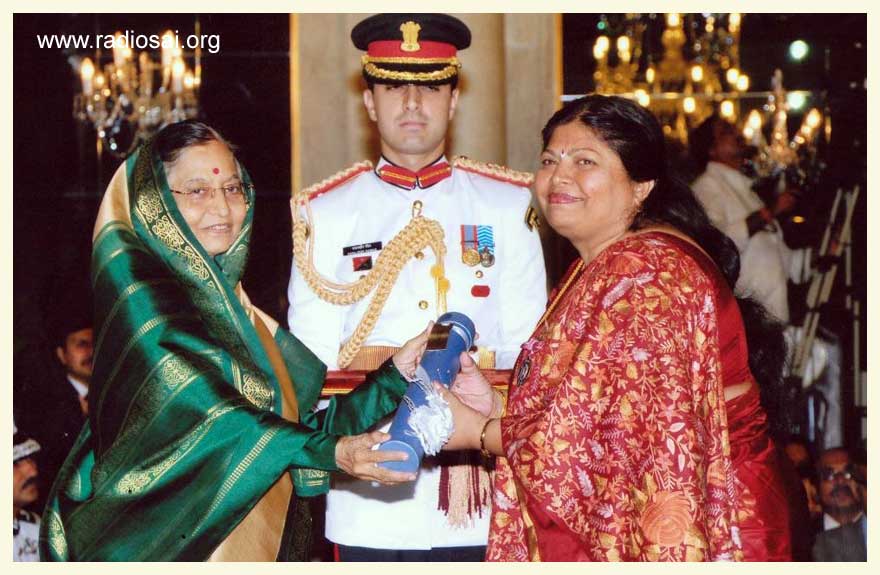 Dr. Shobha Raju receiving the prestigious Padma Shri award from the then President of India, Ms. Pratibha Patil
On one Thursday early morning, must've been two to three o'clock, I felt the fragrance of vibhuti in my room. In midst of that pleasant smell, I heard a voice. It was clearly Swami's voice. I heard Him say, 'I am here standing in front of you. I am not seen by you, as you would be frightened when I appear before you.' In that dream, Swami showed me a person and told me that you will marry him on such and such a date, month and year. As I recall that incident, I still feel the excitement I experienced that day. Baba even broached the subject of detachment leading up to death. Soon after the dream ended, I woke my sister up and narrated to her the dream. As time passed, the dream was completely forgotten.

Suddenly one day, my parents fixed a match for me in Chennai and even decided the date for the marriage without even asking whether that date suites me or not. The date was 19 Feb 1984. My sister immediately reminded me that it was the same date told by Swami in the dream several years ago. I wondered why Swami did not tell me personally during my visit to Prasanthi Nilayam then. May be I was so critical of everything that I might not have accepted even Bhagawan's directions without putting them under scanner.
A sadhaka needs to understand and experience the rigors of life. Swami addresses us as Bangaru - golden. Unless the gold comes under the hammer, it cannot be shaped into beautiful ornaments. I believe that it was due to the abundant grace of Bhagawan that, I could undergo the rigors of my family life.

The Lord is Exactly what a Devotee Considers Him to Be

I prepared an audio programme once and went a second time to Swami to present it to Him. This time Swami acknowledged my presence but did not call me for an interview. I was becoming restless. Eventually Baba called me and my husband for an interview. We were taken into the inner room. Swami then pointed out that I have a strong determination and whatever I do, I do it with all sincerity. Turning towards my husband, Swami told him somewhat seriously, that I was feeling lack of support from him and if he encourages and extends his support to me, I could do much better.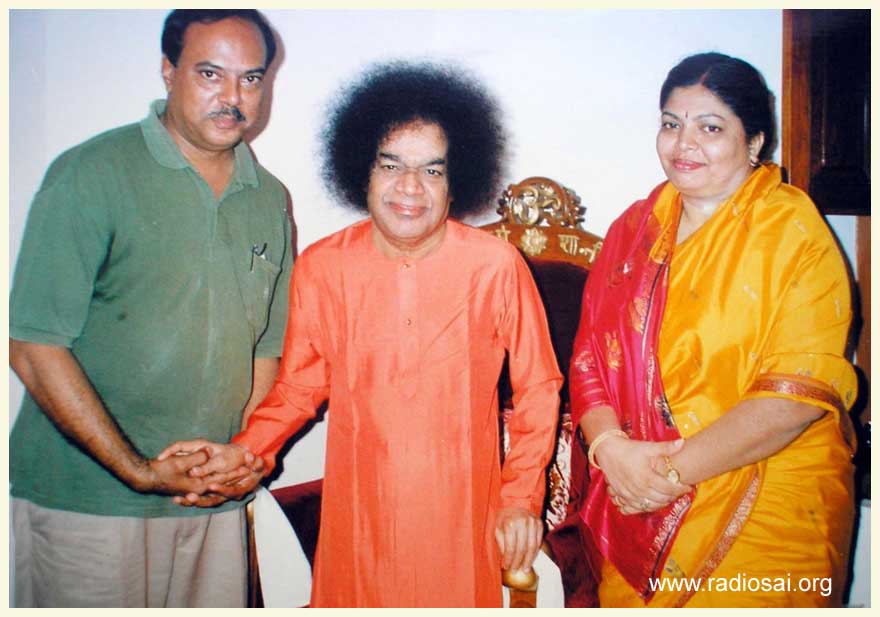 With Swami in the interview room in Prasanthi Nilayam along with her husband
Even though I prepared an album on Swami, I still had my doubts whether Swami is God or is He an individual with yogic powers, or is he just a realised soul. I had no qualms in taking the name 'Sairam', but that was not what I preferred contemplating on. I still considered Lord Venkateswara as my God and would chant, 'Om Namo Narayanaya'. I thought, if Swami is in reality that Venkateswara Himself, He must prove it to me.

During that interview Swami casually revealed so much about both of us, myself and my husband. Then Swami asked me, "Hasn't your Annamayya said, 'Enta maatramuna evvaru talachina anta matrame neevu (You are what a devotee considers you to be).' Somehow that was enough for all my doubts to be demolished. This Annamacharya keertana quoted by Swami was not very popular till then. Much later, I found it to be a part of a LP record released by Smt. M. S. Subbalakshmi. Swami had quoted a line of that particular keertan, most appropriate to the condition in which we were, and it dispelled all my doubts about the Avatar. It indicated that if you consider Swami as Lord Venkateswara, He is Lord Venkateswara. Realising that my Lord Venkateswara has come as Bhagawan Sri Sathya Sai Baba, I was thrilled. If Annamayya were to be in our midst, who knows he would have composed kritis on our Swami also. The great music maestro who composed kritis on the Dasavataras would have created compositions on our Premavatara murty, the Love incarnate.

Lessons in Human Values in Annamayya Sankeertanas

The message which the singer, composer Annamayya gave to the world, is given by our Swami in His own inimitable fashion. Swami while in Shiridi avatar proclaimed, 'Sabka malik ek'. In the present avatar Swami emphatically declares God is one. You notice the followers of different religions - muslims, christians and others in Prasanthi Nilayam. All are devoted to Swami and take refuge at His lotus feet. Puttaparthi seems to be a temple for all religions. In my opinion there may never be another mammoth organisation that teaches unity of all religions like the Sai organisation.

Swami is the personification of human values. He is an icon, a divine Guru who preached by practicing Himself. Human values in essence means the cultivation of love for all. Annamayya too infused lessons in human values in his sankeertans. For example, we have heard the popular keertan, 'Kondalalo nelakonna...' many times. We can draw a number of lessons on human values from the stories this kriti has in it.

There was once a potter by the name Kuruvarati Nambi. He lived in a place by name Alipiri, near Tirupati. This man made a wooden idol of Lord Srinivasa and worshipped it with flowers made of clay (as he happens to be a potter). Emperor Thondaiman too was worshiping Lord Venkateswara in Tirumala. His worship was with flowers made of gold. One day Emperor Thondaiman found flowers of clay in place of gold at the feet of Lord Venkateswara. He was surprised, but could not solve this puzzle.
| | |
| --- | --- |
| | |
One day, when on a hunting expedition, the king came to Alipiri. He saw a wooden idol of Lord Srinivasa being worshipped with flowers made of clay. That is when he realised that because of the single minded devotion of this devotee, the flowers made of clay could reach the feet of Lord Venkateswara in Tirupati. The golden flowers, with which he performed worship, did not reach the Lord as there was trace of ego in his worship. God expects not golden flowers but a heart as pure as gold. The emperor fell at the feet of the potter and requested him to enlighten him on bhakti. He righteously followed the path shown by the potter and received the grace of the Lord.
Let us question ourselves - Are we in tune with this teaching?
Worshipping Lord Venkateshwara doesn't mean that you exhibit the marks of the Lord (shanku, chakra and tilak) on your arms and forehead. We need to imbibe the divine qualities. That amounts to true devotion.

Legend has it that later emperor Thondaiman decided to wage wars to get rid of his enemies once. But his army was not strong enough. When he prayed to the Lord seeking His grace, Lord Venkateswara appeared before him and blessed him with His conch and disc (Shanku - Chakra) and directed him to go and win the war. Does it mean that the king fought with a conch and disc? No! We should understand that Sudarshan chakra and conch mean extraordinary divine powers and blessings; it is not a mere toy disc or conch. The emperor fought valiantly and vanquished the enemy, and then wanted to return the conch and disc to the Lord with gratitude. The Lord replied, He will not take back anything once it has been given. Is this not a subtle lesson for us? Do we have such generosity? The conch and disc are considered a part of Lord's vesture, we worship and adore them. But He just gave it away to His devotee in need. We may not be able go to that extent, but can we not do our bit to the people in need and play our part to protect righteousness? Are we learning this lesson from the example shown by the Lord?
Devotees are of various types. Let me narrate one more story. Anantaalwar was a great devotee of the Lord. He had decided to worship the Lord with the flowers grown in his own garden. He started digging a well with a crowbar and his wife was carrying the earth in a basket on her head and disposing it off outside the garden. She was in an advanced stage of pregnancy then. Anantaalwar was blissfully chanting the Lord's name and digging and was unmindful of the pain his wife was undergoing. The Lord takes over His devotee's responsibility when the devotee is immersed in his devotion to the Lord.
A young lad came to her and asked her to handover the basket to him so that he could do the task. After some time Anantaalwar saw this and was enraged that the service that was to be done by them was being shared with a third person. He flung the crow bar at the boy which hit his chin. Blood was oozing out from the wound. The boy covered it with his hand and ran away. The next day Anantaalwar collected the flowers from his garden and took it in a basket to worship the Lord. He was shocked to see blood oozing out of a wound on the chin of the Lord. Anantaalwar remembered the incident of the previous day when he had thrown the crowbar at the boy. He was inconsolable with repentance. He collected the pollen from each flower and pasted it on the wound. This incident is symbolized by the white sandalwood paste we see now on Lord's chin. The priests say that still there is a mark on the chin of the Lord and sandalwood paste is applied to it to this day. The crowbar that injured the Lord is still displayed at the entrance of the temple.
The above story is a lesson on kindness towards women. The Lord came for the help of the women in an advanced stage of pregnancy. Let us ask ourselves - are we kind towards women in distress? Are we not indifferent to them?
Every Act of the Lord is Inspired by Love

Another story mentioned by Annamayya - Tirumala Nambi, an aged devotee, was performing abhisheka with the water collected from the springs at Papanasanam. One day, as he was carrying the pitcher with water on his head, some miscreant threw a stone puncturing the pitcher. The whole water was drained out. He surveyed in all directions and could not find any one. The old man got another pot, filled it with water and was returning to the temple. Again, a stone hit the pot and the water spilled out. For a third time Tirumala Nambi brought a new pitcher, filled it with water. This time he was carefully watching his surroundings to nab the miscreant.
Suddenly, he noticed a lad aiming at the pot from behind a tree. The old man put down the pot and ran after the boy. The boy was running ahead and the old man was following him. The boy led the old man up to Akasha Ganga, a water body on way to Papanasanam. The old man was surprised to find a water source almost at half the distance to Papanasanam and wished to thank the boy for leading him to that place. When he turned around, the lad was nowhere to be found. See how by His childish pranks, the compassionate Lord in the guise of a boy helped reduce the old man's burden by showing him a water source much nearer to the temple itself.

Let us introspect - are we paying attention to the elderly and extending our hand of assistance to them? Are we taking care of our old parents? Are we showing our concern for the senior citizens? Considering old people as a burden and hindrance, the children now a days send them away to old-age-homes. I have come across cases where the son is not available to perform the last rites of his father!
Annamacharya's message filled sankeertanas are very apt for the present day's misdirected society, to help it come out of its miserable condition. They teach us human values.
Annamacharya wrote 32,000 such keertanas which act as a beacon light for the society groping in darkness.
Annamayya - The Lord's Sword

There is a legend on the birth of Annamacharya. Annamayya's mother Lakkamamba initially had no children. Lakkamamba observed many austerities, took religious vows to beget a child but to no avail. As a last resort the couple came for the blessings of Lord Venkateswara. While praying to the Lord standing at the Garuda Stambha, they had a divine experience. A bright radiant light emerged from the sword, 'Sri Nandakam' of the Lord and entered the womb of Lakkamamba. Hence the effulgence of the divine sword, Sri Nandakam is believed to have manifested as Annamacharya. The intensity of feelings in the Sankeertanas of Annamayya can be compared to the razor edge of the sword. Take any Sankeertana, be it on spirituality, romance or detachment you clearly notice the depth of his feelings comparable to the sharpness of the sword.
The singing of these sankeertanas or listening to them will destroy all sins. Annamacharya is that Jagadguru who handed over to us such profound mantras.
I once had planned to depict Annamacharya's life and teachings in a video serial and even took the blessings of Bhagawan Baba for the same. In an interview, I explained to Swami that I proposed to work on a 108 episode serial and initially produce 10 episodes. Swami casually said, produce six episodes. I could not understand why this six figure was suggested by Baba. Later, Doordarshan (India's Government Television Channel) for whom I was producing the serial, sanctioned six episodes as commissioned serial! I prepared the serial and went to Bangalore to present it to Swami. I stayed there for the longest period of 18 days in that trip and had amazing experiences. On the eighteenth day Swami called me and said that I had produced the serial well and that He was satisfied.
He particularly referred to the court scene of Saluva Narasinga Rayalu in the serial and said that Annamacharya conveyed sternly his unwillingness to sing glorifying the king. (It is said that the king was so mesmerised by the compositions of Annamayya that he requested him to compose a similar song about himself, the king. Annamayya flatly refused saying that his talent was meant only to glorify the lord. Enraged, the king has the poet saint chained and imprisoned. Later Annamayya sings a song seeking the lord's refuge, and the fetters just fall away. Hearing this the king is filled with remorse for imprisoning such a pious man, and seeks his forgiveness.) I thought over Swami's observation and realised that Annamayya did display a certain amount of arrogance in bluntly refusing to sing extolling the king. Probably Annamayya's dedication to the Lord made him to speak so. Swami's indication was that Annamacharya could have spoken softly and pleasingly. But it is Bhagawan alone who can comment on the action of a devotee like Annamayya. In that interview, Swami also spoke to us about madhura bhakti, Radha and about Anjaneya.

It is my great fortune and my parents' blessings, that I could sing the Sankeertanas of Annamacharya and remember the name and form of Swami incessantly, thereby receiving His unfathomable love and affection. He turned my stony heart into a tender flower to be offered at His lotus feet. Even though Swami is not in our midst physically, He is everywhere and in every cell. His blessings are always there with us.
On the auspicious occasion of Annamayya Jayanti, I extend my best wishes to all of you and wish that all of you derive bliss by singing the glorious compositions of this saint poet.
Jai Sai Ram.
- Radio Sai Team

What do you think about this article? Please let us know by writing to h2h@radiosai.org. Do not forget to mention your name and country.