| | | | | | | |
| --- | --- | --- | --- | --- | --- | --- |
| | 'Like' us on Facebook | Follow us: | | | | |
Posted on: July 14, 2016


SAI SADGURU – THE PRECEPTOR UNPARALLELED

Episode - 3


FLYING HIGH WITH SAI
The life-transforming moments of Sai alumnus Mr. Pratim Banerjee as he learns how to enrich one's life the true
way and excel in it to emerge with flying colours to the great satisfaction of his Divine Master
Part - 4

In 2007 Pratim moved to the Prasanthi Nilayam campus to pursue his Masters in Sciences (majoring in Mathematics). He continued to sing in the Divine presence, now with more confidence than before. In November 2009, Pratim was part of the convocation drama of the university. "Swami was very involved in the making of the drama. He came to witness the rehearsal several times. Needless to say, it was a commendable presentation on the evening of November 22, and Bhagawan was very pleased."
Pratim continues, "All of us who were part of the drama were happy and sad. Happy that Swami was so happy with our offering. Sad that all those moments of beautiful interactions with Him because of the drama were now over. We had to get back to our regular academic routine. Even as we were missing Him and reconciling with the inevitable, suddenly there was a welcome bolt from the blue. The warden sent all of us a message: 'Swami wants another drama to be staged in two days' time. An important dignitary, who is an intellectual, is visiting Prasanthi Nilayam.'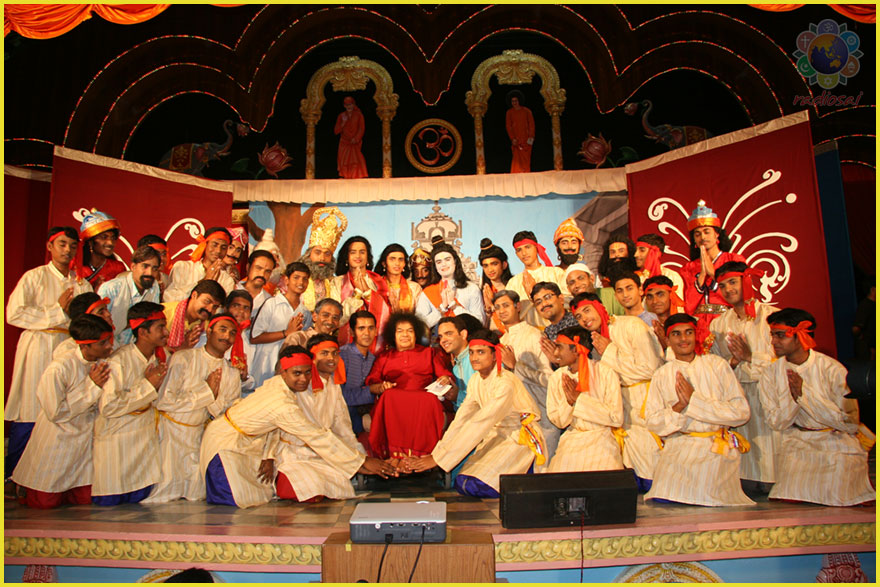 The most cherishable moment of the convocation drama, 2008
A Beautiful Opportunity Beckons
"That was it. We got back to it full throttle. It was December 1, 2009. The drama was to be ready to be presented on December 3. There was hardly any time for anything. We had to think of the story, do the dialogues, write the songs, record them, rehearse our acting, lip-sync with the recording, prepare the costumes, sets and lighting, etc. Everything had to be completed in 48 hours. Believe me, we did it! Wrong! He made it happen! Absolutely. Even till this day I have no clue how everything fell into place in such a short time! I remember the dialogues were written just 10 minutes before we recorded them. In fact some of them were being written as we were recording! There was no time to practise anything.
"On December 2 morning Swami was already in the institute auditorium to watch the rehearsal. We presented whatever we had put together. Bhagawan sat through the drama but just before the last scene started, He left. This disturbed us greatly. So we went back to the drawing board and redid that scene. During the convocation drama rehearsals, Swami had guided us at various points. In fact in that drama too we had changed the last scene as Swami wanted the message to be conveyed more emphatically. We now did the same with this drama too. We were now more satisfied with the shape it had taken. But there was no opportunity to present it to Bhagawan again. The next day was the day of the performance.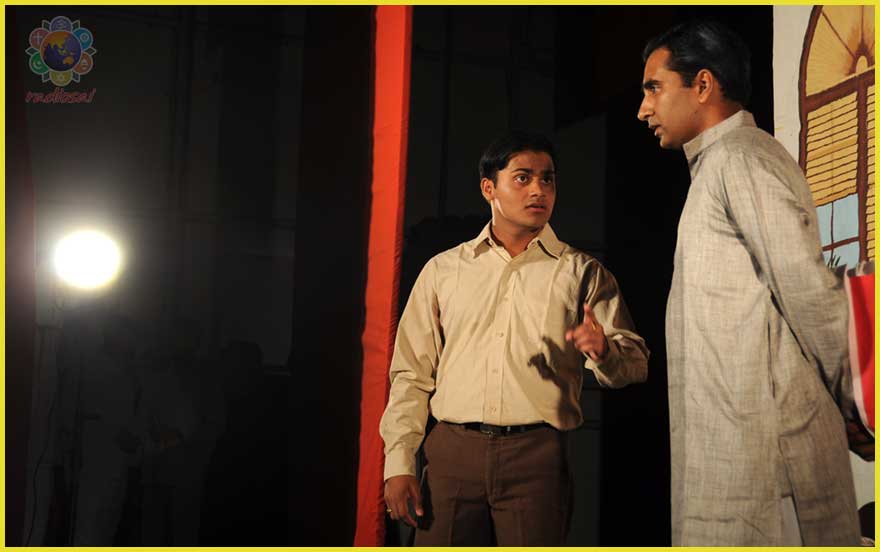 "On the evening of December 3, Swami walked into the institute auditorium along with India's most respected industrialist, Mr. Ratan Tata. After they took their seats, the drama began. It went on for an hour with no glitch. Mr. Tata was glued to the stage. When the curtains came down, there was thunderous applause. Swami seemed so pleased. In fact Swami was so happy that He looked at us and playfully asked, 'Shall I come to the stage for photographs?'
"'Oh my God!' We said, 'Swami, this is the moment we have been waiting for! Please come Swami!' Then the Lord ascended, and soon beckoned Mr. Tata to join him on the stage. Like a proud mother He started talking about us to the honoured guest. 'These are My torch bearers. They will take My message. When they go to society, they will work for Me. Their love for Me is their biggest service to Me.'
Mr. Tata was so touched. He said, 'I can see that love and devotion in their eyes, Swami!' Bhagawan then started talking individually to the boys. To one He said, 'Very nice voice.' To another He asked the course he was pursuing. To a third He guided him about what he should do next, and so on.
"In fact when Bhagawan arrived onto the stage I took the opportunity to tell Him, 'Swami, please always be with us.' Swami immediately responded saying, 'Baba is always with you, always with you.' Then looking into my eyes and gently touching my heart, He said, 'I am there, I am there, I am there.' The profundity of that moment, truly, is beyond any parallel. But that was not the only such moment that evening. Later, when Swami asked me what I was studying, I replied, 'M.Sc. Mathematics,' and I grabbed that opportunity to seek His advice. 'After this, should I do MBA Swami?'"
The Master Planner Plans Pratim's Future
Generally most of the students who do masters in Mathematics go on to do Masters in Technology. Pratim too was in a dilemma. His relatives had suggested that it was better to do MBA as M.Tech. is too technical a profile. But this was not what had prompted him to think of MBA.
"It was actually a dream of my sister," he reveals. "She was very concerned about my future and when Swami came in her dream she asked Him what I should pursue. Bhagawan clearly told her, 'Ask him to do MBA'. So this was what was weighing on my head. Still I wanted physical confirmation from Swami. And that morning presented a great chance.
"'Should I do MBA, Swami?' I asked again and Swami looked at me and said, 'Take padanasmakar.' So I bowed down and touched His feet. As I lifted my head, He said, 'Yes, I promise you. I will give you a seat for MBA.' Wow! What else did I need? My future was done. When I think deep about it, literally, my future was assured that morning because Swami had said this to me in front of Mr. Ratan Tata, and today I am among those select few candidates who have been chosen for TAS – Tata Administrative Service, the prestigious leadership programme for corporate executives. I appeared for this in 2011, and after a series of challenging tests and interviews, was selected and posted in the UK for initial training.
"My precious moments of that beautiful evening of December 3 were not limited to these alone. After Bhagawan spoke to all of us on the stage, He signalled to brother Satyajit to bring a tray of watches. This is again very significant to me for a special reason.
He Watches Our Minds
"When I was in my XI grade Swami had once given watches to all of us with Lord Hanuman embossed on it. I wore it always until the day it stopped. So I gave it to my father to repair it. When he took it to a mechanic, he was told, 'This watch is of a local make. It cannot be repaired. I correct only branded watches.' When I heard this I was mentally enraged at the mechanic for demeaning the gift the Lord had given me. I told my inner Swami, 'How could anyone talk so insultingly of what You have given me? I cannot take this! I will not wear any watch from now on. I will wear only when You give me a branded watch. Else I don't need a watch.' True to my decision, I never wore watches from that day.
"That evening, December 3, the tray next to Swami was full of branded watches! I could not resist looking at them. In fact I got so carried away that I started admiring their designs and straps and started praying, 'Swami, please give me the one with the thick strap.' Bhagawan picked up the ones with ladies straps and asked for those who had done female roles in the drama. Next He selected one watch with a thin strap and started looking at me. But I began telling Him mentally, 'Not this for me, Swami. The strap is not nice.' How stupid I was! Now when I think of it I feel ashamed of myself for having the audacity to choose and refuse a gift coming directly from His hand.
But then at that point in time, I was so taken in by all those shining timepieces on the tray, and so carried away by His proximity. Bhagawan looked at me top to toe and was about to hand that over to me but He stopped, smiled, and said, 'The strap in this is not nice.' That just hit me like a ton of bricks! I was stunned by His all-pervasiveness.
"The compassionate mother that He is, Swami then picked up the watch that I was eyeing and with much love placed it on my palms and said, 'Take padanamaskar'. I bent down again and offered myself at His feet. I knew with greater certainty than ever before that the Lord is ever with us; He is constantly WATCHing our Words, Actions, Thought, Character and Heart. He is indeed the wind beneath our wings and the strength of our limbs."
Every word of Swami is so multi-dimensional and enigmatic. "I will give you good wind conditions to fly" was the promise made by Bhagawan to Pratim. It is His push that has propelled Pratim to be a TAS officer today and fly to the United Kingdom to work for one of the most prestigious business groups of India and the world. But for Pratim what matters more are "these moments with the Avatar that have shaped me and continue to chisel me. Whenever I revisit these memories, they silently clean my inner being and chip out all those parts that have inadvertently got into me but are not me. I feel purified, wholesome and energized to be what He really wants me to be. I want to fly high to be a star in His sky."
One can fly high only when one is light. Once the ego drops, the Divine takes over. Then there is no limit to the altitude the mind can reach, and the beatitude the soul can experience.
- Bishu Prusty
Radio Sai Team