| | | | | | | |
| --- | --- | --- | --- | --- | --- | --- |
| | 'Like' us on Facebook | Follow us: | | | | |
Posted on: July 11, 2016


SAI SADGURU – THE PRECEPTOR UNPARALLELED

Episode - 3


FLYING HIGH WITH SAI
The life-transforming moments of Sai alumnus Mr. Pratim Banerjee as he learns how to enrich one's life the true
way and excel in it to emerge with flying colours to the great satisfaction of his Divine Master
Part - 1
"I can never forget that look. It was so powerful and piercing. Then it softened. I was at least 50-60 feet away. It felt as if He knew me through and through, even though this was the first time I was seeing Him. It seemed as if He was telling me 'Oh! So you have finally come!' Even now when I think of it a chill goes down my spine," recalls Pratim Banerjee, an alumnus of Sri Sathya Sai Institute of Higher Learning, who joined the Sri Sathya Sai Higher Secondary School, Prasanthi Nilayam in 2003 for his XI grade. After studying for nine years at His lotus feet, in 2012 he was selected for the prestigious TAS – Tata Administrative Service.
The Pull of Prasanthi
Despite his roots in West Bengal as his surname so evidently suggests, Pratim did his early schooling in The Scindia School, Gwalior, in Madhya Pradesh. "I had a great time there. It is one of the finest boarding schools in India, in the same league as Doon School, Dehradun or Mayo College, Ajmer. However after being there for seven years, right from my III grade, I wanted a change. My grandmother often mentioned how students in Puttaparthi 'shine with a glow' and are impressively disciplined."
Pratim's grandmother is the legendary danseuse Mrs. Amala Shankar. She is the wife of Pandit Uday Shankar who was conferred with the Padma Vibhushan, the second-highest civilian award, by the Government of India way back in 1971. His contribution to modern dance in India is legendary.
Pratim (first left) inside the Yajur Mandir in November 2009
in a group picture with all university captains
"My grandmother has fine tastes. She could spot beauty. She was drawn to discipline. But my introduction to Swami was not entirely through her. I remember seeing a photograph of Baba that a senior used to place in our common room in the hostel. In fact I used to wonder if this was the same person whom my grandmother often talked about.
"She saw Swami for the first time in 2000, during His 75th Birthday. That left an indelible impression on her and even drew my father to Baba's ashram in Bengaluru the following year. I had completed X grade then and he was worried about my future. So he wrote a letter to Bhagawan with a lot of trepidation in his heart if the Lord would accept his prayer. He had stated, 'Swami, I am tired. I am really tired. Take care of my son and daughter please.' My sister had finished her XII grade and was applying for a seat in Baba's Anantapur College.
"When I think about all this now, I feel something was perhaps working on me. Or else, why would I get this inexplicable and compelling desire to move out of Scindia School. Even the Principal was completely against the idea. He actually went out of his way to offer me exchange programmes abroad. He spoke to my parents about the great potential latent in me, and how it was preposterous to change my school at this stage, adding that it might hamper my growth.
"My parents actually never forced this on me. I wanted to leave the school on my own. There was something happening within me. I too could not fathom why I wanted to leave such a good school. My friends there too were deeply upset. They told me I was being a fool. We were about to join college and this was the time to really hang out and enjoy, but I was making such a dull and boring choice to shift to an ordinary school in a small town in South India. They tried their best to convince me against it. But I was insistent. I was certain. Today when I contemplate on this episode I can find only one explanation: Swami in His inimitable way was working on me. He was pulling me towards my beautiful destiny."
Thus, Pratim landed in Brindavan in the summer of 2003 to see Baba for the first time before going to Puttaparthi to write the entrance test. The small ashram did not impress him. He thought, "What is this? This person is supposed to have so many followers and all that but they have erected temporary canopies for His darshan. Couldn't He have done something better?"
Coming from a regal school and used to opulence as he was, Pratim found the setting strange. However the moment Swami emerged from the little door on the right side of the stage, everything changed. That incisive look of the Lord (described in the beginning of this article) simply hooked him to His lotus feet. Even though Swami was hundreds of metres away, His glance was straight on Pratim.
"It was not only Swami's all-knowing penetrating glance but everything around was also so unique," Pratim continues. "Next to me was an especially abled child and he was weeping out to Swami. The whole ambience was so suffused with a different kind of calmness and peace. I had never experienced this before. Quite spontaneously it stirred something within me. I became very introspective. I spent the next few days just ruminating over this most special experience of my life."
Prayer Works Miracles
Pratim then came to Puttaparthi and wrote the entrance tests for the XI grade. His mother was eagerly waiting outside the examination hall. But he emerged with a downcast face and said, "Sorry Ma, I didn't do well. I don't think I will clear this. Chemistry paper was tough. Let us go back." His mother was shocked. Pratim had always done well in academics. In fact he was in the top bracket of brilliant students in his school.
"I remember that fateful day. What was eating me, more than anything else was 'How do I face my friends now?' All of them had repeatedly told me not to go but I was adamant. And now, I could not clear the entrance test of a 'simple' school in South India? I couldn't bear to think how my friends would laugh at me. It was too humiliating. All these thoughts were tearing me apart. I was lost.
"My mother could not see my pain. She had been the strongest pillar of my life. That evening she held me close and said, 'Don't worry. Just pray to Baba. I am sure He will help you clear the test.' I didn't even know how to pray. She said, 'Just nag Him. Nag Him to such an extent that He has no option but to finally yield to you and say, 'Okay! Here is your seat. Leave Me now.'
"I did just that when we went to Mandir for bhajans that day. Swami was in Brindavan and so a few devotees too were allowed to sit in the bhajan hall in Puttaparthi, else normally only the current students have the privilege of occupying the bhajan hall. There were no mikes for bhajans. My mother got a place inside the hall in the front. She poured out, 'Swami, take care of my son please. If he gets to come inside the bhajan hall today, I will take it as an indication that You have accepted him.' And you will not believe this! I was the last but one person to get into the hall.
"My prayer that day was equally intense: 'Swami, give me this one chance because I do not know with what face I can go back to my friends.' Well, I was honest. I begged to Him like a child to accept me in His school because I was too scared of the ignominy and insult if I returned to my old friends. After the bhajans we went back to the school to see the results. Guess what? I had cleared the written test! Unbelievable!
"Next was the interview. After a few general questions, I remember one of the panel members asking me, 'You have mentioned that you are a singer. Can you sing something for us?' I ventured to sing the only devotional song I knew – a Meera bhajan which I had learnt for a competition. Frankly, I was myself amazed with my voice. For two years I had not heard myself. I used to have a sweet voice but then in my VIII grade my voice broke. It began to change like it happens with every teenager and that process was not yet complete. It used to make me feel terrible. Every day I missed my beautiful voice. Out of frustration I had given up singing. I had not even tried to hum for months together. But what came out that day pleasantly surprised me.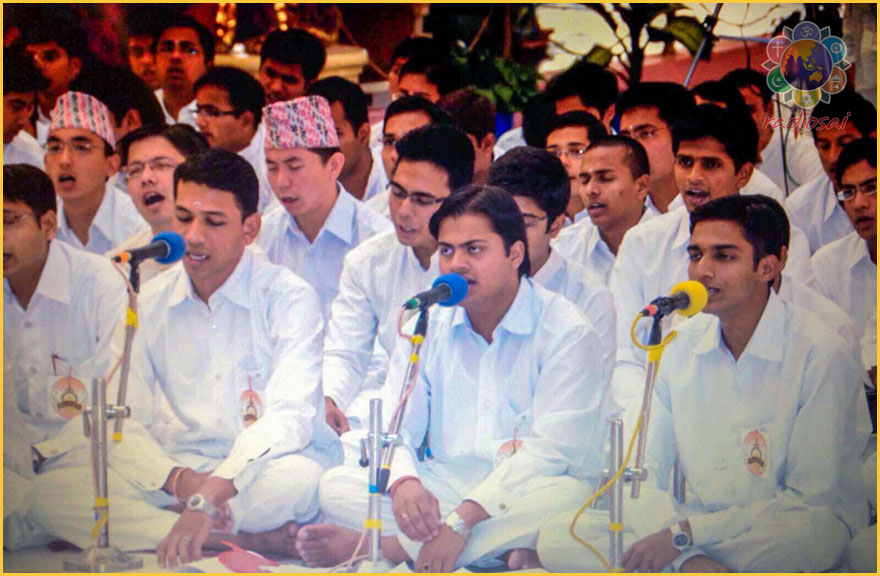 Pratim as part of the music group in the Divine Presence
"By the time I ended my song one of the members said, 'Yes, you are through'. Wow! That is how Swami works so magically. In His infinite kindness He had granted me a place at His lotus feet. It is definitely He who invoked those thoughts in me to leave Scindia School, pulled me through every challenge and guarded my every move till I crossed every hurdle with ease. This was the beginning of the nine divine years of my life. It culminated in 2012. I was blessed to be with the Avatar in the most significant last phase of His earthly sojourn."
- Bishu Prusty
Radio Sai Team