| | | | | | | |
| --- | --- | --- | --- | --- | --- | --- |
| | 'Like' us on Facebook | Follow us: | | | | |
Posted on: Mar 26, 2016

Love lives by Giving and Forgiving
Self lives by Getting and Forgetting
- Sri Sathya Sai Baba
'Observing SaiLent Through Giving and Forgiving' – A Sadhana
From Monday, March 28 to Wednesday, April 27, 2016
He said His life is His message. Yet, He delivered His most compelling lesson in His passage from the finite to the infinite.
Through the month leading to Bhagawan's Maha Samadhi on April 24, 2011, He chose to take upon Himself the miseries of the human condition, the silent suffering of mother nature, the colossal contamination of our planet and other unimaginable cosmic issues that defy human comprehension, thus delivering the ultimate lesson in sacrifice that can be well described as 'Giving and Forgiving'.
As a silent offering on this sombre occasion, the Sri Sathya Sai Seva Organisations, India and the Sri Sathya Sai International Organisation are observing the period Monday, 28th March to Wednesday, April 27, 2016 as a month of 'Giving and Forgiving'.
The same period in 2011 united us in prayer and pain, and now, the multi-million strong Sai family in India and around the globe will be observing it as a month of contemplation, prayers and expansion of consciousness through acts of selfless service at individual and Samithi/Sai centre levels. Let us recognise the Sai within and without in every atom that surrounds us... in both the beauty and fury of nature, in its every element and in every being in our contact and beyond.
United in Purpose
Let 'Giving and Forgiving' be our sadhana, our 'SaiLent' during these days... let us specifically set aside time for deliberation, introspection, contemplation and meditation on the divinity within, around and without.
Let this period be marked by a deep inner and outer silence, to strengthen our devotion for the Lord, and thus purify ourselves to becoming His befitting instruments of love, harmony, tolerance, understanding... through our practice of 'Giving and Forgiving'.
If the epochal event of April 24th, 2011 jolted us with its momentous impact on the destiny of humanity, today, it warrants a united effort by each of us to intensify our intention and pray with deeper longing, for more unconditional love in our hearts, and share the same with others, in our thoughts, words and actions. 'Giving and Forgiving' unconditionally is an ideal route to achieve this.
When we pray and practice 'Giving and Forgiving' with sincerity and fervour, His message will resonate and encircle the earth and all its beings. Let our acts of kindness include our winged, finned and four-legged fellow inhabitants of our planet and Mother Earth herself.
Dear Brothers and Sisters, come let us join and participate whole-heartedly in this offering of 'Giving and Forgiving' at individual, family, samithi and Sai centre levels.
Here are some suggestions you may wish to embrace:
At Individual/Family level





Prayers:



• For inner and outer purification chant 'Aum Sri Sai Ram' 108 times (or more) daily.

• For universal peace and harmony chant 'Samasta Loka Sukhino Bhavantu' 11 times (or more) daily and end with Om Shanti: Shanti: Shanti:



Acts of Kindness:

• Place bowl(s) of water or bird baths on balcony, verandah, or outside and a fistful of grains or bird feeders for birds and animals.

• Carry an extra bottle of drinking water to share with a thirsty person.

• Put aside rice grains for Narayana Seva daily.

• Highlight Bhagawan's messages in a tasteful and respectful manner with appropriate audiences/groups.

Contemplation:

• Read Sai literature daily.

• Talk less and meditate and/or spend quiet time with nature more often.

• Download Radio Sai app and tune in as often as possible - especially while traveling.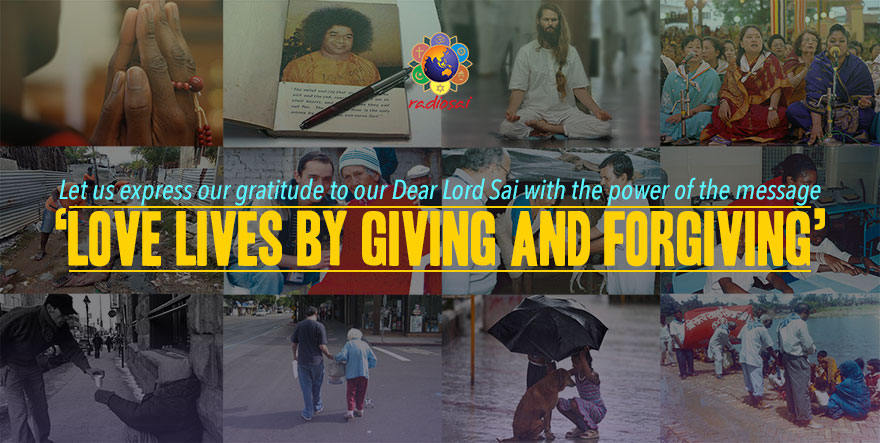 At Samithi & Sai Centre level:



• Invite and encourage Bal Vikas, SSE students and families to participate in the chantings and service activities.

• Encourage Youth Wing to lead the chanting and create awareness of 'Giving and Forgiving' month.

• Every active member to participate in chants.

• Cook food from the grains collected from individual devotees and conduct Narayana Seva.

• Local Water Projects can extend to cleaning of local tanks, lakes and rivers.

• Tree planting, treatment of decaying trees.

• Enhanced village seva.

• Awareness programs in slums regarding hygiene, caring for public property, nature, respect for women and the girl child.

• Adopting needy family for rations/clothing, daily needs, milk, education for children etc.

• If you are an animal lover, caring for an animal or bird or both and more.

• Conduct one weekly talk of 5-7 minutes before public bhajans on the importance of 'Giving and Forgiving'.

• Highlight Bhagawan's universal messages in a tasteful and respectful manner in appropriate public places.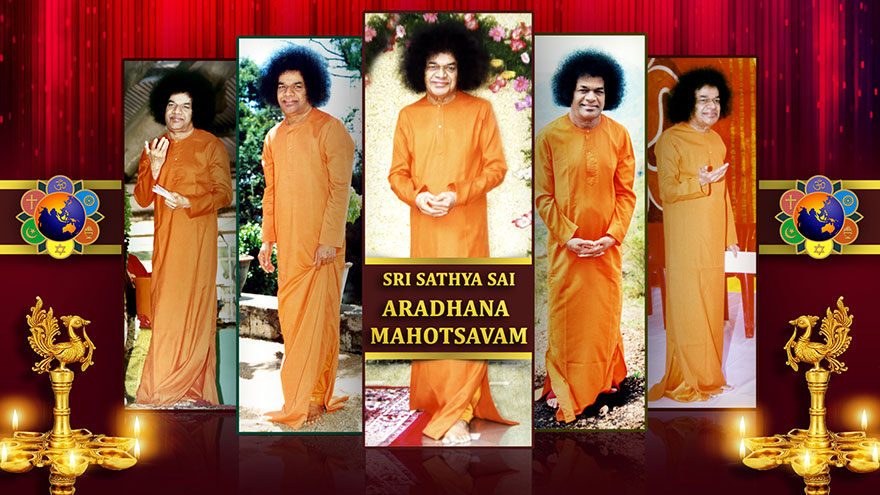 Every moment of His life held out a million lessons for us, but none as strong as those of the month leading to His Maha Samadhi. Let us express our gratitude to our Dear Lord Sai with the power of the message that He demonstrated through that agonising period - 'Love Lives By Giving and Forgiving'.
Let us make 'Giving and Forgiving' our life mantra and let us begin now - during this very poignant and sacred period of March 28 - April 27, 2016.
Letter from Dr. Narendranath Reddy, Chairman, Prasanthi Council
Dear Brothers and Sisters, Om Sri Sai Ram.

Sathya Sai devotees all over the world solemnly observe 24 April by remembering and practicing the teachings of Lord Sathya Sai, the Pari-purna Avatar, who left His physical form on this day. This year, the Aradhana Mahotsavam will be observed from 28 March through 27 April 2016, by Sathya Sai devotees globally, including India. The Sathya Sai International Organisation, in coordination with the Sri Sathya Sai Seva Organisation of India, recommends that we undertake 30 days of intense spiritual practice to express our gratitude for the unconditional love showered on us by our loving Lord, Bhagawan Sathya Sai Baba. The focus of this period of intense sadhana should be to live by the words of Swami, remembering His love, His kindness and His blessings that touched each one of our lives.

In the context of varying cultural traditions, religious beliefs and government regulations in various countries, Sathya Sai devotees are advised to engage in some or all of the following activities, at individual, centre, regional and national levels of the SSIO:
• Remember and Count the blessings received from Bhagawan during our lifetime

• Daily chanting of "Om Sri Sai Ram" (108 times), Sai Gayatri (9 times), and "Samastha Loka Sukhino Bhavantu" (3 times)

• Daily reading of Sathya Sai literature

• Devotional singing and Bhajans

• Sharing experiences about the glory of Bhagawan and personal transformation, as part of centre programme

• Meditation

• Cultural programmes on the life and message of Bhagawan Sri Sathya Sai Baba

• Sathya Sai Youth and Children's performances and projects

• Service projects

• Practice ceiling on desires and implement "Help Ever; Hurt Never" in thought, word and deed

• Audio/Video presentations on Swami's discourses, His darshan, and His works

• Selected practices from the "Sadhana of Love" by Sathya Sai Youth (please see link below)
The Sadhana of Love is a programme developed by the Sathya Sai Youth and can be viewed at: youthfest.sathyasai.org/sadhana-of-love

It consists of 72 items based on Swami's teachings, arranged under four categories, that can be practiced as a spiritual discipline.

Let us all join together as one Sai family in this noble and uplifting spiritual exercise to honour and cherish the memory of Bhagawan Sri Sathya Sai Baba. By His boundless grace and His blessings, let us glorify our Lord and redeem our lives by living in love and doing selfless service till our last breath.

Jai Sai Ram.
With loving regards,

Narendranath Reddy, M.D.
Chairman, Prasanthi Council
- Radio Sai Team
What do you think about this initiative? Please let us know by writing in to [email protected] or you may leave your thoughts in the comments section. Do not forget to mention your name and country.