| | | | | | | |
| --- | --- | --- | --- | --- | --- | --- |
| | 'Like' us on Facebook | Follow us: | | | | |
Posted on: Apr 3, 2018

THE SAI PANCHARATNA KRITIS
Part 3

The Sai Pancharatna Kritis are special Carnatic compositions describing the life story and the glory of the Sathya Sai Avatar. They were first presented at the Lotus Feet in the year of Swami's 90th Birthday on Aradhana Day 2015.

Subsequent to this presentation, in answer to many devotees' queries, we had many live Radio Sai discussions about the making and the meaning of these compositions in our programs "Outside Inside Deep Inside" as well as "Morning Glory".
Presented below are edited excerpts of the second 'Outside Inside Deep Inside' discussion which had as its participants, Radio Sai team members, C. G. Sai Prakash (CG), Anirudh Srinivasan (AS), and Bishu Prusty (BP), as well as Ms. S. V. Vasumathi (SVV), the Vice Principal of Sri Vishwa Vidyalaya Matriculation High School, Chennai.

They go down memory lane and share some of the incredible behind-the-scene stories of the making of these classic compositions.

How Baba Blessed Mr. Bharathi to Gift the World Sai Pancharatna Kritis
CG: It was so nice listening to the kriti! Earlier we discussed how Sri. Raj Kumar Bharathi tuned the kritis while Dr. Vasanthalakshmi wrote the lyrics (See Part 1 and Part 2).

We went through a unique process wherein we had one musician first compose the tunes and we retrofitted the words into them. Well, I don't see any hesitation in bringing this up because I feel that's precisely what Swami wanted, though a song is never composed this way! But in retrospect, it definitely looks like a Divine masterplan.

BP: The Pancharatna Kritis on Lord Rama came from Tyagaraja, such a stalwart devotee of the Lord. Now, that Tyagaraja had to split into so many!

CG: Yes! I was asking, 'Who is Tyagaraja part 1 and part 2?' Yes, there was one Tyagaraja then but even now in spirit we were one Tyagaraja! Bodies were different, but the spirit was one.

The first two kritis were ready on Aradhana Day 2014. Here I should mention that the rough tracks for these two kritis were sung by Raj Kumar Bharathi Sir himself. Anirudh and his brother Aswath learnt the songs from him.

When we offered 'Prema Pravaham' in 2010 (the 85th Birthday presentation), Bharathi Sir taught the songs to us on the telephone because his schedule did not permit him to come to Puttaparthi.

Some good sense in me said that we should record that conversation because it was quite historic! Sir was singing on the other end and Aswath was listening to him and singing back. Sir was then making corrections on the fly. So, it was a telephonic e-knowledge transfer!

Also, Sir could not sing even half a line without his voice cracking at that time! Owing to a medical problem, his voice had deteriorated. Else, he was a well-established singer.

SVV: Yes. We've heard him perform in various sabhas and on the television. He was so versatile! Even before he could think, his voice would produce it.
The Return of Raga, Bhava and Tala in Mr. Raj Kumar Bharathi's Blessed Life
| | |
| --- | --- |
| | |
| | Sri Raj Kumar Bharathi - Handpicked by the Lord to gift the world the Sai Pancharatna Kritis |
CG: The story of how Sir's life took a U-turn after 'Prema Pravaham' is just unbelievable. It is a miracle!

While teaching us 'Prema Pravaham' in 2010, he could not sing even half a line without his voice breaking. I still have those recordings and when I listen to them now, I have tears in my eyes!

When the 85th birthday programme concluded on 23rd November 2010, I was standing right next to Swami's chair and looking at Bharathi Sir because I was so happy and blissful that he was coming to offer a flower to Bhagawan.

Bhagawan looked straight at him in the eye and asked, "Voice enna achchu? (What happened to your voice?)"

When Swami asked him that question, it almost felt as if there was a shiver through Sir's spine; he just dropped the flower he was holding in his hand.

Bhagawan said, "Pick it up!" and Sir took the flower.

Bhagawan asked again, "Voice enna achchu? (What happened to your voice?)"

Sir said, "Swami, pada varala (I am not able to sing)."

Bhagawan said, "Nan patthukkaren (I will take care)."

What an assurance Bhagawan gave him!

After Bhagawan left the stadium, Sir called me aside and asked, "Did you tell Swami that my voice is not ok?" because this was the first time he was coming to Bhagawan!

I mentioned this because the rough tracks for the first two Sai Pancharatna Kritis in 2014 were completely sung by Sir himself. It was unbelievable!

A person who could not sing half a sentence or line earlier was now able to sing a complete kriti! When I asked Sai Shravanam, the sound engineer, he said that Sir sang the kritis in a single take.

I was totally amazed. I said to myself, "Swami! You gave him Your assurance and Your grace. He took one step to compose songs for You and You have given his voice and life back!"

Every word he sings now is filled with so much gratitude and love for Bhagawan.

After Sir tuned the first two kritis, since there was time shortage, we thought we would offer only these two kritis to Bhagawan in 2014. Sir said, "I will tune them, sing them and give you the tracks. If you like them, use them. Otherwise leave it."

He was so humble! When we got the rough tracks for the first two kritis, we were just bowled over! Shravanam mentioned that some of the well-established musicians were spellbound when they entered the studio as the recording was going on.

They asked later, "Sir, what are these compositions? We know they are not Tyagaraja Pancharatnas because the words are different, but they are on par with those kritis."

The musicians gave the name 'Sai Pancharatnas'! We didn't do it. They said, "Sir, these sound like Pancharatnas on Sai Baba."

So that's a neutral perspective from musicians - totally unbiased!

When we asked, "Sir, whom should we call to render the first two kritis? Should we call professionals?" he said, "Look here! Whom does Swami like? His students. If His students sing, He will be happiest."

At that point in time, I just hit myself on the head and said, "Who is speaking to whom?" One may claim, "I am a great devotee of Swami for decades," but in an instant someone else just surpasses that!

BP: Yes. Sir's understanding of Swami even at the physical level seems to be much more than any of us.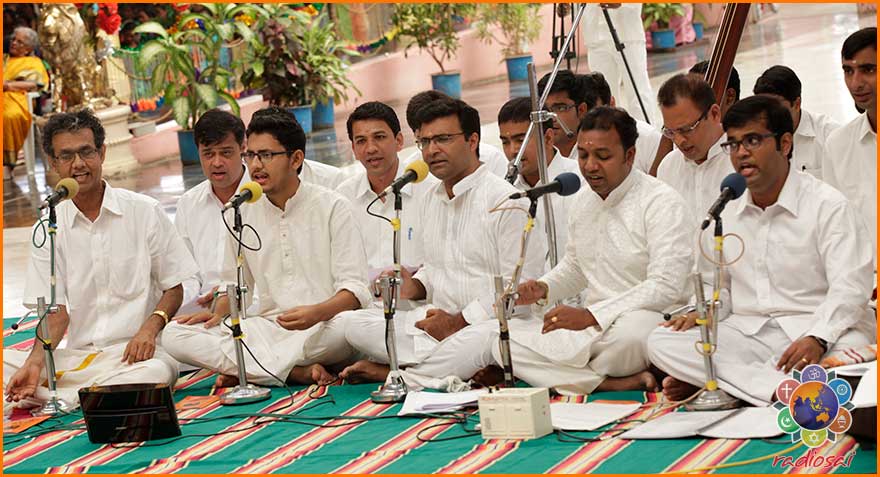 The Secret Behind Mr. Raj Kumar Bharathi's Spellbinding Creations

CG: Yes. And all of us put together! I will never forget in this life certain key statements that Sir made.

I once asked him, "Sir, this is amazing. How did you do it?"

He said, "See Prakash, there is only one thing you have to remember."

I asked, "What is it, Sir? I'm ready to do anything now. You just tell me and next second I will do it."

He said, "You have to do nothing!"

"There is only one thing you should keep in mind - you need to do nothing. Things happen through you and in spite of you! What has to happen will happen. Just be open."

It was another hit on the head for me! His philosophy of life is so beautiful and amazing.

The only requirement Sir asked for was a word-by-word meaning. Initially I was wondering why. I thought it would be fine to just give a summary of the meaning.

You won't believe it, but he had tuned the 'Prema Pravaham' songs word by word! He had not tuned line by line or stanza by stanza. If a word had to be given prominence he would change the entire tune to suit that word and that's why it was such a rich kaleidoscope of beautiful hues!

Same is the case with the Sai Pancharatnas. Yes, the boundaries with which Sir had to tune these kritis were more stringent and more challenging compared to 'Prema Pravaham' because there he had a free flow. We could call 'Prema Pravaham' as semi-classical or light music.

AS: The language was Telugu and it was more open to orchestration and different elements coming into picture.

CG: In 'Prema Pravaham' we had an additional element of visuals. The only thing I gave Sir was a word-by-word meaning and an idea of the kind of visuals to come in.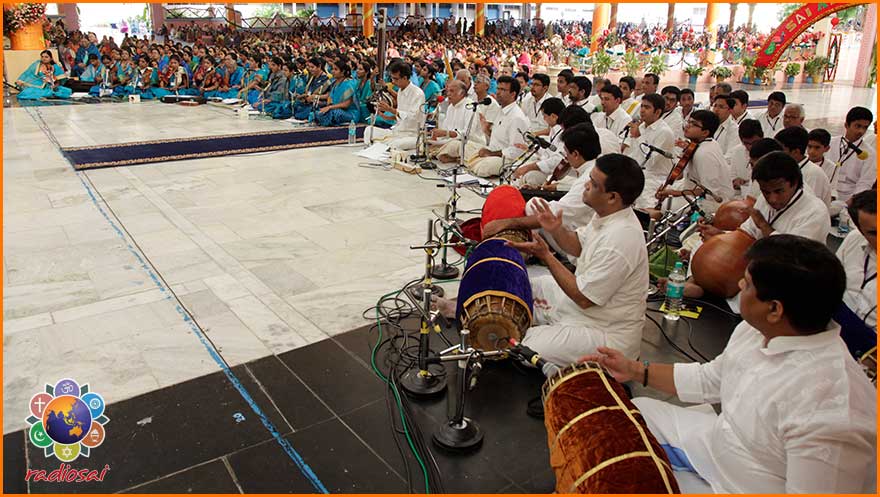 You won't believe the kind of scope he gave with his music because if that music was not there, I could not have put those visuals! The kind of music he brought in exactly suited the visuals. So again and again it just hits me on the head that in spite of us things will happen!

BP: The more we keep telling ourselves, "I am nothing" things just happen! This tells me how Sir is so much in tune with what Swami would want because we have seen how for Him the lyrics of the song were as important as the tune!

CG: Very true! We had also sent the first two kritis to Mandolin Srinivas. He listened to them and was ecstatic. He said, "I will learn and come and play these two kritis." Then he called up Bharathi Sir and said, "I am so moved by your compositions. They are so amazing!"

Bharathi Sir then called me up and said, "Mandolin Srinivas called up. It is very nice that he liked the two kritis." What to say of their humility? Heights of humility! Both of them are giants!

We sent the first two songs to different people in 2014 to learn. One amongst them is Sister Vasumathi. The students from her school have been participating in many music programs in Chennai and winning many awards.

The moment I discussed this concept with her, she was totally thrilled and said, "Wow! Let's start our Carnatic music career with Sai Pancharatnas!" Those were her exact words. Do you still stick to that?

SVV: Yes. I've decided on the structure of the next academic year's Carnatic music classes and the Sai Pancharatna Kritis will be learnt by all the students.

AS: The Music College teachers in Prasanthi Nilayam too were mentioning that they will include the Sai Pancharatna Kritis in their syllabus.

CG: That's exactly how it should be done. We all are so emotionally attached to Bhagawan but looking at these kritis from a third person's point of view, musically and lyrically they are masterpieces. Of course, devotionally and spiritually too! That is why they touch the heart.

- Radio Sai Team