| | | | | | | |
| --- | --- | --- | --- | --- | --- | --- |
| | 'Like' us on Facebook | Follow us: | | | | |
Posted on: May 19, 2020

The Sai Organisation Springs into Action To
Mitigate the Suffering from Covid19

Part - 2
An Industrialist Deeply Inspired to Dedicate His Life to Remove Hunger in West Godavari District

The 47-year-old R V S Chalapathi, is an industrialist who manufactures fish feed and he is also a consultant based in Bhimavaram, West Godavari District of Andhra Pradesh. Eight kilometres from Bhimavaram is Eluru which is a red zone area where many Covid19 patients are being treated.

However the primary and secondary contacts of these patients are quarantined by the government in designated buildings in Bhimavaram.

Ever since the lockdown began, the Sai devotees of Bhimavaram wanted to do some service activity, to reach out to the aggrieved but they did not know how to proceed given the restrictions laid down by the government.

When these quarantine centres filled up with people, the local government came forward and requested the Sai devotees to take care of the food arrangements for these isolated people, given the eagerness of the Sai devotees to serve.

"That was a huge blessing for us," recalled Chalapathi, who is in charge of the Sai Community Kitchen in Bhimavaram. "We serve close to 350 people in these shelters everyday with breakfast, lunch and dinner. These people have to be in quarantine for 21 days. If they are found to be negative after this period, then they are allowed to go.

"The most heartening thing is that all the people in this centre are happy and healthy, and no one till date has been found to be Covid19 positive. In fact some have completed 21 days and are about to leave. With eyes brimming with gratitude, they say, 'Thanks to Baba, we are safe. Thanks to Sai devotees, we are healthy.'"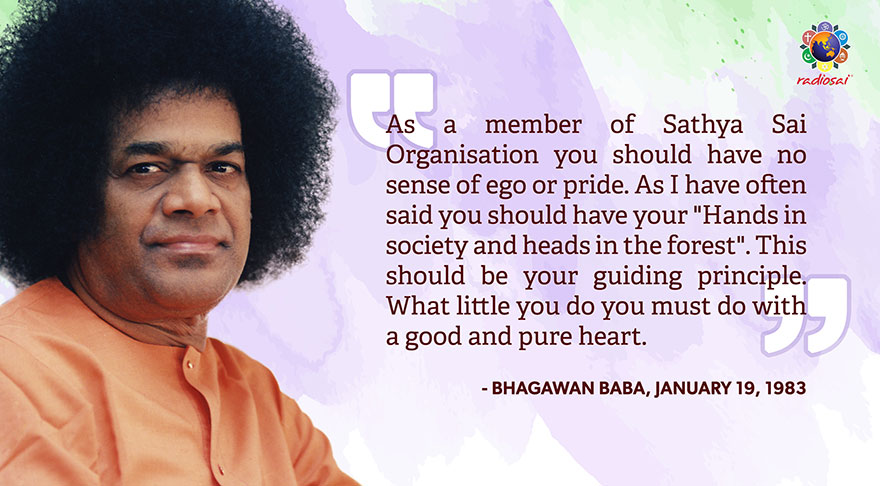 Chalapathi too has closed down his factory completely and stopped all his consultancy work, for the time being.

When we asked why he did this, he said, "This is the need of the hour. I want to give 24 hours to Swami's work. We are getting such a precious chance to help people in these difficult times. Everything else can wait. I am confident Swami will take care of my business once this period ends. Now I just want to dedicate myself fully to this service."

This Community Kitchen in Bhimavaram which started on April 5, 2020, has served not just quarantined people but also the patient attendants of the government general hospital, homeless people on the streets, displaced labourers, and anyone who needed food to survive.

Till date more than 10,000 food packets have been served, and the work goes on. "We will continue till the lockdown ends and even beyond as long as there is a need," said the ebullient Chalapathi, with enthusiasm written all over his being.

In fact there is no dearth of Manohars and Chalapathis in the Sri Sathya Sai Seva Organisation.

No wonder, today the Sai Sevadals all over India, have served 12,63,161 food packets cooked in 108 Community Kitchens set up in different states of the country.
Once the government enabled the movement of some migrant workers, 20 community kitchens were no longer necessary.

As on May 16, 2020, 88 Community Kitchens are serving 28,000 to 33,000 cooked food packets through the local administration in various areas of the country.

Across India more than 29,000 sevadals have dedicated themselves to this mission with great zeal and commitment.

- Radio Sai Team

What are your impressions about this? Please share your feedback by writing to [email protected] or [email protected] . Do not forget to mention your name and country please.