| | | | | | | |
| --- | --- | --- | --- | --- | --- | --- |
| | 'Like' us on Facebook | Follow us: | | | | |
Posted on: May 19, 2020

The Sai Organisation Springs into Action To
Mitigate the Suffering from Covid19


Part - 3
A Humble Devotee doing Heart-rending Seva in Visakhapatnam

At Visakhapatnam, we met up with the 53-year-old R A Naidu.

"To all the migrant labourers who were struggling to make their ends meet, after the lockdown, we provided groceries that would easily last for about 15 days. These hampers had rice, pulses, oil, vegetables, flour, spices and so on."

Recalling the plight of these poor people, he added, "Even if we give these items, some do not have gas to cook. It is almost as if they are on a strange island with no means to survive. So, for such people we give cooked food from our Community Kitchen."
462.84 tonnes of groceries and other essentials were gifted by the state of Andhra Pradesh alone. Telangana and Tamil Nadu joined in with 225 tonnes each. Mumbai Metro gave away 173.80 tonnes, while Karnataka distributed 119.13 tonnes. Similarly every state did their bit to help the dislocated and distressed.

"Then there are some groups who want to do their own cooking. For example, there is presently a group from Rajasthan. They cannot eat Andhra food. So we have given them groceries and made arrangements for them to cook.

"In fact, now whenever someone is in need, the local government immediately approaches us and we do not lose any such opportunity. The satisfaction that this Seva has given us is indescribable."

Throughout India 16,81,650 kilograms of cereals and grains have been given to 1,10,500 families through the volunteers of Sri Sathya Sai Seva Organisation.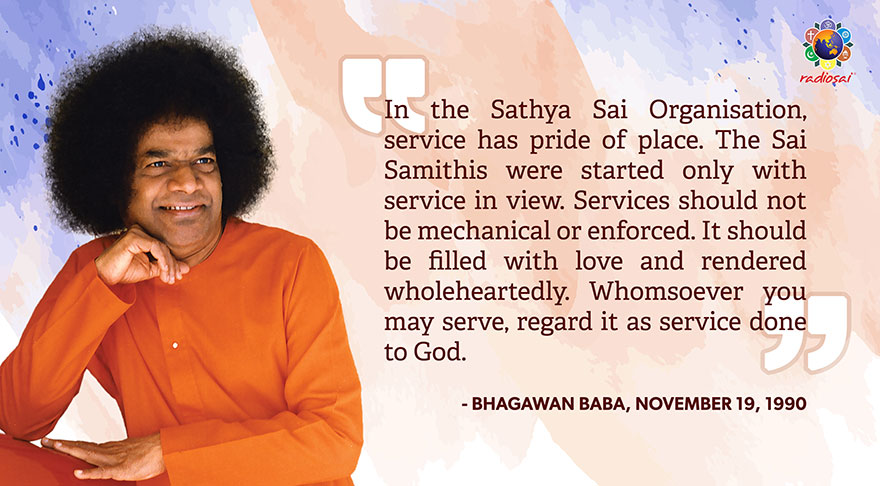 The Women Rise to the Occasion in Chittoor District

It is not just food, the ladies wing of the Sai Organisation has stitched 2,50,000 masks too, which have been gifted away free of cost.

S B Prasanthi, the Chittoor District Youth Coordinator of the Sai Organisation, said, "So many elderly ladies were so eager to make these masks. Initially we used to stitch them at the premises of the Sai centre but later as per government directions we stopped congregating. But these women continued the work at their homes. While they stitched, the youth did the packing and distribution."


"What was special about this project?" we asked Prasanthi.

With a hearty smile she said, "Usually we serve the poor and needy. But this was one occasion when we were helping everyone, even the government servants, health workers and so on. Everybody needs a mask and this was welcomed by everyone with so much gratitude. We can only be grateful to Swami for this lovely opportunity."

While there is so much work happening nonstop, how are these volunteers dealing with the challenges on the ground?
Tough Challenges and the Avalanches of Grace

We asked Chalapathi, "Was there any occasion when you felt 'Oh my god! This is really becoming difficult to sustain!'?"

Without batting an eyelid, Chalapathi said, "Problems surface every now and then. But solutions also arrive by Divine grace. For instance, with increased lockdown restrictions, procuring vegetables and groceries in huge quantities became a real problem.

"In fact one day we completely ran out of vegetables. I did not know what to do. How do we feed the people we had been serving everyday? They would be waiting for us. How can we go to them with no food packets in our hands? That night as we chanted the Sai Gayatri from 9 to 9.15 pm in my home as a family, I cried in front of Swami and pleaded with Him to show us the way.

"And you will not believe this, at 9.30 pm I got a call from a Sai devotee who happened to be present in a nearby village, 10 kms away. She is the daughter-in-law of a senior devotee.

"Out of the blue she asked me if I needed anything for the seva. When I mentioned about vegetables, she immediately said, 'That I can organise, not to worry. There is a wholesale vegetable market in a village 35 kms from here. I will personally go there and get it for you."

So at 2 am the vegetables were procured and they reached my home by 4.30 am, right in time before the cooks arrived to start the work for the day!"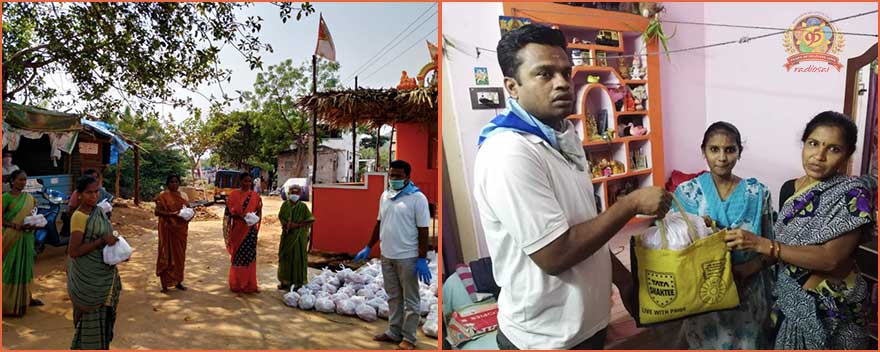 "Is this not His doing? Like this, every little thing Swami takes care! It is His work, we are only instruments!"

"I can only pray that He continues to give us such opportunities. We do not know whether we deserve this grace but it is His immeasurable love for us, that is all I can say. We only want to live up to His love and sanctify our lives."

For Manohar, the inspiration that propels him to offer his everything to this service, is the evergreen memory of Bhagawan Himself visiting Hoskote on May 27, 1986.

"Swami came on the day when we had completed 41 days of continuous narayana seva and He filled our hearts with nectar! I know Swami loves selfless service. Till my last breath I will serve with all my body, mind and heart in His name."

You cannot but be moved by their passion to please Swami through Seva.

Aiming for the Sky as the Sai Flag Flies High!

This spirit of selflessness keeps the Sri Sathya Sai Seva Organisation moving ahead with vigour and enthusiasm.


For all these dedicated volunteers, Prasanthi Nilayam is not only the headquarters of the Sai Organisation but their true home. They long to come, stay and serve in the holy precincts of the ashram every year.

In fact, the Sri Sathya Sai Central Trust which is working hand-in-hand with the All India Sathya Sai Organisation, has been working to explore newer opportunities of being able to help the society in these troubled times.

There are plans being drawn to reach out to 400000 families and distribute 5 million kilograms of groceries in the coming months.

With every passing day, the Sai Movement in India is getting stronger and swifter, and such moments of adversity only become another opportunity gifted by the Lord to rise higher with humility and experience Divinity in society.


- Radio Sai Team

What are your impressions about this? Please share your feedback by writing to [email protected] or [email protected] . Do not forget to mention your name and country please.