Who is the most beautiful of them all?
There is on the stage in Sai Ramesh Kishan Hall in Brindavan, a beautiful brass idol of Krishna. Some years ago when the idol was delivered to Baba for installation, three people were there with Him. One by one He asked them what they thought about the statue. The first two said that it was very beautiful. The third person to be so asked was the Rajmata [Queen Mother] of the erstwhile Princely State of Nawanagar. Without a moment of hesitation she replied, "Not as beautiful as My Lord here!"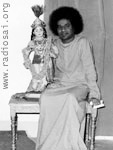 The story has a moral. God may have a human form but God He remains; it is for the devotees to recognise His Divinity. Further, the Creator is always more glorious and grand than anything in Creation, however beautiful it might seem!