TAMING THE FLOODS
Swami has the power to control Nature but He rarely interferes with natural phenomena. His argument is very simple. He says, "I have ordained the forces of Nature and they have their duties to perform. However, when it becomes absolutely essential for the welfare of mankind, I intervene in a benign manner." As young Krishna, he lifted an entire hill to protect the people of His village from a deluge. As Sai too, He has several times done similar things. One example is provided by the floods of 1973.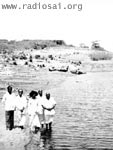 That year, thanks to very heavy rain, there was an unprecedented flood in the Chitravathi river. Water submerged all the low-lying parts of Puttaparthi, and came right up to the Ganesha and the Gopuram gates. The Ashram being at a relatively higher elevation, the flood waters had not yet entered its premises, but were threatening to do so. Meanwhile, all the villagers flocked into the Ashram seeking shelter. The compassionate Bhagavan not only allowed the villagers to take shelter but also provided them with food.
The weather continued to be inclement, and it appeared as if the water level might rise even further. At this stage, Baba went to the East Prasanthi block of flats, and climbed up to the terrace. From there He looked down at the overflowing river, and whispered something. People nearby could not make out what Swami was saying but they could clearly hear the word Shanti being repeated three times. While 'advising' the river to calm down, Baba also raised His hands in a gesture of benediction. Miraculously, the flood waters began to recede immediately, and within a few hours, the people huddled in the Ashram could go back to their homes.
There are also occasions when Swami emphatically refuses to intervene. Once during a Discourse, it was raining heavily. Devotees prayed that the rain be stopped but Baba brushed aside the request. He explained that while the rain might be an inconvenience for them, the farmers were eagerly looking forward to precisely this downpour. Devotees must not be selfish, He added.