| | | | | | | |
| --- | --- | --- | --- | --- | --- | --- |
| | 'Like' us on Facebook | Follow us: | | | | |
Posted on: Nov 27, 2013

Part 02
First Dance, Then Singing... But Always Smiling!
"I loved dancing," the ebullient Kaustuv now eagerly joined in. "In fact I learnt formal dance for a couple of years and gave stage performances too!"

"Yes, he was learning Kathak and enjoyed it," his mother gave more insights, "But that also meant more fractures. So on the doctor's advice, by the time he was 5-6 years old, we discontinued his dance lessons."

Kaustuv as a 5-6 year old leading the performance, receiving accolades and winning awards
"Then I was drawn to singing," Kaustuv came in again, "My mother is a music teacher having received her Diploma from Prayag Sangeeth Samithi, Allahabad and Bangiya Sangeet Parishad, West Bengal. So there was always so much music going on at home. I was simply attracted to this and by God's grace, singing came naturally to me. The moment I heard a song I would be able to sing it."

"He learnt classical singing from a professional for two years," his mother now added, "and he was indeed very good at it. He made his first album Maa consisting of popular Bengali songs on the glory of the Mother when he was just seven."

"He got many awards too," his father said, his face beaming the pride, "In 1999, the West Bengal Journalists' Association conferred on him the Dishari Medal recognising him as the Best Child Vocalist of the year."

"Do you want to see that photo?" Kaustuv asked me, his face radiating excitement.

"Of course," I said and his father reached out to the top most shelf of the cupboard of their less-than-400 square feet tiny home and Kaustuv could not wait for his father to open the album for him.

After the Dishari Medal, plenty of awards and shields came his way while his calendar was filled with concert requests
"See this... I am receiving the award from the Sheriff of Kolkata, and look at this picture - I am singing for a programme organised by ISKCON, and here for the Silver Jubilee Celebration of Mother Edith's School, here I am performing for the Annual North Bengal Flower show..."

"Ever since he received the Dishari Medal, his schedule became tight. He was invited by so many organisations. Especially during festival seasons like Durga Puja, he was giving concerts almost every alternate day. He was interviewed by Doordarshan Bangla too."
"Was he able to take all this strain?" I asked, wondering how he managed all this.

"Well, yes it was difficult but he was enjoying it. He used to perform the opening song for many functions. He had a slight hunch on his back so he walked slowly and carefully. See here, he is singing with his hand fractured. At times, he would give performances with plaster of Paris on his limbs; nothing deterred him."
"He is just something else!" I did not know what else to say.

"I had a good team of accompanying artists," Kaustuv added, "We used to practice only once during the previous night before the final performance... and see this, I am with Rashid Khanji... here is Anup Jalotaji, I sang in front of him too and this is a famous Bengal composer. And here I am with Bhupen Hazarikaji and this is Anuradha Paudwalji."

With legendary artists, Rashid Khanji (left) and Anup Jalotaji

With the distinguished musicians Anuradha Paudwalji (left) and Pandit Ajoy Chakrabarty (right)

"You have photographs with so many legendary artists!"

"Yes, it is all Swami's grace. My father being a press photo journalist by profession has taken so many images of every concert."
"It was going great musically in 1999-2000," his father, Kaushik Dasgupta, now continued, "However his fractures were frequent. He used to have a minimum of 5-6 fractures every year."

"My disease is funny," Kaustuv butted in, "One day a friend of mine in school jovially patted my thigh and I had an instant fracture."

"By 2003 he had suffered at least 40 fractures," his mother summed up his sorry tale. "But from 2000 onwards he could not walk at all," she continued, "Because that year both his legs broke and he had to now move in a wheelchair."

"But it was during that period that I produced my second album Argya meaning worship," Kaustuv joined in jubilantly, no trace of sadness at all in his eyes. He then added, "I adored Baba and loved Him very much."

I took this clue and instantly asked, "How did this love for Baba happen?" This would be a beautiful chapter of this narrative I thought. And it was, indeed.
Sai Energizes His Precious Child

"My parents knew Swami since 1984 but back then it was no serious devotion, just casual familiarity. But in 1996 they somehow came to Prasanthi to do seva and in those days Swami used to give pada namaskaram to all the sevadals at the end of their voluntary service.

"The West Bengal sevadals finished their seva on December 31, 1996 and on January 1, 1997 they were sitting in the Mandir for Baba's blessings, and my father had me on his lap. When Baba came to us, He started walking slowly amidst our rows, taking letters from someone, giving Vibhuti to the second, answering a question of the third, and so on. When He came near us, my father just held me aloft and sought His blessings. Baba so lovingly placed His hand on my head firmly and blessed me profusely. That was when the connection happened. I felt His energy, His infinite love and His grace. Since then my love for Him has only increased day after day, year after year.
"In fact, when I was given the Dishari award in 1999, I immediately told my father 'let us go to Prasanthi and offer it to Swami'. And that is what we did!"

"Wow!"

"Yes! I remember that trip," continued his father, "It was an arduous journey. There was a sudden flood in the south and our train got stranded on the way. We had to spend three full days inside the train.
Nevertheless, finally we did arrive in Prasanthi and placed the award at Bhagawan's lotus feet."

"That's so beautiful! But when did you decide to relocate to Puttaparthi? And why?"

I was keen to know how this journey to Swami progressed.
The Dasguptas Move to Puttaparthi

"Our first call was in 2003," his father began, "A doctor serving in Baba's hospital in Puttaparthi had come to our town, Siliguri and when we told him about Kaustuv's condition he said that many expert physicians visit Prasanthi off and on, and if we lived nearby we could take advantage of their advice and treatment. This set me thinking. Then on my wife's advice I came to Puttaparthi alone and stayed in a lodge for a month to explore the place. I was happy with the ambience and the facilities around. I thought to myself that even if Kushal, my younger son, did not get admission in Bhagawan's Primary School, there were other schools around. More importantly, there would be ample opportunities to consult with the best physicians for Kaustuv - this thought was the driving force. Once I returned to Kolkata, we made preparations to shift to Prasanthi. We sold our house, beds, curtains, geyser, inverter, everything and moved to Puttaparthi in early 2004."

Mr. Kaushik did not have a job in Puttaparthi then and lived out of his modest savings. They chose to stay on the third floor of a lodge right in front of the Ganesh gate.

"We chose this flat for a good reason. From there, Kaustuv from his wheelchair could easily see Lord Ganesha, the morning nagar sankirtan, and most important, Swami, whenever He went out in the car. It was a single room; we could not afford anything more then. Nevertheless, it was good for Kaustuv."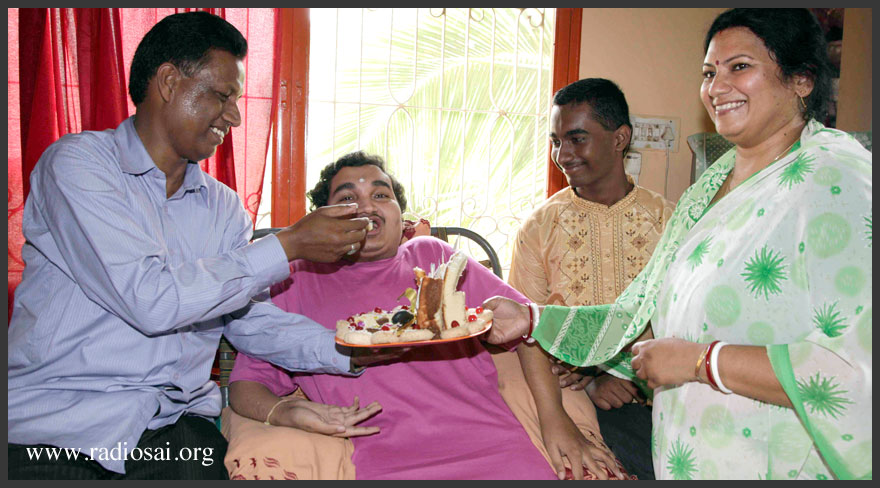 The family celebrates Kaustuv's Birthday (Oct 2013) in their humble home in Puttaparthi
"That year and the subsequent two years were one of the most trying periods of our lives," Sheila Dasgupta, his mother now continued the story. "That is because there was no kitchen there, I used to cook in a veranda and we had a tough time whenever it rained or it was windy. After a while continuing there became extremely difficult, so we started looking elsewhere. Finally we found a slightly bigger house with a kitchen on the Chitravathi road. But this also meant that we needed to supplement our income now somehow."

"That is when we started the Dasgupta Catering Service," Mr. Kaushik recalled, "My wife is a very good cook and all those who loved Bengali dishes placed orders with us. I used to do home delivery. This proved quite a success, so much so that we received orders from the Boys' Hostel and from the Hospital staff to make food for 200-300 people."

"Aunty, did you have anyone to help you then?" I asked.
"No, I did it myself. That way we could have more savings. Besides I did not want to involve anyone else lest the Bengali flavour of the dish gets diluted."

"It must have been very tough catering to such huge orders alone!"

"Yes... we had to do it, there was no other go." That smile on her face never faded whether she was narrating the brightest incident of her life or the most heart-wrenching one.

"So we continued this catering service for two years," Kaustuv's father said, "and then in 2006 I was introduced to Colonel Bose, the Director of the Chaitanya Jyothi Musuem. I requested him for employment under him. It was becoming very challenging for my wife and me to run the catering business. We wanted some relief.

"Even though Colonel Bose was very sympathetic towards us, he explained that it would be hard to get a paid job. He suggested that I could offer voluntary service if I wished. Somehow I decided to do seva in Chaitanya Jyothi. So this was an added responsibility now along with catering.
"But after one year of free service, I decided I could not carry on any longer. I was at my wit's end. With no resources, no job, no admission for Kushal in primary school, and no major improvement in Kaustuv's condition either, my world had completely collapsed. I was too frustrated.

"I remember that night I went to the Ganesh temple at 9 p.m. and vented my anger at Him. 'Why did you bring me here? What am I to do with my family now? How am I to survive? Why are you testing me so much, Lord...I cannot take it anymore, I am going back to Kolkata...I have decided... this is not fair...' I cried and cried till I could no more and returned home.

"The next day, early in the morning, Colonel Bose rang me up and said, 'Kaushik, I have good news for you. See me soon'. I immediately went to him and he told me that a security person at the museum had left the job and I could take his place. I was overjoyed and wondered if this was Swami's way of telling me not to leave Puttaparthi. And, so we stayed on."




What are your impressions about this article? Please share your feedback by writing to

[email protected]

.
Do not forget to mention your name and country.