| | | | | | | |
| --- | --- | --- | --- | --- | --- | --- |
| | 'Like' us on Facebook | Follow us: | | | | |
Posted on: Nov 27, 2013

</p>
Part 03
"In 2006 another most memorable thing happened, especially for me," Kaustuv's eyes were brimming with joy. "Colonel Bose had once heard my singing and liked it very much. Now he wanted me to sing for a short film that was being shot for the museum; it was the bhajan 'Koti Pranam Satha Koti Pranam' but with a beautiful alap. I felt so privileged and blessed.
The voice, song and visuals... the Lord worked beautifully through Kaustuv
Kaustuv's Voice Becomes Eternal in Chaitanya Jyothi
"On the day of the recording when I was about to go to the studio, the power failed and the lift in our building stopped working. Left with no other option, my father carried me downstairs in his arms. And now, as if this was not enough, it started raining when we were about to get into the vehicle!

"I told my father to cancel the recording because we faced so many hurdles that day, one after another. But he told me to never lose heart else I might miss the opportunity. So with great difficulty and pain too (in the process I had a muscle pull and that was hurting me) I reached the studio and we did do the recording, and that indeed came out so well!

"Today when I reflect on the recording, the lines that I was to sing that day had to convey pathos, and all those circumstances that evening only intensified my yearning for Him, and that is how the song too came out very beautifully.
"That recording is one of my most prized possessions till date because that was the last time I sang before my voice cracked and turned into adult voice. I sounded much different then."

Kaustuv smiles and adds, "During that voice-changing period I could not sing properly for a year or two, now it is better."

"He is 21 now," his mother supplements, "but he has come this far only because of His grace because that year, in 2006, a life-altering thing happened in his life."

"What is that?" It seemed there were even more fascinating chapters in Kaustuv's life.
When Sai Breathed Life into Kaustuv One More Time...

"In August 2006, Kaustuv started complaining of persistent pain in his right thigh. It became so severe that he could neither sit nor sleep; no position was comfortable. His condition was most pitiable. We felt so helpless and sad. When we consulted a reputed orthopaedic surgeon here, he asked us to bring Kaustuv to the premier hospital where he worked in Bangalore so he could do all the relevant tests there. We hired a cab and left to Bangalore."

"Once we reached this hospital," Mr. Kaushik continued, "they did a series of X-rays - some 30-40 of them. But the doctor wanted to do more tests. He told us to come the next day for a biopsy as he suspected a growth in his thigh, a tumour. So we had to find a lodge near the hospital to stay overnight. The next morning after the biopsy was done, the doctor asked for the CT biopsy to be done too. Now Kaustuv was feeling very uncomfortable in that hospital and these series of tests had indeed frustrated him. But we had no option but to follow the doctor's advice. That afternoon he was taken in for CT biopsy."

"That was the most horrifying experience of my life," Kaustuv recounted with immense sadness, "It was so painful! And so much blood came out. It was like going through a surgery without anaesthesia. The entire bedspread was covered with blood. The nurse attending on me told me to keep thinking of my favourite God. I prayed to Krishna, to Swami, chanted the Hanuman Chalisa, but it was too much to bear. I do not know how I survived that test! And once it was over, the doctor suggested that we stay back one more night and travel only the next day. But I told my father that I did not want to stay there for one extra minute. We started off to Puttaparthi and reached home late that night."

"That journey was one of the most devastating periods of my life. Not because of the pain Kaustuv underwent or the inconvenience he was facing trying to lie on the back seat of the car. It was because of what the doctor had told me before we left. 'Mr. Kaushik, serve Kaustuv to your heart's content for the next few days. He may not be around for long. That tumour unfortunately looks like a malignant one; this is what the biopsy shows. It is for this reason that I asked for a CT biopsy to be done. We will have to wait for the results of this test to confirm this; that will take 72 hours. But from what the scans and the biopsy report show, it is definitely cancer."

Understandably, this had totally destabilised the minds and hearts of the heroic parents. They could not imagine their life without their dear Kaustuv, who has been the centre of their lives and for whom they were ready to do anything. They were continuously crying within, without giving any hint of what was going on inside them to Kaustuv. Once they reached home they placed Kaustuv on his bed, and the father then stepped out and headed straight to Lord Ganesha.
| | |
| --- | --- |
| | |
| | The Powerful Presence... fulfilling every sincere call from the heart |
It was past nine in the night and the ashram gate was about to be closed. Mr. Kaushik requested a sevadal to let him in, and once inside he stood in front of the statue and sobbed uncontrollably. He pleaded with Him 'You are the only One who can save us... do not desert us now please... please have mercy... we cannot live without our son... we came here to find hope but are now abandoned by all... do not leave us Lord...."
Prayers just poured unceasingly.

And after a while he felt like taking some prasadam from Ganesha for Kaustuv. So he asked the sevadal there to give him a piece from the coconuts offered at the shrine but the sevadal refused as it was against the rules.

I pleaded with him, 'A tiny piece will do... please give me, my son is terribly sick.' But, the sevadal did not oblige.
Absolutely dejected, Mr. Kaushik prostrated before the Lord and as he raised his head, a little hand showed up next to his right and said, 'Here, take prasadam.' He was a cute and bright little boy who so lovingly gave him that piece of coconut, and the moment Mr. Kaushik accepted that prasadam and looked for his pockets to keep it safely, he was gone.
He asked the sevadal if he saw in which direction the little boy went and the sevadal said, 'Which boy?' He asked again, 'Didn't you see a boy come here and give me the prasadam now?'

'No, no one came here now,' the sevadal replied. Kaustuv's father was stupefied. He immediately rushed home and put the prasadam in his son's mouth. He knew it indeed was a special blessing.

The next 72 hours – four days and nights – were the most restless of their lives. On the fifth day, Mr. Kaushik promptly called the hospital to ask for the report but was told that it would take an extra two days. He called again on the seventh day but the hospital said they would need an extension of two more days. When he called on the ninth day, the same story was repeated.

Mr. Kaushik's patience now ran thin. When he rang the hospital up on the eleventh day, he lambasted them for taking huge amounts of money and offering such irresponsible service. And that day the person at the other end said, 'Mr. Kaushik, the report is ready. Sorry for the delay. You can come and collect it.'

Mr. Kaushik told them that it was not possible for him to go to Bangalore immediately and so the hospital faxed the report. When he saw this, he was surprised as it did not mention anything about the malignant tumour. In fact, there was no mention of the word 'tumour' anywhere in the report!

He was completely shocked and puzzled, and took the earliest bus available to the hospital in Bangalore. He went straight to the orthopaedic surgeon. This doctor had no answers to all his questions. All he said was two words 'God Knows'.

Mr. Kaushik then went to the pathology laboratory and was told, "This is a mystifying case; the reason why we took so much time. The fact is that the CT scans and biopsy report showed the prevalence of cancer but somehow the CT biopsy done on the same day indicated nothing to the effect! The tumour itself was not to be seen in this report. It was very confusing. So we sent this case to the All India Institute of Medical Sciences, New Delhi and to another premier hospital in Hyderabad to get more opinions. Finally, we have concluded there is neither the tumour nor is there any cancer. We cannot understand this though."

The joy that Mr. Kaushik experienced that moment cannot be described. He thanked His Lord, His Ganesha, His Baba and now he was more convinced than ever that Swami would never leave Him come what may; He was with them and will always be with them.
Blessings Aplenty from the Almighty

In 2010 on the day of their marriage anniversary, Bhagawan specially blessed this dedicated couple. He took the letter from Mr. Kaushik the previous day itself, and on that important day for them, the all-knowing Lord went to the ladies side after alighting from His car and showered holy rice grains on his wife. No other day is now more significant to this devoted couple.

Unforgettable moments with their Sole Saviour... (second from right) Kaustuv's father and (right) his mother

After all these signs of His grace and infinite mercy, Mr. Kaushik was now firmly established in His faith and love. However, he still had a wish for Swami to fulfil - to admit his younger son in His school. And that too was granted in 2010 when the Sri Sathya Sai Easwaramma School was reopened as an English medium school for day scholars. Kushal was enrolled in the first batch of this new curriculum.
Touched by their love for Swami and the way Swami has been responding to them, I asked Kaustuv, "Suppose Swami were to appear here now and say 'Kaustuv, ask whatever you want my dear, I will grant it'. What would you ask?"

"Oh, I can ask for only one thing. Dear Lord, please be with me. Never ever leave me. Please bless me so that I can be an instrument in Your hands. You have given me this life and kept me here in Prasanthi, please give me the strength and opportunity to serve You. I want nothing else Lord."

"Sure? Will you not ask Him to cure you?" I was curious.

"Swami knows what is best for me. I am happy to continue like this if Swami feels I can be a better instrument in His hands in this condition. I only want to be able to work for Him and sanctify my life however He wants it and wills it. It is all He, all is His grace."

Kaustuv's father blessed with a pada namaskar and his little brother with a Divine glance

Kaustuv smiled again heartily, that blissful contented smile. And I felt so utterly small and inconsequential. In spite of the many blessings conferred on us, we often complain about a million things and have little time for God. But here was someone who can rightfully complain about a million things to God, but he would only cherish every little blessing he has received and be ever grateful to the Lord, and what is more, longed to give all his time to God.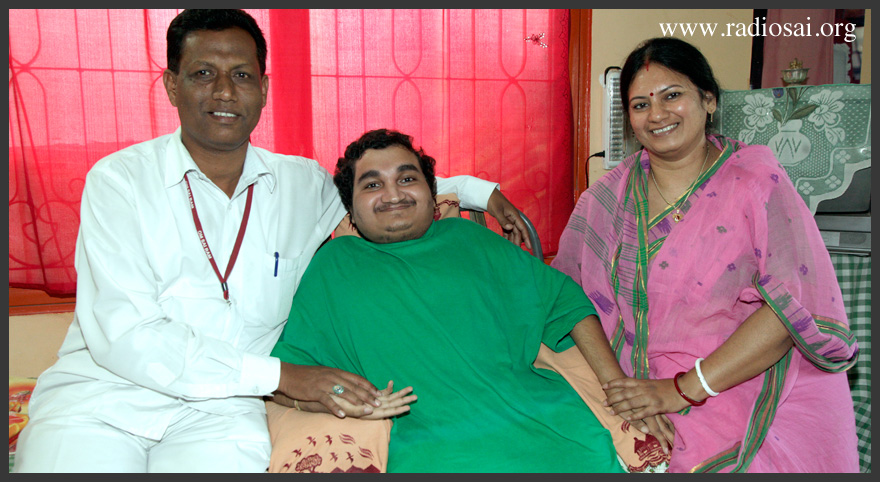 A family that the Lord would be tremendously proud of! Swami speaks and smiles, laughs and works through them...

"Swami came in my dream one day recently and said 'all will be fine when the time comes'," his father told me as I was about to leave.

I could only pray that the time would come at the earliest, as I took my leave my heart heavy with emotion and my eyes waiting to overflow.
By Bishu Prusty
(Team Radio Sai)


What are your impressions about this article? Please share your feedback by writing to

[email protected]

.
Do not forget to mention your name and country.