| | | | | | | |
| --- | --- | --- | --- | --- | --- | --- |
| | 'Like' us on Facebook | Follow us: | | | | |
Posted on: Sept 23, 2013

</p>
Sai Organisation Committed to the Uttarakhand Relief Project
Radio Sai presents this follow-up report on the on-going relief operations of the Sri Sathya Sai Seva Organisation of India (SSSSO) in the flood ravaged mountains of Uttarakhand, North India.

Despite the odds, Sai's Sevadal soldiers continue to brave it all as they deliver Bhagavan's love, assurance and assistance in full measure to the victims of this devastation.

Recently, in a telephonic interview the All India President of the SSSSO, Mr. V. Srinivasan (VS) gave to Radio Sai's Karuna Munshi (KM), he provided some facts, figures and pictures of the work underway in that hostile terrain. Presented below is a consolidated update of the Uttarakhand relief operations by the SSSSO.

Click here to read the first update of July 8, 2013, from Mr. V. Srinivasan.

KM: Sairam Sir! You last updated Radio Sai listeners on 8 July 2013, about the involvement of Sri Sathya Sai Seva Organisation in the relief work at Uttarakhand. Since then, a lot more water has flowed under and over those bridges, due to continuing rains. As of 11 September 2013, what is the status of our relief efforts?

VS: Sai Ram! The first phase of our relief work was directed towards the stranded pilgrims who had come there for darshan. At that time we concentrated on assisting them at airports, railway stations and bus terminals, and gradually as that work concluded, we shifted our full focus on to the residents of the villages in Uttarakhand, who have been totally cut off by these floods.

| | |
| --- | --- |
| | |
So our main effort now is to get as much relief material to them as possible until some semblance of normalcy is restored in their lives. The present condition cannot be termed normal by any stretch of imagination - they have lost their homes, they are living in makeshift accommodations, without access to the basic necessities essential for their daily survival.

We continue to deliver to them articles of food and blankets as winter is fast approaching. We are very concerned about how these people are going to navigate through this strong winter which is going to arrive within the next six weeks or so.

KM: Winter does begin earlier in the mountains!

VS: Yes, so we are at present providing them with all the needed medicines, blankets, food articles, clothing and solar lanterns which give them some light in the darkness and help children to read something.
Of course the schools are also very badly affected and going forward, if we are able to have a regular communication with these people, we could set up some kind of informal learning and teaching centres. That way, at least the children won't be totally cut off from what they were learning before. This proposal is a little way down on the priority list because the immediate problem we are facing is that this year the rain seems to be continuing without a real end to the monsoon. September is usually a good, rain-free month, but this year we continue to have rains every few days. So this has hampered our movement a lot and even roads which had been temporarily repaired are getting washed off.

Accessibility Remains A Challenge
Our relief activities to help the residents of the remote villages in Uttarakhand have therefore been continuously hit by the disruption of road communications. Wherever possible, our Sevadal volunteers have gone on foot to deliver the relief supplies. This is not an easy task as each bag of supplies weighs over 20 kilos. However they continue their efforts to deliver the much needed relief supplies.
Clearly, it is a tough logistic exercise to plan how we are going to reach a place. Today we are told that there is some road link open and we mobilise our small trucks and vans, and when we go some distance we find that it is not possible to proceed further. So then the Sevadal volunteers try to trek the rest of the way, which as I said is a big challenge given the heavy loads of relief materials that has to be carried.

And especially in the mountains... our volunteers are not hardy mountaineers or Sherpas either. Sometimes we have had to do some re-packaging to make smaller parcels and then see how to move them. But still our Sevadal are persisting because of how eagerly they are awaited at the target villages. Sometimes the villagers, some of whom are seasoned mountaineers, offer to help. When they reach there with these relief material they see the tears of joy among these people. So to tackle this situation of bad connectivity is where we really pray hard to Bhagawan to give us the strength.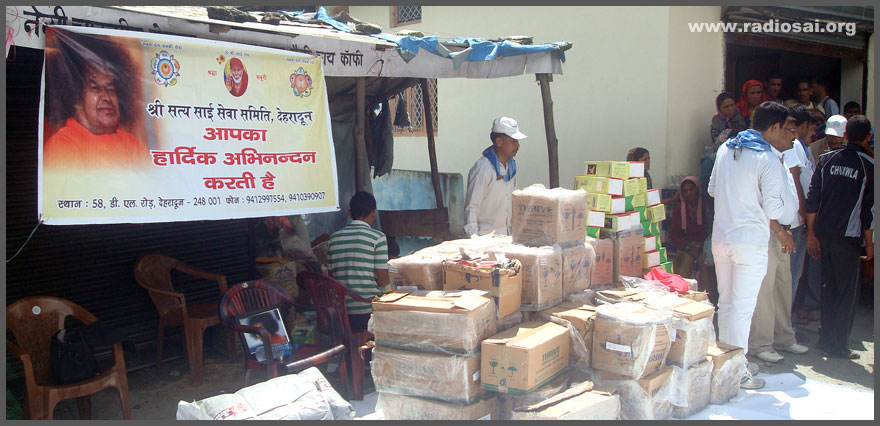 Take for example our flood relief activities at Guptkashi

With Bhagawan's Divine Blessings, Sevadal from Uttarakhand moved to Guptkashi, a place about 50 kilometres short of Kedarnath on 1 September, 2013. Guptkashi area is still cut off from the main road and therefore it's residents are facing continued problems with respect to food supplies and medical aid. The villagers in Guptkashi welcomed the seva of the Sai Sevadal with tears of joy and even helped our Sevadal in unloading the items they had carried after a life threatening drive to their village. The last stretch had to be covered by foot due to total washout of the roads connecting to the village. One has to struggle for nearly 9 hours to reach these villages by road transport from Rudraprayag, the district's headquarter.

There is an alternate route via Myali which is also disrupted by landslides at a number of places and due to that our Sevadal team was held up enroute at mid-night, about 20 kilometers short of Guptkashi. The team got the route cleared with the help of a JCB machine early in the morning to finally reach Guptkashi.

Before distributing the relief items, the area was surveyed in detail by the Sevadal with the help of the locals some of whom were Sai devotees. The Gram Pradhans and other village heads were also involved in identifying the real needy families.
Swami's Sevadal soldiers carried food packets containing food grains, sugar, tea, cooking oil, etc. in sealed packets. This time the packets were kept little lighter since they had to be carried on foot for a long distance. Tarpaulins and clothes were also distributed to the needy. As always, Swami's picture with Vibhuti was also distributed to all.

Seva was thus rendered to a total of 430 families from six villages in and around Guptkashi area that were the worst hit by the flash floods caused by heavy rains in Kedarnath Valley of Uttarakhand.
The present goal is to provide relief for the residents of the villages - some of them have left and gone down to the plains to be with their relatives and may be planning to come back next spring. But there is an innate fear among these residents that if they leave their residential location, somebody may take over their site and this is a major problem for them. So they are trying to stay as long as they can and this is where they need help and we are trying to do our best to see how we can deliver that help.
Here are some details of the relief supplies being provided by the Sai Sevadals to the affected:

Villages covered:
District Rudraprayag: Chandrapuri area: Bhatwari Sunar, Gabni, Karnshil, Chandan Nagar, Kunjyani and Tali Villages
District Chamoli: Mohan Khal
Relief Items: Tents, Food packets weighing 27 kg each including food grains, tea, sugar, cooking oil, candles etc. along with sarees, blankets and 100 solar lanterns.
Villages Covered:
District Rudraprayag: Kandi, Jhabri, Malla and Karanshil
Relief Items: Tarpaulins, Tents, Food packets weighing 27 kg each including food grains, tea, sugar, cooking oil, candles, etc. along with sarees, blankets and 100 solar lanterns.
Villages Covered:
District Rudraprayag: Khullu, Shyansu, Chamashi, Chillod and Jal Malla (Ukhi Math) and Tehsil Guptkashi
Relief Items: Food packets weighing 10 Kg each, tarpaulins, 450 solar lanterns and clothing.

We have worked in over seventeen villages to deliver these materials. We are always exploring alternative routes, consulting the local population about possible trekking paths which we can use. But again the rains make the paths slippery and the soil there is unstable. It is really unlike any other place, it's a totally different experience from what we had in Odisha but everything is a learning for us and we are imbibing these lessons within the National Sai Seva Organisation to see how it can improve the overall efficiency of our service activities and ability.

Long Term Rehabilitation – Prefabricated Homes from Australia
KM: Sir, in our last update you had touched upon the possibility of using prefabricated houses to provide shelter for the local population. How is that moving?

VS: We are ready with that. We have identified the types of prefabricated houses and we have the manufacturers on stand-by. But we are clear that we will not construct houses at the same sites where the old houses were, because many of them were unauthorised constructions and they were right on the river bank. That is why they were the first to get washed away.

With global warming, I don't think that this is the last of the floods. We need to really plan for any subsequent floods on a national basis. The government should consider a total restructuring of the development of Uttarakhand. Otherwise we are going to see more and more such disasters.
Coming to our own proposal regarding prefabricated houses, we have formally conveyed it to the Uttarakhand State Government in a letter stating that the Sri Sathya Sai Central Trust is willing to put up houses there for the people who have lost their homes but we require some site which is further away from the river bank. This is where we are looking for some help from the Government. We are yet to receive any response for the proposals but we are following it up and the moment we get the green signal, we will start. We have lined up professors from the IITs who have also approved this technology, which incidentally comes from Australia. The manufacturers are also ready to come and discuss with the Government engineers about the technical suitability of these constructions and how exactly we will be setting up these units.
So right now we are waiting, hoping and praying that we get some clearance from the State Government of Uttarakhand. In a sense, this will also become a model village.
Holistic Model Village Proposed
Apart from building the houses, we are also planning on total interconnected drainage system for the whole colony, so that there is proper treatment of sewage and no more defiling of the river water. There is a great national concern to ensure the purification of river Ganga and our proposal addresses that issue as well. We are ready to do our bit to show how this can be done.

The proposal is holistic and I hope the Government will take positive attitude towards it.

KM: Considering the fact that winter is around the corner, it looks like this project might begin only after spring next year.
VS: I think we have lost time and you are right - it looks a bit impractical to think of doing something this year but hopefully we can start in the spring next year. In the meantime we are delivering special waterproof polypropylene sheets apart from the tents we which have already given. These polypropylene sheets can offers some degree of protection for the people staying in these make shift accommodations. So that is where we stand.

Radio Sai's Global Family Responds

KM: - Since you last connected with Radio Sai's global listeners on 8 July 2013, what has the response been like from our listeners?

VS: Nationally we have had a very good response to the activities of the State Sai Organisation. As you know they did set up a relief fund and they have received quite a lot of money from different parts of the country and perhaps some of these came from the relatives of people who are abroad and who are also keen to do their bit. As you know I had clarified that this account opened by the State Sai Seva Organisation, cannot receive donations in foreign currencies. So that account has been receiving inflow in rupees only from people all over India and I am sure several of your listeners have also participated in this effort. And as far as the overseas donors are concerned, we had advised them to route their contributions through the Sri Sathya Sai Central Trust and there have been contributions received in the account of the Central Trust with specific request that it be used for the rehabilitation work in Uttarakhand. So these funds have been held waiting for the commencement of the rehabilitation work.

Time To Pool In Collective Know-How, Ideas, Experiences

KM: What else can our listeners do to participate in this project other than pray to Swami to clear the obstacles in the path?
VS: We need to do a little out-of-the-box thinking now, especially the people abroad. How do people survive and how does one make life bearable, when one doesn't have a permanent accommodation in very adverse climatic conditions - in sub-zero temperatures?

What are the kind of things that we need in order to survive in such temporary accommodations? We need to go beyond things like sweaters and woollens which we have already sourced in India. It would be good to know if there are other kind of gear or clothing which can be useful under these conditions. We can include those as a part of our relief package. Also are there any kind of non-conventional heating devices, water heaters and such that they can share information about with us.

We are delivering solar lanterns that charge even on cloudy days and that provides one kind of facility, but there are other things one needs. One needs basic heating of the house, as the nights are already becoming colder.
If we continue to use fire wood to heat water, we will further aggravate the ecological problem. Are there any solutions to this? We are ready to consider some innovative solutions.

KM: The knowledge of what hikers and mountaineers use when they go on difficult treks - that would be good to know.

VS: We are having to learn things which we never thought about earlier. Perhaps Radio Sai's global network of listeners may have thoughts and ideas and experiences to share with us that can help us strengthen our efforts to help the afflicted people of that area.

A Note from the All India President 
All are aware of the terrible floods which had struck Uttarakhand and the enormity of the damages and suffering caused. 
The Sri Sathya Sai Seva Organisation, has been rendering relief to the pilgrims as well as the residents of the villages. 
The winter, which is very severe in those parts, is rapidly approaching. Most of the residents of the villages do not have any permanent accommodation. In order to help them to survive the winter, we need now new ideas for Service. Literally, we have to think of out-of-the-box solutions.
Some thoughts are on suitable materials for temporary accommodation, proper clothing, heating devices (where there is no electric power supply available), nutrition and how to deliver Bhajans or other programs to the stranded people in the mountains. This is only a suggestive list.

KM: I am sure our listeners are paying attention to what you are saying and we will hear from them soon and together we hope to make a difference.

VS: As you can see from the pictures of this relief project, each one of them tells a story about human relations. It shows how ordinary people can rise to extraordinary heights to serve others with love and the great joy. This is how the victims of this tragedy are receiving love.

This shows the bonding between individuals and the grace of God. And every session of relief is undertaken with prayers to Bhagawan and we do organize bhajans as well. So people there are also getting familiar with the Sai culture of how we dedicate all our actions to Bhagawan and that we are just instruments, the results being in His hands. I think those pictures really say a lot and I would draw the attention of your listeners to those photographs.

KM: And it is wonderful that everyone receives a vibhuti packet and Bhagawan's picture as well.

VS: Yes, Bhagawan's picture, vibhuti packets and in fact we are looking at other cost effective ways to make them feel that the whole Sai family is with them. How do they get access to Radio Sai and also to some bhajans and other music...These are the areas we are now beginning to explore.

Instead of just looking at the basics, now we need to go a little further and pray to Bhagawan to give us some new ideas on that.

KM: Best of luck with those and we hope to connect with you again in a few weeks' time when there is more news on this front.

VS: I look forward to that. Sai Ram!



What are your impressions about this article? Please share your feedback by writing to

[email protected]

. Do not forget to mention your name and country.