| | | | | | | |
| --- | --- | --- | --- | --- | --- | --- |
| | 'Like' us on Facebook | Follow us: | | | | |
Posted on: Feb 27, 2015

COMMENDABLE SERVANTS OF THE LORD - 1

Part-2
The Lord Requests Rajan
"But how was your mental state then? Did you get disgusted with destiny, faith, Divinity...?" I could not stop myself from asking this.
"Oh, I cried. I cried a lot. I asked Swami every day 'Why me?' and simply broke down. I just could not accept this reality. One evening during this period, after the Thursday Bhajan in the Sai Centre, I returned to the shrine after everyone was gone, and just burst out in front of Swami. 'Why me, Swami? How am I going to manage? When I had faith in You, why did You do this to me?' Tears just streamed down in agony and pain. I cried till I could no more. Then I became silent. And in that silence I heard a strong voice; it was so clear. Even today I can hear that voice. It said, 'Please take care of this child for Me.'
| | |
| --- | --- |
| | |
| Sai Brinda and Sai Govind with their precious mother | |
"At first I was confused. I wondered who the voice was, whose child was this, and so on. But as I prayed and reflected, and moved from a space of 'my, me, mine'' to 'His, His and His' everything became clear. It was Swami's voice!
"He was telling me that she was His child and in fact requesting me to take care of her for Him. This totally changed my perspective. I thought, 'When she is His child, why should I worry?' I collected myself. I became strong and since then have been dealing with her condition bravely.
"Sai Brinda will be 13 years soon and is growing up like any other child. When you see her, there is nothing apparent in her appearance to give away her special condition. He is taking care!
"Then after a few years we had our second child. Yes, we were worried if this child too would develop the same condition as it is a genetic disorder. The doctor said, 'There is one in four chances of you having a child with the same condition.'
"In fact we had put in much thought before we decided to opt for the second pregnancy. Finally we felt our daughter had been alone too many years. So praying to Him and willing to accept whatever He gave, we went ahead.
"Sai Govind was born in January 2011. He was healthy. There was no sign of his sister's condition in him. We were elated and happy. But everything changed on the third day. The doctor said, 'Well, you have seen the worst. His condition will not be worse than your daughter. You know how to take care of her. In the same way you can take care of him too.' I became still, lifeless. My heart felt too heavy to beat and carry on. But this time I regained myself relatively faster. I said, 'Ok Swami, another child, same condition... whatever is Your will.'"
Befriended by Sai
"But you are someone so active in the Sai Organisation. You have been the State Youth Coordinator for Sarawak. Did you at any point in time think, 'Swami! Enough is enough. I cannot take it anymore. I am doing so much for You and this is what I get in return! This is too much!'"
I wanted to know how he was able to still keep his faith and do His work.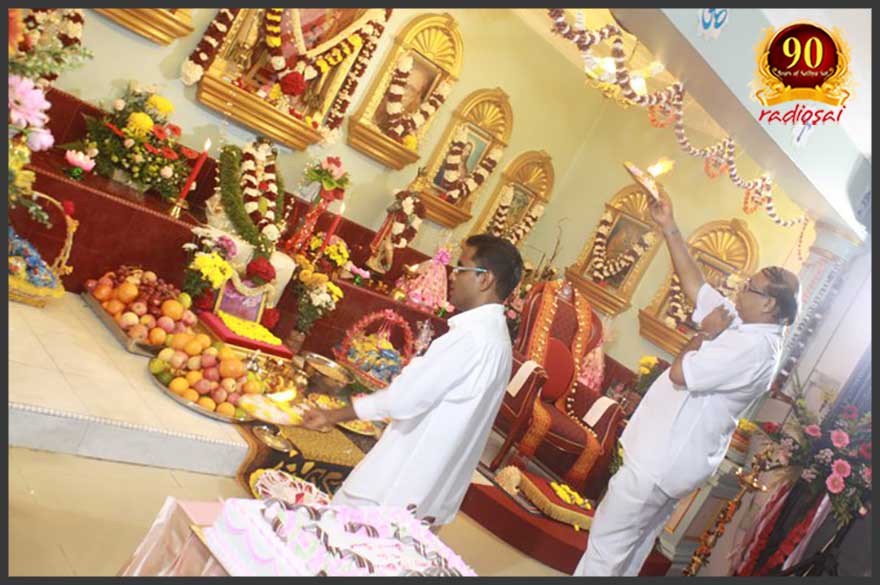 At the Sai Centre in Malaysia
"Actually, when my daughter was born, it was emotionally catastrophic. But later I reconciled with the voice within. I thought this was part of our karma. We are all individual souls and we have our own journeys. We are sharing just this lifetime and probably this is something I have to go through this time.
"This gave me solace sometimes but on many occasions I did go into zones of deep sorrow. One day when I was really crestfallen, one uncle who is very close to me just hugged me and said, 'Rajan, do you remember when Swami held your hand in 1995?'
"With those words, that uncle just transported me back to one of the most glorious moments of my life. I had come to Puttaparthi for the first time in 1995. When I saw people from so many countries sitting under one roof with so much patience and devotion, I was simply amazed. In fact, I asked a foreigner through an interpreter, 'What makes you wait for Him and listen to Him? You do not even understand His language.' He replied, 'I can understand only one thing: Baba is just giving out love. I can feel His unconditional love.' I used to see so many Westerners kissing the marble floor where Swami had just walked. This just humbled me.
"Actually there was a reason why I was in Puttaparthi that year even though I had heard about Swami eight years ago. Early that year my mother had severe cardiac problems. Our local doctor did the tests and advised a bypass surgery. So I took her to the Kuala Lumpur Heart Institute. Somehow I was reluctant to put her through the knife. Apart from her age she was also an insulin-dependent diabetic. I was afraid. So I requested the doctor to repeat the tests the next day and then take a final call. That night I sat next to my mother and chanted the Gayatri Mantra throughout the night. I pleaded, 'Swami, no operation for my mother please.'
"The next morning when the doctor saw the reports, she said, 'Oh! She seems to be alright. Maybe she really does not need the surgery. She will be fine with oral tablets, at least for now.' And till now, touch wood, she has not visited a cardiac centre again. So this is what made me land in Puttaparthi almost 20 years ago."
"So you wanted to see The One who healed your mother's heart?" I added.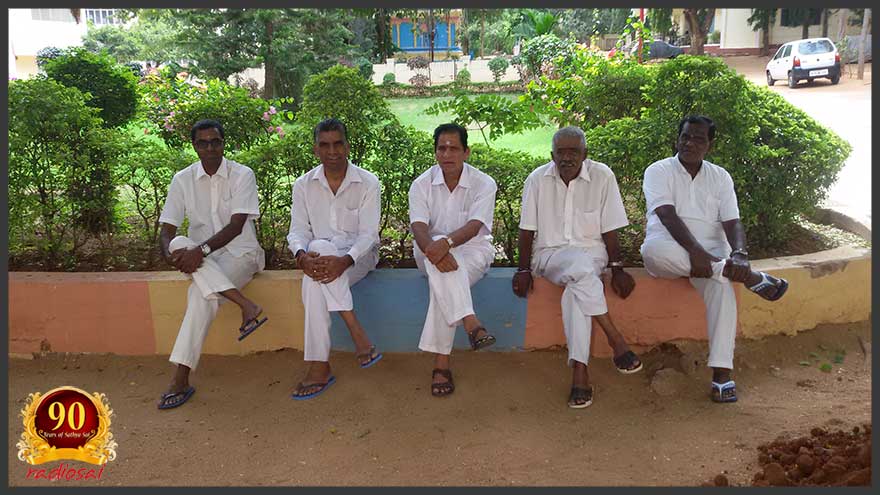 Rajan with the group of Malaysian devotees - happy in Puttaparthi
"Yes, see Him and thank Him. And it turned out to be a memorable rendezvous. On the evening of the first day itself I volunteered to do seva in the Western Canteen, washing the plates, vessels, and so on. We were singing and doing His work. I was happy.
"The next morning Swami picked our group (Malaysian devotees) for interview. Once all of us were inside the interview room, He came in and personally latched the door. I was sitting under the switchboard. Swami came close to me, switched on the fan and then sat on His chair. After this the conversation began. He was talking to all, one by one. When He saw me, He asked, 'Boy, what are you doing?' 'Working Swami,' I blurted out."
"'Yes, I know you are working, but no happiness.'
"I agreed completely, 'Yes, Swami!'
"'Change job' He advised. 'Ok Swami' I replied gladly. I knew something was waiting for me. He started talking to other devotees and I was telling myself that I always wanted to opt for further studies. 'Swami, study, study...' I was telling Him in my heart and suddenly He stopped talking to the other devotee, turned 180 degrees, looked straight to me, pointed His finger and said, 'Yes, study, study, study.' In fact six months after we returned, I did get an opportunity to further my studies in the university with scholarship.
"So this happened in the outer room. Then Swami asked all of us to go to the inner room. Actually while in the outer room I tried to touch His feet and do padanamaskar but Swami refused. I was terribly disappointed to say the least. When we were in the inner room, this thought kept troubling me, 'Swami, why are you doing this to me? I am here right in front of You, yet so far from You. You are not even allowing me to touch You.' I was inconsolable. I just closed my eyes. I didn't know for how long I was in that state.
"Meanwhile all the others had actually gone back to the outer room. But I was still inside, eyes shut and palms in namaskar posture. Suddenly I felt pin-drop silence in the room and just when I was about to open my eyes I felt someone come and hold my hand. I thought that one of the Malaysian brothers was calling me. When I opened my eyes I was shocked. Swami Himself was holding me; He was so near, so close! My first thought was to thank Him for my mother. 'Swami, mother...' Even before I could say anything further, He interjected, 'Yes, yes. No operation for mother. Swami blessed.'"
"Then He asked, 'You love your mother?'
| | |
| --- | --- |
| | |
| | The Mother that God gave it back to him again |
"Yes, Swami!' It was spontaneous.
"I know, I know.' He lovingly tapped my head and then said something very significant:
"'You go and do My work. I will do your work. Don't worry. Swami blesses.'
"And after this came the 'glorious moment' of my life. He held my hand like a father would and started to walk to the outer room. And I started thinking, 'Swami, I asked for Your feet but You have given me Your hand!'
"Can you imagine my joy that day? I returned to my room and just shut myself. I was relishing the fragrance in my hand and cherishing that chance of a lifetime. I was in bliss the whole day. In fact before we came out of the interview room, He gave me Vibhuti packets and said, 'Give these to your mother.'
"By holding your hand He accepted you not only as a devotee but also as a friend! How fortunate you are!" I marvelled at his blessing.
"Yes, so true. It is He who is giving me the strength to endure everything I continue to go through in life. When my son was one year old, my wife was diagnosed with breast cancer. When we got to know about this sad news, I did not ask Swami for a miracle. I just said, 'Swami, I know You have a reason for all this. My only request is please be with me. I am ready to face this, but make me stronger please. Just be with me.' And until today, I know He is with me.
"In fact in 2002 when I went to the UK for further studies, it was He who was making things happen. I don't come from a well-to-do family, so I had to manage with my own savings. My father-in-law had promised to send me some money in my second year. But just when I was supposed to progress to the second year, tragically he passed away. My world became completely dark. 'This is the end of my education', I thought, and started doing some odd jobs in England. During that summer one day as I was walking into the city centre I bumped into my professor.
"'Hey, what happened to you? Why have you grown a beard like this?' He was concerned. So I shared with him my predicament. 'You come and see me next week.' His voice was filled with assurance and hope.
"When I went to his office as instructed, he said, 'I have good news for you. You are getting a scholarship. Another professor too has recommended your name.' I did not know this other professor. But he said, 'Does not matter. Somehow that professor seems to know you. The faculty has agreed. You can go on till your final year.' I instantly knew this was Swami!
"Not only this, when I finished my bachelor's degree, the same professor called me and said, 'The Dean has consented to give a partial scholarship for your post-graduate studies too.' This is how Swami has been with me all through my journey. I went to the UK to do my bachelor's degree but returned with my master's.
"He has taken care of my every wish. I always longed to see Him once in Kodaikanal. I planned this trip on several occasions but it never materialised. Finally I was able to do it in 2009. It was such a blissful experience. And that was the last time Swami ever went to that hill station. See, this is how He has been filling me with His love and presence."

- By Bishu Prusty
Radio Sai team
What are your impressions about this Story? Please let us know by writing in to h2h@radiosai.org or you may leave your thoughts in the comments section. Do not forget to mention your name and country.