| | | | | | | |
| --- | --- | --- | --- | --- | --- | --- |
| | 'Like' us on Facebook | Follow us: | | | | |
Posted on: Feb 27, 2015
Part 01
In the sacred epic Ramayana, when Mother Sita sees Hanuman in the Ashoka vana in Lanka, after she is convinced that he is indeed Rama's messenger, the first question she asks is, "How did you manage to come till here? Did not the demoness Lankini stop you? How could you manoeuvre and escape layers of stringent security?" In reply, Hanuman did not say, "Mother, do not think I am a mere monkey. I am actually endowed with several potent powers and boons. I can, if I will, decimate this entire forest in a trice." and so on. All he said, bending his head low and with palms in prostration, is "Mother, who am I to achieve this feat? Rama willed and I am here. I am a mere servant of the Lord. Without Him I can do nothing."

If we look around wearing the glasses of goodness, today too we find so many beautiful souls who make us pause and give us a reality check of where we actually stand in our faith and devotion. Their Hanuman-like forbearance and faith stun us, their love for the divine leaves us dazed, and their zeal to be His messenger and servant simply humbles us. You know they radiate His Love more than the others. They leave you touched, moved and inspired.

In this year of Swami's 90th Birthday we wish to offer stories of such exemplary individuals. We begin with Mr. Rajan Thangaveloo, a Sai Youth from Malaysia.
When Faith Powers You and Love Strengthens You...

The 89th birthday celebrations of Bhagawan were on. Three days before the D-Day, on November 20, 2014, the International Sai Youth offered a program in the Sai Kulwant Hall, which was innovative, informative and beautifully presented. It was about the spiralling effects of Sai Love felt in far corners of the globe. Clearly, a lot of talent and creativity coupled with immense devotion and hard work went into making that day so special.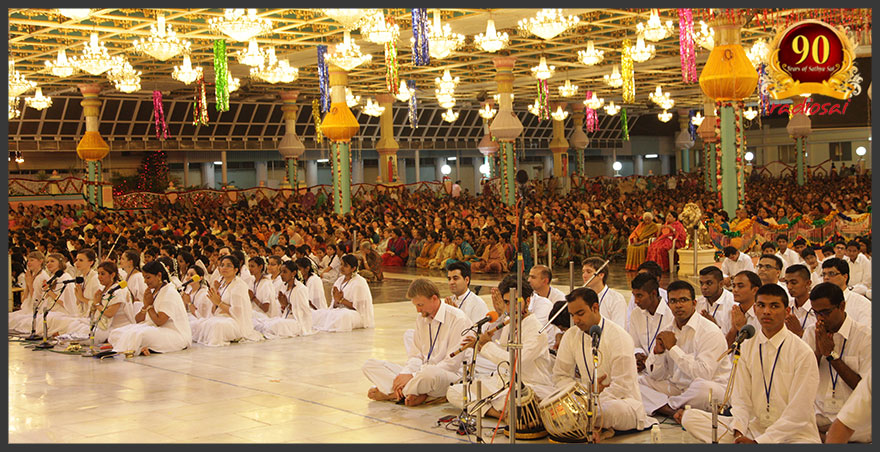 The International Sai Youth making their offering to the Lord on His 89th Birthday in the evening of November 20, 2014
The next day I had the opportunity to meet many of these Sai-inspired souls over an interactive session where we discussed the theme of their pilgrimage – 'One Step More'. We deliberated on 'Stepping In', 'Stepping Up' and finally "Stepping Out', and what all these mean in daily life and spirituality. It was an enriching evening to say the least. On my way back from the session, I was inwardly thanking Swami for the blessed moments just spent. Just then a Sai brother tapped my shoulder and said, "I too have a story of unconditional love."
"Wonderful! Do share please." I was all ears.
A Magical Turnaround through Love
"I am a lecturer in the Faculty of Computer Science and Information Technology in the University of Malaysia in Sarawak (one of the two Malaysian states on the island of Borneo)," he began. Tall and lanky with black-rimmed spectacles he did look like a young professor. In clear English he continued, "In our college we have a mentor-mentee system wherein each teacher is allotted a group of students who would be under his or her care from year 1 till year 4, that is, through the entire period of graduation. In the group that came under me there was one student who had failed in many subjects and was actually asked to leave the course. Somehow, I was not happy with this decision and believed something could be done and should be done. So I prayed to Swami to help me reverse the situation. I called the student and said, 'We will appeal for your case. Can you promise that you will do better?'"
"She agreed and we appealed; she managed to get a 'clean slate' which meant she could join the course but had to redo her subjects. Since that moment, I took it as my personal sadhana to ensure that she succeeded. So I spent a lot of time coaching her and motivating her spirits. Citing my own example I told her, 'I am originally from the Arts stream but did my bachelor's degree in Engineering. When I can do it, you too definitely can! Set a goal and you can achieve it!'"
"I encouraged her and told her to call me for assistance in my subject or any subject anytime, even after office hours. Just before the examinations, I guided her on the strategy she should adopt to clear her papers safely and then closely monitored her progress during every monthly test. It was four years of diligent dedication, leaving no stone unturned, to ensure she blossomed. And now, you know what? She is one of the toppers! During her convocation, held just two weeks ago, it was announced that she was in the Dean's List, among the best in her college!"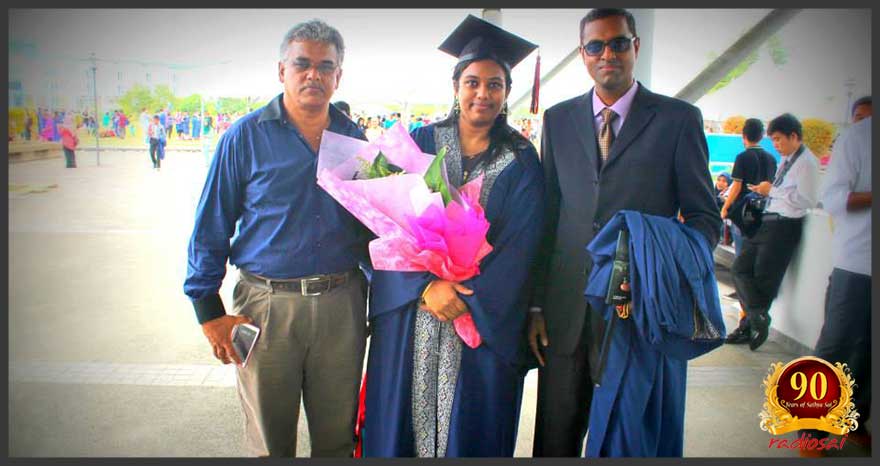 Rajan (right) with his happy student after her convocation ceremony, November 2014
"Wow! But for you going that extra mile she would have never returned to the university in the first place. What a turnaround!" I instantly congratulated him and shook his hands with a big joyous smile.
"True," he went on, "There was no obligation on me to go 'that extra mile'. In fact when she left, another would have filled her place. It would have been easy and no one would have had any complaints. But after knowing Swami for over 20 years, how could I do that?"
Suddenly his eyes became moist and with overwhelming emotion he said, "You know, her father came for the convocation and after the ceremony he just hugged me and kept saying, 'Thank you very much. You have actually changed her life.'"
"But the story does not end there! Now she's already got a job too! She is a lecturer in one of the colleges in her place. I feel so happy, so fulfilled."
The Setbacks-Strewn Life which Shaped a Sterling Rajan
The deep satisfaction and pure joy that radiated from his face made me only continue to hold his palm, now tighter. What a simple but powerful demonstration of going 'that extra mile', I thought. Now I was curious to know more about him.
"But what motivated you to stretch yourself so much for this student?"
"Well, brother, all these years what Swami has done is this – simply showered us with His unconditional love. All I have been trying to do is apply this love in my real life, whether at home or in the office. The way He has touched, trained and transformed me, and continues to do is unbelievable."
The love for the Divine exuding from his being captured me. "Maybe there is much more to him," I said to myself.
"Brother, are you here tomorrow? May I know your name please?" I asked warmly.
"I am Rajan Thangaveloo, hailing from Sarawak, Malaysia. Yes, I am here for one more day."
I requested him to come to the Radio Sai office the next day. When he arrived and as we got talking, with every passing minute my respect and admiration for him only continued to rise. What I had heard the previous night, I realised, was only a small supplementary add-on. The story of his personal life, I discovered, was extraordinary. As he narrated his tragedies and victories I kept saying to the Lord, "Swami! What a beautiful soul you have crafted!"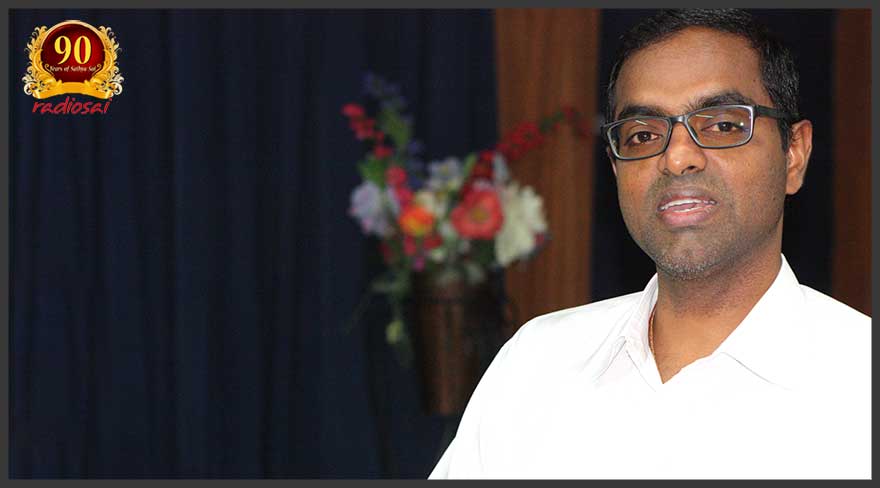 In the Radio Sai studio on November 22, 2014
This is how he began:
| | |
| --- | --- |
| | |
| | A 4-ml sample of hyperlipidemic blood with lipids separated into the top fraction |
"I have known Swami for more than 25 years. He has always been with me. I have two children. My daughter Sai Brinda is 12 years old and my son Sai Govind was born three years ago. When Sai Brinda came, she was diagnosed with a condition called hyperlipidaemia. This is a condition wherein one's liver is not fully functional. In layman's terms, the good cholesterol in the body is not able to digest the bad cholesterol and flush it out of the body. To put it more simply, her body could not handle fat. In fact after her birth her blood in the test tube looked yellowish. At first the doctors thought it was some infection but after they did the series of tests they confirmed her condition. Then the first thing the doctor told me was "Your daughter is not allowed to take even a tiny piece of cake throughout her life."
"It must have been so devastating for you...," my eyes, wide open with shock and sorrow, communicated to him in silence.
He continued, "I could not understand, of all people, why this was happening to me! You know, when my wife conceived, from day one every night before I went to bed, I used to chant the Gayatri Mantra to the baby. And then I get a daughter who is not eligible to partake even her mother's milk. Can you imagine how difficult it was for us? They say mother's milk is the best for the infant but our doctor said, 'Stop! Do not give her any milk; any additional fat will harm her.'
"So they prescribed special milk that had to be brought from the USA. The hospital had to order this from the capital city. Kuala Lumpur would procure it from the West. So it came first to Kuala Lumpur and from there it was brought to Sarawak. In fact it was the first time such milk was coming to that state. Hers was the first case of such a condition recorded in Sarawak. The paediatrician looking after her too said this was her first such encounter. Everything was new, difficult and challenging. No one had any clue or prior experience in handling this condition. So we had to do our experiments and learn everything by ourselves. Every day was hard..."

- By Bishu Prusty
Radio Sai team
What are your impressions about this Story? Please let us know by writing in to h2h@radiosai.org or you may leave your thoughts in the comments section. Do not forget to mention your name and country.