| | | | | | | |
| --- | --- | --- | --- | --- | --- | --- |
| | 'Like' us on Facebook | Follow us: | | | | |
Posted on: Feb 27, 2015

COMMENDABLE SERVANTS OF THE LORD - 1
Part-3
The Chosen One Chiseled for a Task
"Brother Rajan, you are a blessed one, rather a chosen one," I said and explained, "One in thousand is born with the condition your children came with. At the same time God chooses one in thousand whom He can trust with His special children – someone whose heart is soft and strong, and whose mind is focussed and expansive, to undertake His difficult tasks. And He found you."
"This is exactly what I used to discuss with my wife at times," Rajan eagerly went on, "She used to say, 'Just imagine if these children were born to someone in the weaker section of society. They simply would not be able to look after them. What would have happened if they happened to be kids of, say, a labourer?' Now I always feel Swami has given us this opportunity and that is why I treat it as my sadhana."
"That indeed is a great attitude! But what have been the challenges looking after these lipid-high children?" I asked.
"Well, it has not been easy. As a father you always want to give the best to your children. When Sai Brinda was growing I found it hard to tell her during birthday functions that she cannot have the cake. As she grew we tried to explain. When I was in the UK I taught her how to look for the fat content in everything we bought. She is allowed to take only 10 grams of fat per day, which is equal to five simple biscuits.
"My wife takes detailed care of them. She spends more than half an hour every day just to prepare the milk for them, because it has to be first blended in a blender. Then you need to dispense them into small containers and store them at a particular temperature. Whenever we travel she carries not a handbag but a big cooler bag. So yes, there are plenty of such inconveniences."
The Subtle but Strong SAIssurance
| | |
| --- | --- |
| | |
| Always eager to reach out to the ones who are special to the Lord | |
"In your trips to Puttaparthi, did you not try to tell Swami about them anytime?" I was curious to know if Swami mentioned anything to him about his kids.
"I did," Rajan was excited. "When my daughter was six months old I had come with a Malaysian group. During darshan when Bhagawan came near us He stopped in front of us. Someone pushed me from behind to go forward and take this opportunity. I immediately knelt down, took the photo of my daughter out from my pocket, and showing it to Him said, 'Swami, Sai Brinda.' Swami stared at that picture for a while and then said, 'I know, I know.'Well, He indeed knows and is taking care. So I just surrendered.
"Again, in 2010 when I came with a medical scan image of my yet-to-be-born son, Swami stretched out His hand and collected it. So I am convinced He is in charge and I have to just do my duty."
I asked, "But when there is so much going on in your personal life demanding a lot of time, energy and resources how were you able to discharge your responsibilities as the State Youth Coordinator? Now you are the Deputy State Coordinator for Sarawak. Why did you accept these positions in the first place?"
People who have normal lives often find it difficult to find time to be a participant in various Sai activities, let alone be an office bearer. But here was someone who had a hundred genuine reasons why he cannot possibly give his time and money and join the organisation's work. Yet, not only was he actively contributing but also leading many Sai projects. I was keen to know what was driving him.
"Well, in 1995 when Swami held my hand and said 'You do My work, I will do Your work', I made a pledge to myself in the interview room itself: 'Swami, I surrender my life to You. Until the last drop of my blood I will serve You however and wherever I can. Come what may, I will always be loyal. You are my God. This life is Yours.' I have tried to live up to this vow all these 20 years. This is the reason why I never refuse any responsibility that the Organisation bestows on me. My job is to work for Him tirelessly and selflessly with love in my heart.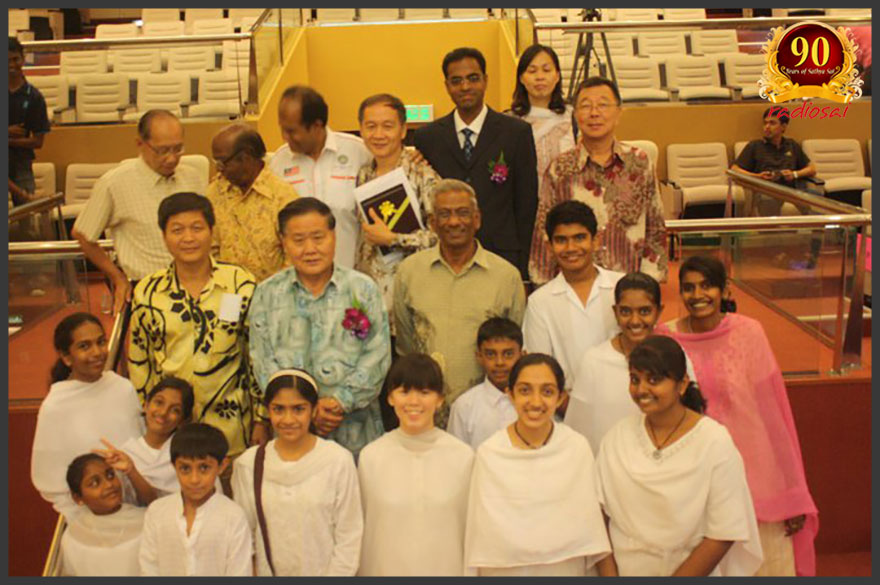 Rajan was the Organising Chairman of the conference: 'Educare for Life' held in the Sarawak state in 2010.
Event was officiated by the Deputy Minister of Works, Malaysia
"And I don't restrict Him to Sai Centre work or household duties. I serve Him wherever I go and in whomever I meet. This is precisely the reason why I went that 'extra mile' for that student. When I serve her I know I am serving Swami, so I have to put in my best. That is what I did. And see how Swami rewarded me with so much joy and fulfilment! I will continue to work for Him everywhere as long as I can breathe and untill there is an ounce of energy left in this frame. Of this I am sure."
I was literally speechless. Deeply humbled and spiritually re-energized. "I do not have the deservedness even to commend his commitment and character", I said to myself.
Rajan's life is a testimony of how with so little someone can do so much and experience double the joy, while many in the world today have so much but do so little and thus lose out on most of the joy. They say the secret of happiness is not found in seeking more but in developing the capacity to enjoy the more in less. And to leave the rest to Him! Then, He will craft a miracle out of each one of us just as He has with Rajan.
Let unflinching faith and indomitable love rule our every breath!

- By Bishu Prusty
Radio Sai team
What are your impressions about this story? Please let us know by writing in to h2h@radiosai.org or you may leave your thoughts in the comments section. Do not forget to mention your name and country.