| | | | | | | |
| --- | --- | --- | --- | --- | --- | --- |
| | 'Like' us on Facebook | Follow us: | | | | |
Posted on: March 29, 2015
A Sai-Centric Life and Living
Part 01
How a successful business entrepreneur of a multi-crore conglomerate lives by Sai ideals and discovers the golden way of doing business even while leading a life of joyous freedom.

"You must meet Mr. T. N. Sekar. He is a gem of a devotee," a distinguished elder of the Sai family had told me two years ago.

By divine design I happened to be in Pondicherry (now called Puducherry) in February 2014 and visit the oldest Sai centre of this picturesque town redolent with quietness and peace, and resplendent with lofty and lovely churches crafted with French flavour. The 'Town Samithi', as it is called, traces its origin to as early as 1967. The whole of India then probably had less than 10 Sai centres registered with the Registrar of Cooperative Societies (although many informal Sai bhajan groups existed in many states). The Town Samithi belongs to that exclusive group that came into being before the First All India Conference of Sathya Sai Organisations was held in Abbotsbury, Chennai in April 1967.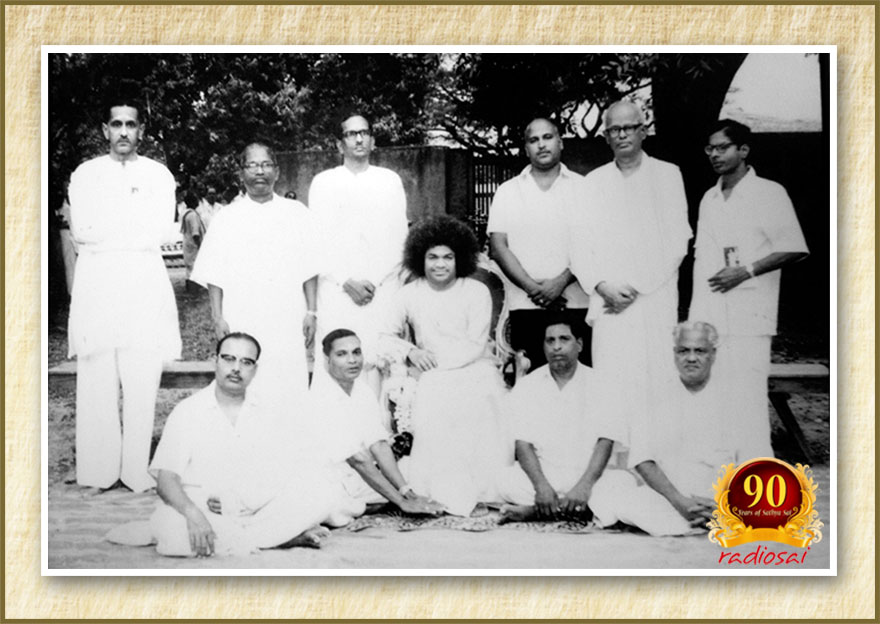 Bhagawan with some of the office bearers of the Sai Samithi of Pondicherry during the First All India Conference
of Sri Sathya Sai Seva Organisations in Abbotsbury, Chennai, April 1967.
Sai's Kasturi in Pondicherry
But what makes this samithi even more special is the way Bhagawan decided to mark its inauguration. Swami sent His dearest biographer Prof. N. Kasturi to personally visit Pondicherry and unveil His picture at this samithi. Located in Vysial Street which is fragrant with French architecture and traditional Tamil heritage of yore, this samithi too takes you back in time with its simplicity and serenity.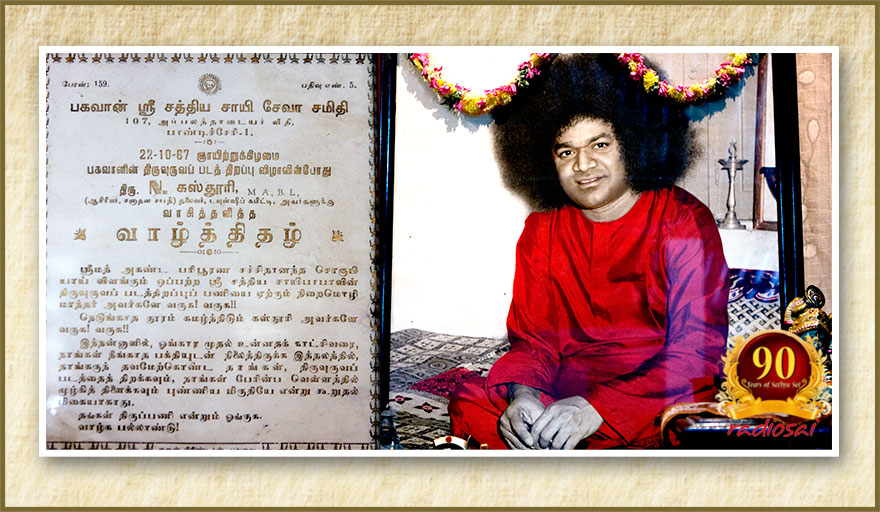 The Greeting Letter presented by devotees to Prof. Kasturi when he came to unveil the photograph of Swami
at Pondicherry Samithi on October 22 1967. Written in Tamil, it says:
O multi-linguistic scholar who is here to unveil the image of our Peerless Bhagawan who is amidst us as
Srimad Akhanda Paripoorna Satchitananda Swaroopi... welcome! Welcome!!
Oh exquisite fragrance (kasturi also means musk - an aromatic substance) that has travelled and
spread across wide and far... welcome! Welcome!!
On this sacred day, so that we may indulge in the spiritual practices like omkaram and worship, and be immersed in ceaseless devotion in this place... you, who has undertaken immense penance, has come to unveil this portrait and immerse all of us in a deluge of Ananda. Declaring thus that it's due to abundant merits wouldn't be an exaggeration.
   May your sacred works go on for ever. May you live for many many years.
It is here that I met Mr. Narasimman, the District President of the Pondicherry Sai Organisations. During the course of our conversation, I asked if he knew about Mr. Sekar and he instantly said, "Of course, he is my boss."

"Boss?" I was surprised.

"Mr. Sekar has one of his manufacturing units in Pondicherry and I am the General Manager of that factory," he clarified.

"That's interesting! Can I meet Mr. Sekar?" I asked eagerly.

"Yes, but he does not live here. To meet him we would have to go to Thirunagari, a village about 90 km from here," he said.

"Is he on a camp there?" I was curious.

Mr. Narasimman gently smiled and said, "No, he lives there."

"He lives in a village?" It seemed a bit odd.
Mr. Sekar is the Managing Director of SKN Organics which has as its vision '...to contribute in preserving and improving the quality of human life, beyond all creed, caste, colour and religion'
and its motto is 'To serve all with love'.
"Yes, he is the Managing Director of our company but he lives in that hamlet. He runs the business from there."
How Mr. Sekar Built His Company and is now Rebuilding Lives

Now I definitely wanted to know more about this person. Mr. Narasimman probably saw half a dozen question marks on my face and so continued, "The name of our company is SKN Organics Private Limited. It is a pharmaceutical firm that makes and markets a variety of drugs, antibiotics, analgesics, liniments, ointments and so on. We also have SKN Research Labs Private Limited and this one too is based in Pondicherry and is headed by Mr. Sekar.

"Our company employs 400 people and while both the manufacturing units are in Pondicherry, we distribute our products from Chennai to the four southern states of Tamil Nadu, Andhra Pradesh, Karnataka and Odisha. We also have a wholesale and a retail shop in Krishnagiri and Sirkali (150 km and 100 km from Pondicherry, respectively)."

"Hmm, it is a large set-up! And Mr. Sekar manages all this from a village?" My inquisitiveness was peaking.

"Yes. He stays there with his family," Mr. Narasimman concluded.

"But why does he live permanently in the village? And how does he look into and manage the affairs of all these units from there? Are there proper facilities there? Is his family ok to live amidst huts and muddy roads all their life? What is the idea behind all this?" All of these questions and more plagued me, and I braced myself to articulate a couple of them. But even before I could finish, Mr. Narasimman interjected,
"Are you here tomorrow? We can go to Thirunagari. I am anyway going there. You can come with me."

I heartily agreed. There could not be anything better. We started off in the early hours of the next day. In the jeep, Mr. Narasimman told me how his simple and hard-working managing director began his career more than 20 years ago as a modest salesman of drugs, and then opened his wholesale shop in 1995. To this, he added a retail shop and eventually took up the marketing of drugs in one area, followed by multiple areas and later across different states. Then he ventured into manufacturing and is currently engaged in research too. "It is a multi-crore pharmaceutical enterprise now, thanks to his tenacity and great value system. He leads by example. He is a huge inspiration to me and to all of us in our organisation." The sincerity in Mr. Narasimman's voice was self-explanatory.

To my question on how his boss has influenced him, the 36-year-old Mr. Narasimman said that 'Sekar Sir' has helped him manage and direct not just the factory but also his personal life. "If I am a confident and a resourceful young man today and, most important of all, if I have love for Swami in my heart and I am deeply committed to His work, Sekar Sir has been solely instrumental. In fact it is because of what I have learnt from him that in 2009 I gladly accepted the role of being the District President of the Sathya Sai Organisation in Pondicherry and have been discharging my duties with a great sense of fulfilment." The reverence Mr. Narasimman had for his chief was as obvious as the muddy and bumpy roads we were getting into now, after about two hours of driving on good roads.

Typical village scenes swept past my window – small huts, dusty tracks, farmers roughing it out in the red fields, minimally clad village urchins playing with puppies, heaps of paddy, fragile gates made of dry bamboo and twigs - the vastas were varied. Even as I absorbed all these natural scenes, I suddenly came across a white concrete structure where our jeep took a turn and stopped. Mr. Narasimman alighted. I followed him.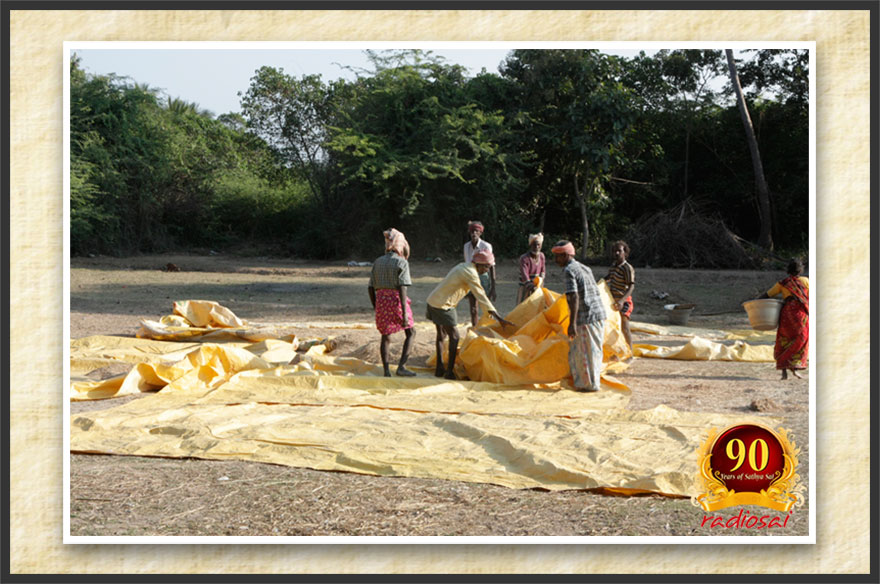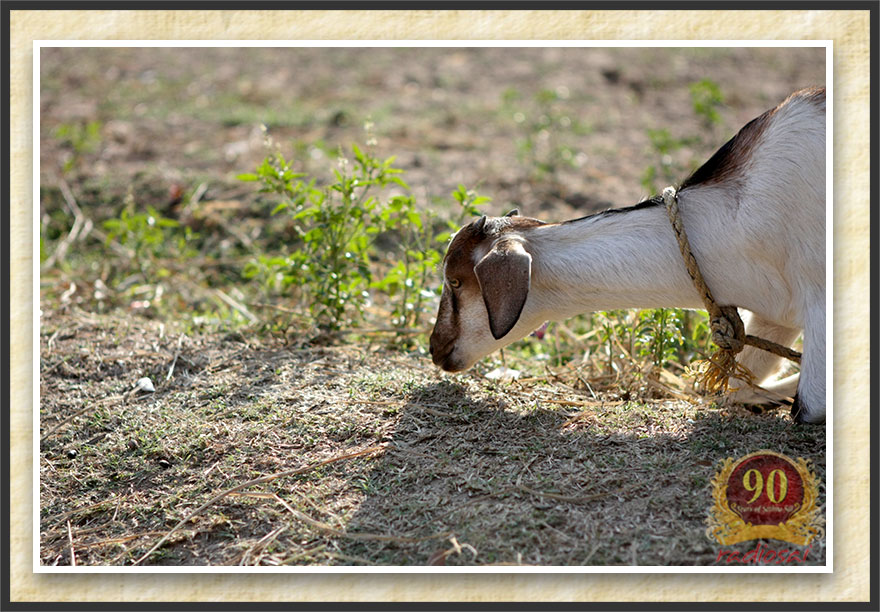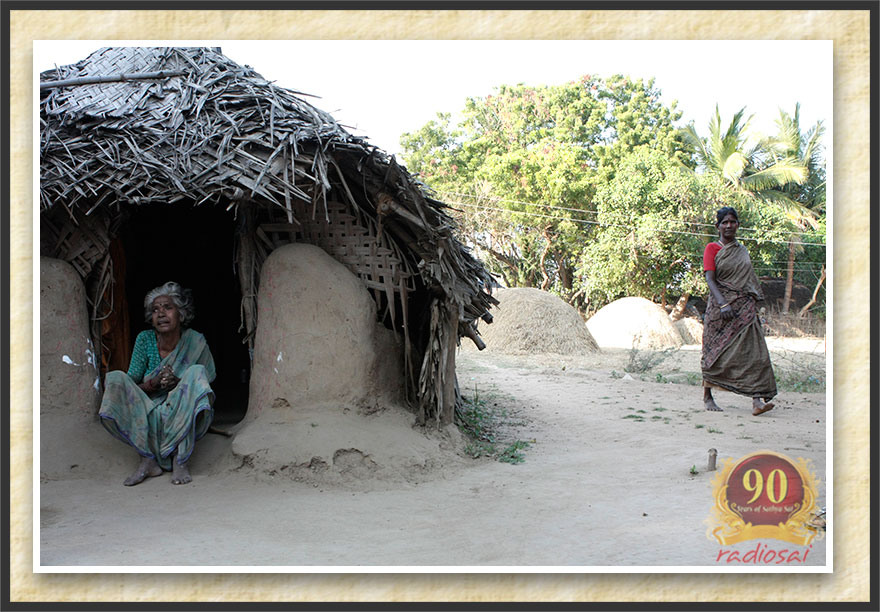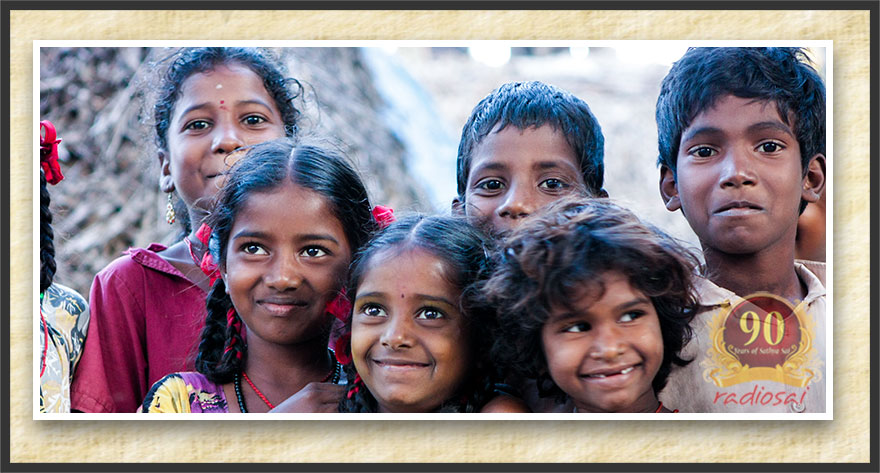 The delightful countryside of Tamil Nadu where nestle the adopted villages of Mr. Sekar
Meeting the Silent But Potent Mr. Sekar
"This is where Mr. Sekar stays. This was built two years ago," Mr. Narasimman said.

It was a two-storey structure with a long corridor. On the ground floor were four or five rooms. Next to it was a tiny shed. Pointing to the shed Mr. Narasimman said, "This is where Sekar Sir stayed for seven years from 2002 to 2009. We later constructed a couple of rooms in 2009. This pucca building came up in 2012."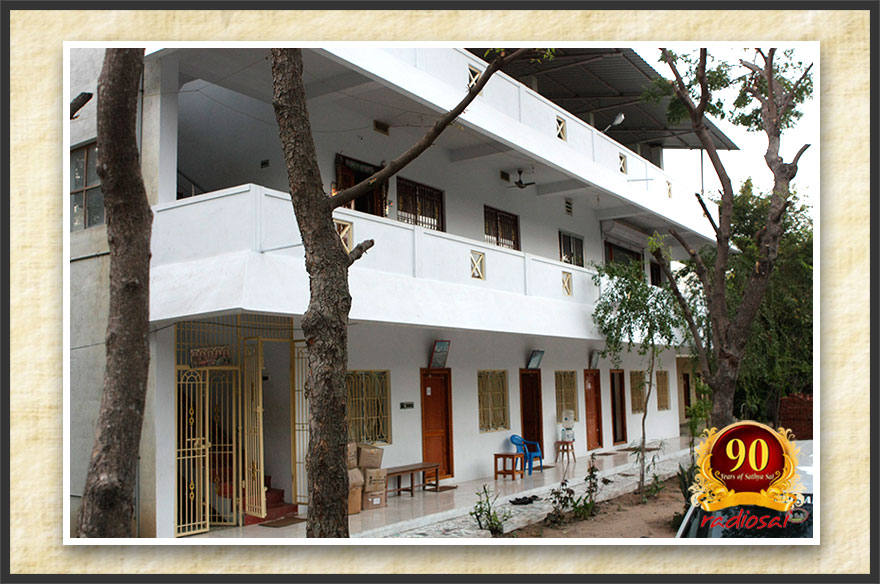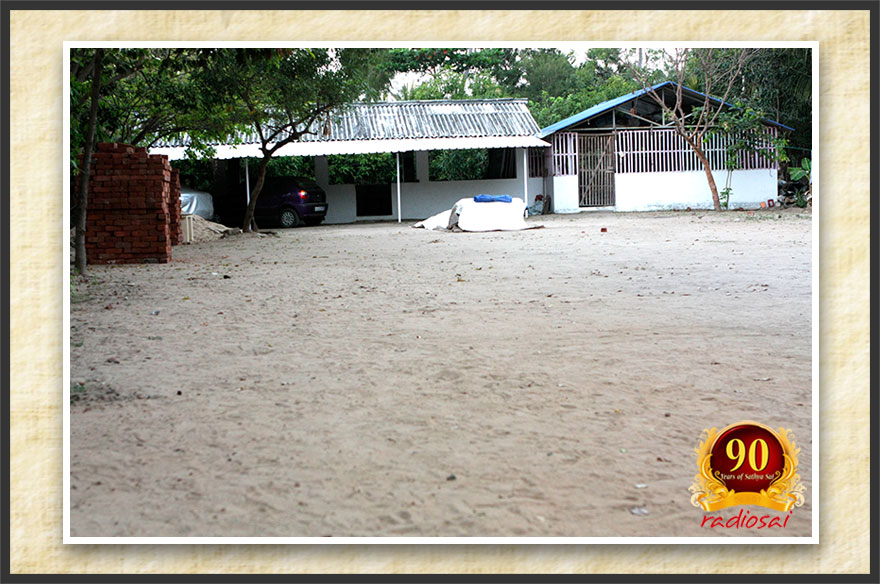 Mr. Sekar stayed in very basic sheds from 2002 when he decided to dedicate himself to serving in the villages. The building above
which has a few rooms was built in 2012 to help in the management of the business as well as create space for Sai activities.
Adjacent to the building were two more sheds. In front of one of them, I noticed a man and a woman collecting dried paddy in large aluminium vessels and carting them in for storage. Inside, on one side of the wall was a row of sewing machines operated by young ladies.
"That is our small vocational training unit," Mr. Narasimman explained, "More than 100 girls have been trained by us in tailoring. Now most of them have a sewing machine of their own and earn their livelihood through this."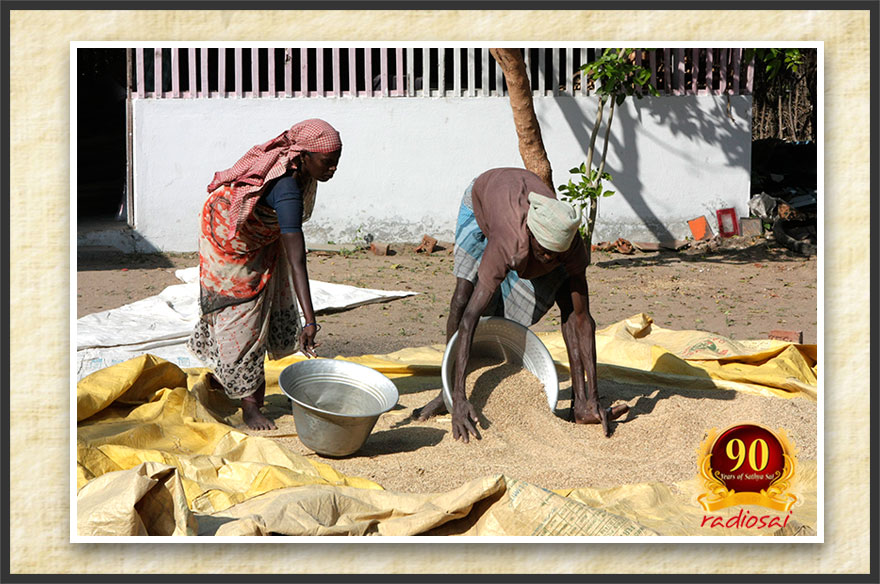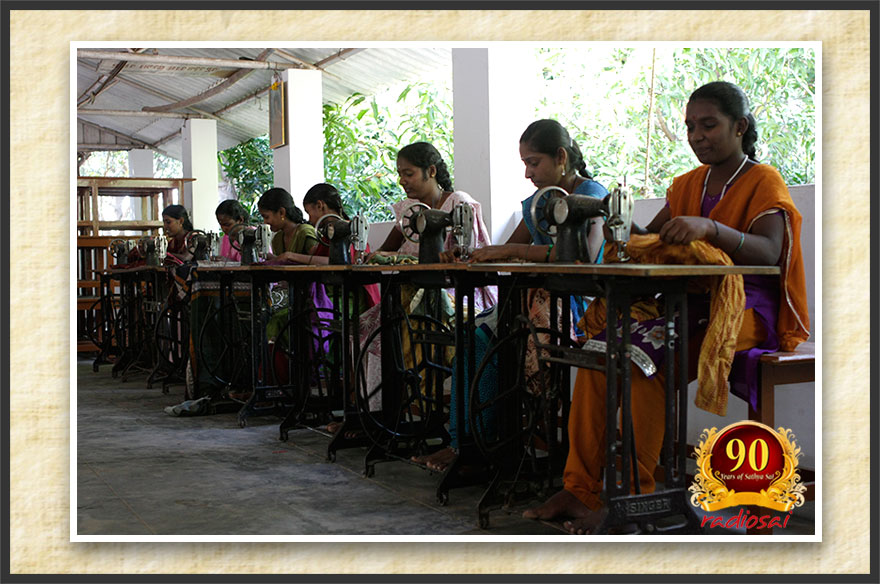 Mr. Sekar started his vocational training programme with a few sewing machines. While this continues, now there is a Rural Vocational Training Centre which equips young people with knowledge of carpentry, plumbing, welding, electrical repair and so on.
But I couldn't wait any longer to meet Mr. Sekar. I simply had to meet the man himself. Narasimman went into one of the rooms, quickly came out and said, "Sekar Sir is already out in the village for his daily rounds. Let's go. We will find him somewhere there."

Daily rounds? For what? What sort of daily round was the MD of a pharmaceutical company making in a village? I asked Mr. Narasimman.
"Every morning Sekar Sir goes to every hut and enquires with the rural folk about their welfare; that's his daily ritual," Mr. Narasimman clarified as we began to walk and continued, "Sekar Sir is also the District President of Nagapattinam Sathya Sai Organisation (The District of Nagapattinam is about 140 km from Pondicherry). To him this role is much more important than being the MD of SKN Organics. He has adopted seven villages and every day he visits one village and talks to every member in that hamlet to find out about their wellbeing."

"Wow! This must be taking away his whole day!" I surmised.

"Yes. He is busy in some corner of one of these villages at any point during the day," Mr. Narasimman agreed.

"Then who runs the business?" I almost immediately asked.

"He manages the business too. The only difference is he does not sit in an AC room to discuss office matters. Whenever we have a problem or issue to be discussed we go to the village and talk to him even as he is busy serving someone there. The amazing thing about him is that his thought process is very clear and sharp. So he hardly takes any time for decision-making. We rarely spend extensive amounts of time in board meetings over coffee and biscuits as is the culture in other corporates."

As he was speaking, I watched a lean and clean-shaven middle-aged gentleman walk out of a tiny semi-concrete settlement with a thatched roof. He was well-groomed wearing white and white, and smiling. "He is Mr. Sekar!" Mr. Narasimman said. We were still a few metres away.

We quickly walked up to him. Mr. Narasimman did the introductions and I warmly shook hands with Mr. Sekar. After we exchanged pleasantries I was curious to know what he had been doing inside and he told me a little story.

- By Bishu Prusty
(Radio Sai team)
What are your impressions about this Story? Please let us know by writing in to 

[email protected]

 or you may leave your thoughts in the comments section. Do not forget to mention your name and country.