| | | | | | | |
| --- | --- | --- | --- | --- | --- | --- |
| | 'Like' us on Facebook | Follow us: | | | | |
Posted on: March 29, 2015
A Sai-Centric Life and Living
How a successful business entrepreneur of a multi-crore conglomerate lives by Sai ideals and discovers the golden way of doing business even while leading a life of joyous freedom.
Part-3
Saving Lives in spite of Serious Setbacks

Mr. Sekar told me how her husband had had a brain stroke and how they took him to a hospital in Thanjavur but with no success. He was brought back to the village in an unconscious state, and then taken to another tertiary hospital in Kumbakonam. Fortunately the doctor there diagnosed a blood leak in his brain and began the treatment. The medicine worked and he was healthy now. "Not only this, there were a lot of complications during the delivery of this child, so we spent at least 3-4 lakhs on her for her safe delivery," Mr. Sekar told me and as he said this he noticed a thick black line on her neck - something that I too hadn't spotted. Mr. Sekar enquired about that and a conversation ensued in Tamil between him and the lady's mother-in-law. At the end of it I saw Mr. Sekar telling the lady something in an advisory tone with a lot of patience. I was obviously curious. But Mr. Sekar said he would tell me later.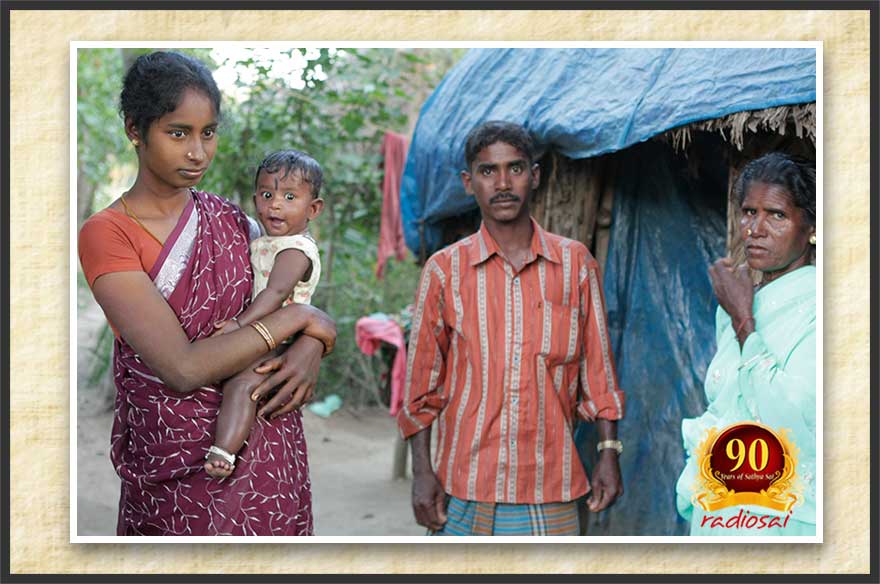 The thick line on the neck of this young mother tells a horrific tale... they may be ungrateful and callous but that will not deter Mr. Sekar.
Once we got into the jeep (it was almost dusk now), I asked him again about this and now Mr. Sekar, in a nonchalant manner, revealed, "The lady had attempted suicide."

"What?!" I could not believe it.

"But why? After you had spent so much on her and her husband how could she decide to do this?" I just could not digest this.

"I don't know," he replied, "Maybe they have some domestic problems. That is why I was counselling her."
Why Mr. Sekar Does Service

Mr. Sekar was calm – as calm as the setting sun. His patience and perseverance zapped me. I asked him, "Does it not bother you that after you have done so much, the lady decides to take this drastic step? How did it not make you angry? Why did you not give her a solid spanking? Instead you were talking to her as if you are giving her some tips on how to take care of her infant!"

Mr. Sekar heard me out completely and then said just one sentence: "I am doing service for self-realisation".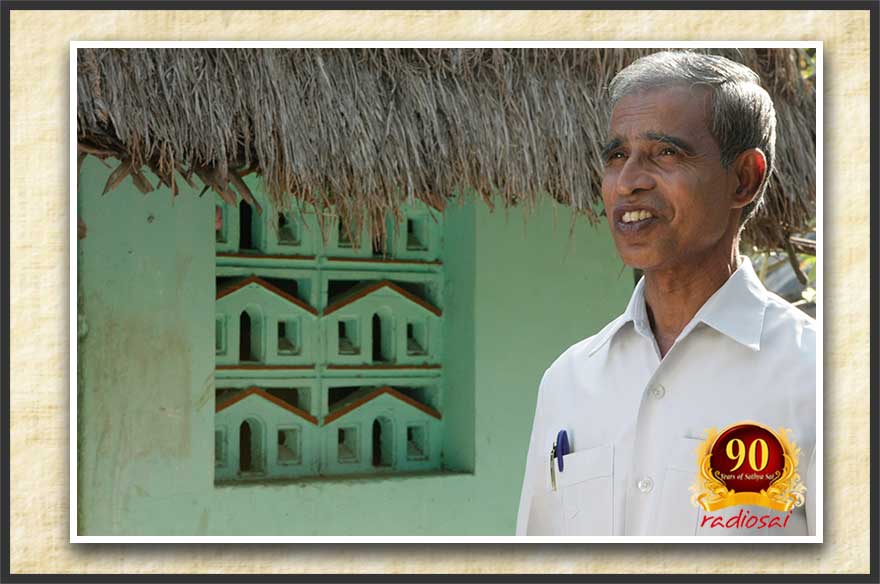 Mr. Sekar - Suffused with the spirit of Sai
It took me some time to swallow that. My face was still a maze. Understanding my confusion, Mr. Sekar said, "See, once I do a seva, I offer it to God; it reaches its logical conclusion then and there. I do not carry that forward. Yes, we had helped her earlier but that is a closed chapter. I have no expectations from that. As far as today is concerned I needed to advise her to not take such hasty decisions in the future and I did just that."

I was simply bowled over. Rarely have I come across anyone living the principle of 'Sarva karma bhagavad preetyartham (do every act only as an offering to God)' to this level of sincerity.

"I have spent the whole day listening to many tales from Mr. Sekar about others. It's high time I hear about him now," I thought to myself.

"When did you really get interested in service?" I began.

In the 90s, Mr. Sekar had the chance to touch His Master's feet at Brindavan
on the completion of his seva duty in Prasanthi Nilayam.
If Grama Seva Pleases Sai, That is What Pleases Me Too - Mr. Sekar
"Well, I was always inclined to helping others right from my college days, but once I joined the Sathya Sai Organisation in 1987 I got deeply involved in all the activities. Then I was living in Krishnagiri. Later when I started my factories, I moved to Chennai. I gladly took up the duty of keeping the Sai samithi premises of my area clean. Besides this we always had several adopted villages of the Organisation and I used to spend my spare time serving there, whether in Krishnagiri or in Chennai.

"Then in 2000 during an interaction session with students, Swami asked, 'Are you all interested in village service activities?' and all the boys enthusiastically raised their hands. Baba then said, 'Swami is happy, Swami is most happy when you do grama seva (service in rural areas)'. When I heard this, I immediately took a pledge to dedicate myself to the upliftment of villages because if this was what makes Swami happy then that was exactly what I needed to do. Another thought that came to me at the same time was – why not serve my own native place first? That's how I shifted to Thirunagari."
A Unique Style of Management
"But is it not difficult to run your company from a remote setting like this? Besides you had to leave the comfort of your home in Chennai." I genuinely wanted to know what prompted him to take such a major decision.

"There are two reasons for this transition. First, there are plenty of people available today to run my company. There is competition in the job market; I only have to pick and choose. But to do service, there is no competition. I therefore decided to have service as my first priority.

"Secondly, I realised that I can run my business better if I look at it like an outsider. Just like only when you are outside a mansion can you see the whole mansion and also get a perspective that people inside do not have. This position helps me to discriminate clearly and take decisions more objectively."

"Wow! This is a completely new take on management! In fact there is a principle called 'servant leadership' which says that the manager who has seen the least manages the best. You are a live example of this!" I was too impressed, to say the least.
"Well, I do not know about this management principle. For me it is a kind of 'detached attachment' which works wonderfully for me and my business." Mr. Sekar smiled satisfactorily.

We had now reached his now-familiar humble home. As we alighted from the jeep, there was a middle-aged gentleman waiting to meet Mr. Sekar. "He is Mr. Jagadeesan, our CEO," Mr. Sekar introduced him.

I was only too glad to see one of the key persons of his company. After I had introduced myself and quickly built a rapport with him, I asked, "Mr. Jagadeesan, does it not bother you that you have to come all the way to this village to meet and report to your MD?"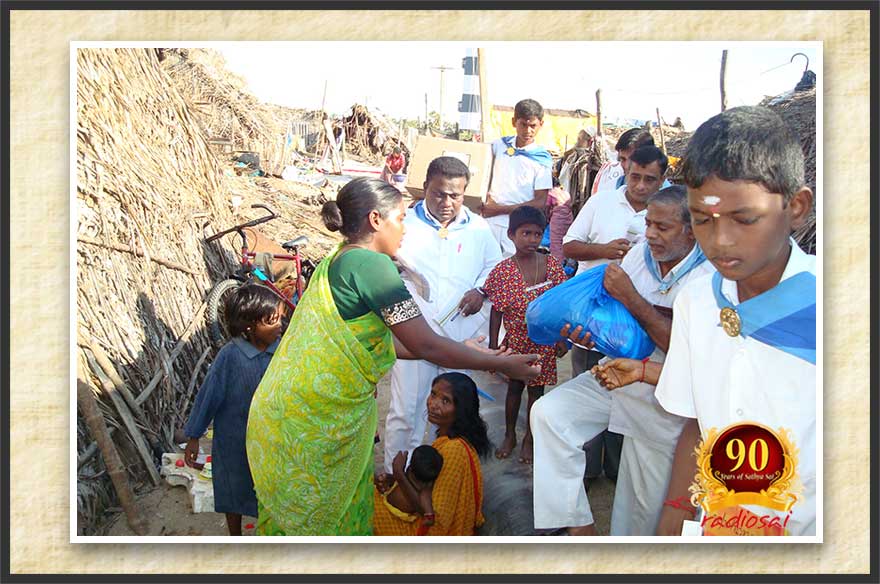 The employees of SKN Organics not only do seva in Prasanthi Nilayam but also join in every seva activity of the Sai Organisation.
There is Nothing More Powerful for a Leader than Leading by Example
"Well, initially it did," he was frank. "But when I saw Mr. Sekar at work and his passion for selfless service, I was too impressed to complain about anything. Plus he is a great boss to work with. His business philosophy and value system are unambiguous and candid. Other organisations might use people to develop the company, but he is absolutely clear that his organisation will use the company to develop people. 'This firm exists so that we can love more and more people more firmly' is what he says."

"I have never heard any Managing Director say this!" My eyes were filled with admiration.

"Mr. Sekar means this," Mr. Narasimman added. "He believes that if he works to make his employees lead a value-oriented life then their lives will be taken care of by their values. At the same time he never forces his principles on anyone but simply leads by example."

"Just like the transformation he has brought in me," Mr. Jagadeesan joined in. "Whenever I came to see him for any office matter, he would be engaged in serving one village or the other. This had a deep impact on me. However not once did he tell me to join him in his work."

"Where were you working before you joined him?" I wanted to assess how difficult or easy this job profile has been for him.

"I was in Qatar for four years as marketing manager of a multinational firm Global Oil Field Supplies and Services. Prior to that I was an administrative officer at Reliance Infocomm for four and half years," Mr. Jagadeesan replied.

"Then it must be a very different feeling for you to work in such an environment now," I opined.

"Yes, it's very different and I like it. Mr. Sekar's stand on ethics and values is uncompromising. He believes that the more value-centric we are, the larger will be our turnover. Actually our company stands as a testimony to this. We have been growing at 15-20% annually for the past 15 years. Mr. Sekar says that following dharma means offering the best product to the customer. He is never bothered about competition. He feels if we are honest with the customer, by virtue of the quality of our product the customer will never leave us. Sometimes there may be short-term setbacks but soon we will triumph. He completely believes in the way of Truth."

"Wow! But to ensure that this value system percolates to every member in the company is quite an effort, isn't it?" I wanted to see how this business philosophy was sustainable and replicable.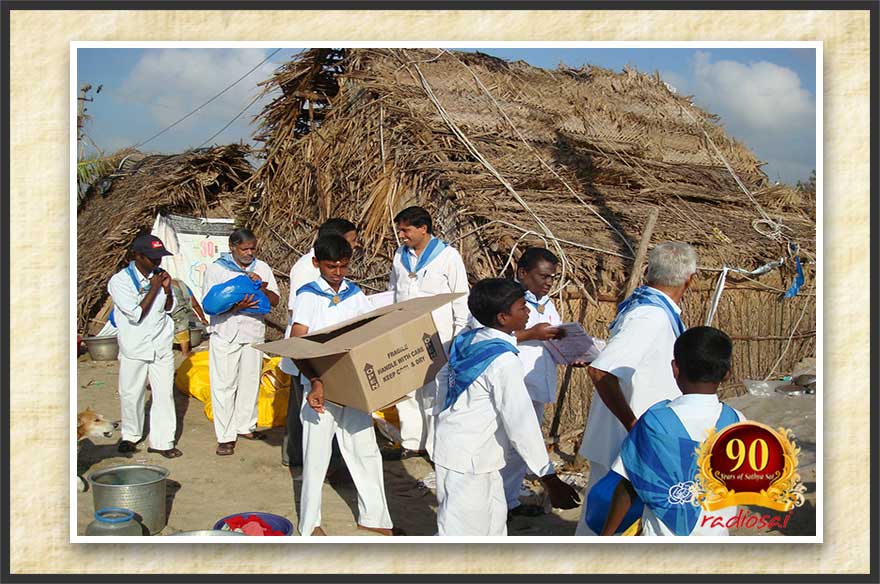 While Prasanthi Seva happens only twice or thrice a year, the rest of the time these employees are busy doing rural service
in many adopted villages of the Sai Organisation.
How Men are Picked and Trained in Mr. Sekar's Company
Mr. Jagadeesan agreed and explained, "That is why our recruitment process is very rigorous and employee training is unique. Mr. Sekar himself conducts the first interview and if he is happy with the recruit's mental make-up then he/she is made to do some field work and during this period carefully observed. The recruit's spirit at work, behaviour with others, interests, inclinations and tendencies – everything is watched and judged. At times, people leave during this process. We let them go. But ultimately we take a lot of care to select the right people for our different jobs because their fit into the organisation's culture is extremely important."

I could not agree more.

"And once they join us," Mr. Jagadeesan continued, "Mr. Sekar looks after them as if they are his family. He often says 'If I am the MD today it is because of the employees and so it is my bounden duty to ensure their welfare.'"

"Let me give you an example," Mr. Narasimman now chipped in. "One day a factory manager phoned him and said, 'Sir, our security guard is not disciplined. Last night I found him drunk. Can I dismiss him?' Mr. Sekar's immediate question was, 'What steps have you taken in the recent past to make him disciplined?' There was silence on the other side. 'You should first love him. Then take efforts to show him the right way to lead his life.' Mr. Sekar went on, 'We cannot complain when we have not made any attempt to develop his character and personality. Do this please and then come back to me.'

"Also at times when I come to him with something that has gone wrong in the factory, he would listen to me in full, and before blaming any person he would analyse if the mistakes happened because of a flaw in our systems and processes. 'A thief will enter only if there is a hole' he would say and give ideas on how to make the system fool-proof to prevent such mishaps. He would then quote Puttaparthi and say 'There is a proper system there. That is why the ashram functions smoothly.'"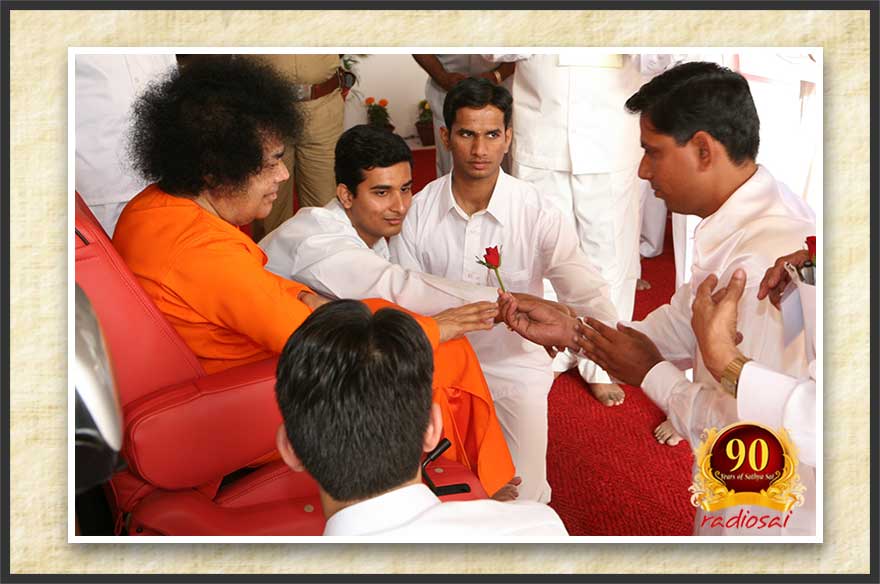 Mr. Narasimman had a rosy chance during Athi Rudra Maha Yagnam in Jan 2007. Mr. Sekar too had the opportunity to offer arathi to Swami on the first day of this grand ceremony and on that occasion Swami looked at him, smiled and said, "Coming... coming."
"And, that's also a reason why all our employees get trained in Puttaparthi," Mr. Jagadeesan now took over.

"How does that happen?" I asked. This was the first time I was hearing about a corporate house seconding its employees to Prasanthi for training.

"We do this by suggesting that they join the Sevadal volunteers that go twice or thrice every year from the state of Tamil Nadu to serve in the Prasanthi Nilayam ashram. Mr. Sekar believes that is the best way to orient his people towards Swami's value-system."

"Actually nearly 100 staff from this company go for seva every year," Mr. Narasimman chipped in. "And they are there for 15 days and sometimes one whole month."

"That is phenomenal. So many take leave and go for seva?!" I was really surprised.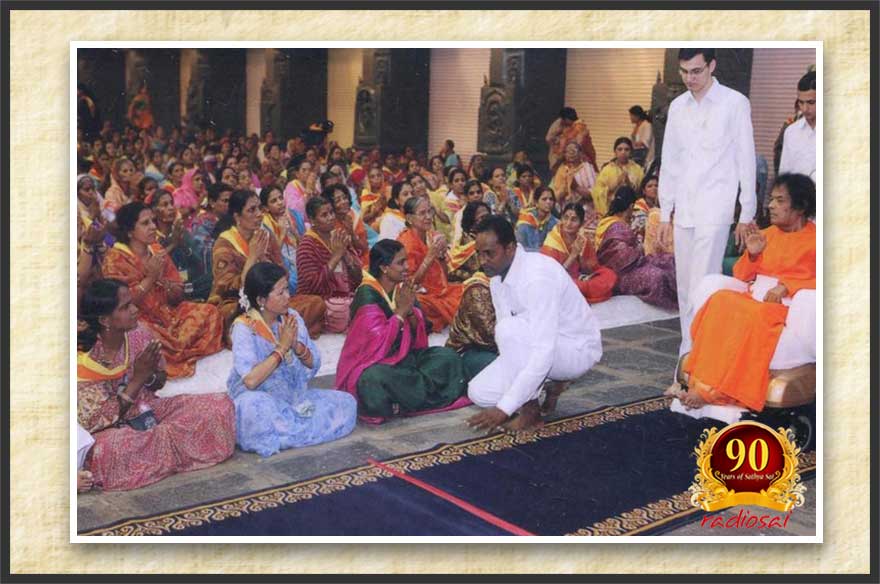 Mrs. Sekar (in green and pink), so happy to see her Swami after Prasanthi Seva in November 2010.
"No, they don't have to take leave. Serving in Puttaparthi is treated as official deputation for training. The factory remains closed during that period. Since these months are fixed we plan our production schedules ahead of time to ensure that there is no dearth of stock. The employees lose neither leave nor salary. However, we never force anyone to go. If someone prefers to stay away, we let it be. But generally most of them go, unless they have some problem."

"This is fantastic! I did not know that a large chunk of Tamil Nadu Sevadal is from just one factory!" It was an amazing discovery.

"We have been doing this for 10 years now," Mr. Jagadeesan joined in and added, "And it's not just the workers. Right from Mr. Sekar to the watchman of the factory, everyone participates in Prasanthi seva. I too go annually."

"This is simply awesome! But does this mean you are losing out on some turnover or profits or some business opportunities during this time?" I wanted to know if this was having any adverse effect on the company.

"Actually, it is the opposite! You may not believe this. We have our maximum sales during the seva period. In reality, November is a winter month when people have a lot of infections and the demand for our products is at a high. And we do very well in our turnover. So this seva opportunity is actually a blessing. Baba takes care!" Mr. Jagadeesan smiled.

"Baba takes care for sure. There is no doubt about it," I asserted and added, "Where there is Truth and Love, there Baba's presence is most palpable."
The Force That Powers Mr. Sekar

Just then Mr. Sekar appeared; he was inside the building until then. I thanked him profusely for the incredible day I had experienced. It was twilight and time for me to leave. "Before I go I have a question that I simply must ask," I told Mr. Sekar. He looked at me with a glint and said, "Sure, go ahead".

"What has inspired you to be the person you are today? Has Swami ever spoken to you? Did He give you any specific instruction?" This thought had been playing on my mind throughout the day and I felt I just couldn't leave without receiving some insight into this facet of the entire story.

"When I had the chance to take Swami's padanamaskar way back in 1990, Swami looked at me and said, 'Do sadhana. I will take care of the rest.' I have followed His command diligently. Right from then until now - every day I spend the early hours of the morning from 3 to 6 in prayer and nagar sankirtan. Even when I was in Chennai, I would go out every day for nagar sankirtan, even if there were only one or two people to join me. This has been my routine for more than two decades now. In fact I get solutions for all of my business problems during this hour of prayer and chanting. Therefore for various reasons this is an important part of my sadhana.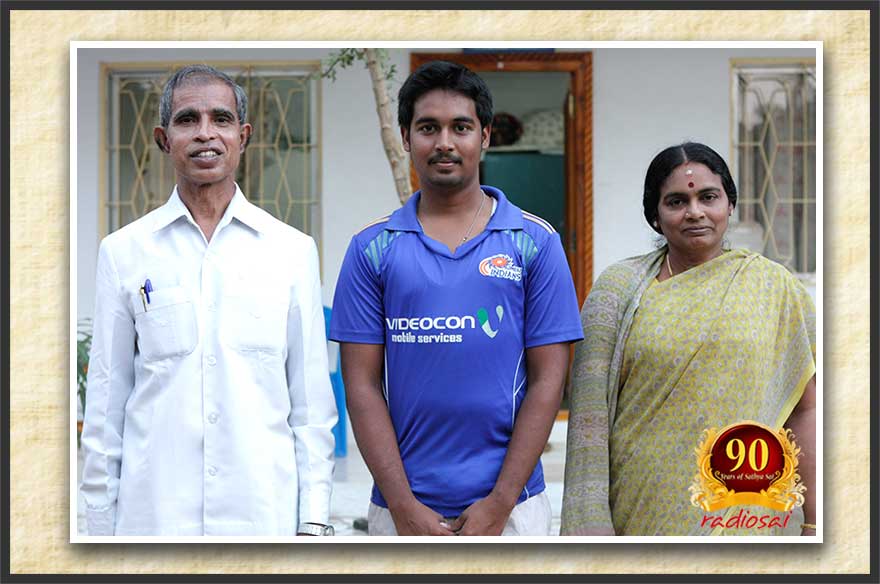 Their son S. Sai Krishnan's dream is to pursue medicine diligently and become an accomplished doctor who can look after the deprived and needy.
"The other spiritual discipline I follow is to have less contacts/friends and spend more time reading Sai literature on a daily basis. My endeavour is always to be a good Sai devotee and a sadhaka. Therefore I am very careful about my desires. Entertaining a desire means allowing a cobra to be in your living room. It's actually that perilous. One cannot be completely desireless but we can have less desires.

"Whatever I have is all need-based, not driven by desire. Even my business is love-based; it is not for amassing wealth. In fact once you develop desire you stop enjoying life. For example, if you are sitting on a sofa, you can delight on the sofa only if you can get out of it and settle on it whenever you want. But if you get tied to the sofa, it will become a pain. It's the same with our desires. We enjoy things only when we are not stuck to them by our desire.

"Similarly if I am desirous of the position of Managing Director then I will become afraid of losing this job and think of the ways and means of maintaining my position rather than running the business righteously. To keep my position I may end up dancing to someone's tunes and losing my freedom. In fact sometimes I think even if I lose the business, there is no problem because I have love. With that love I can build it all again."

"Wow! I do not think I am speaking to a successful businessman owning a multi-crore empire. I am standing in front of a monk!" I submitted humbly and then asked my final question: "What do you think is your greatest strength?"

Without batting an eyelid, he said, "I always choose Swami first! His happiness is paramount to me. Everything else is secondary. This is the mantra of my life."
As I bowed down to him reverentially and parted, the only thought that filled my mind was: "Where there are people like Mr. Sekar, there is Truth and Love, and where there is Truth and Love, there is the unmistakable fragrance of Sai!"


- By Bishu Prusty
(Radio Sai team)
What are your impressions about this Story? Please let us know by writing in to 

[email protected]

 or you may leave your thoughts in the comments section. Do not forget to mention your name and country.