| | | | | | | |
| --- | --- | --- | --- | --- | --- | --- |
| | 'Like' us on Facebook | Follow us: | | | | |
Posted on: March 29, 2015
A Sai-Centric Life and Living
How a successful business entrepreneur of a multi-crore conglomerate lives by Sai ideals and discovers the golden way of doing business even while leading a life of joyous freedom.
Part 02
Creating a Productive Adult out of a Madman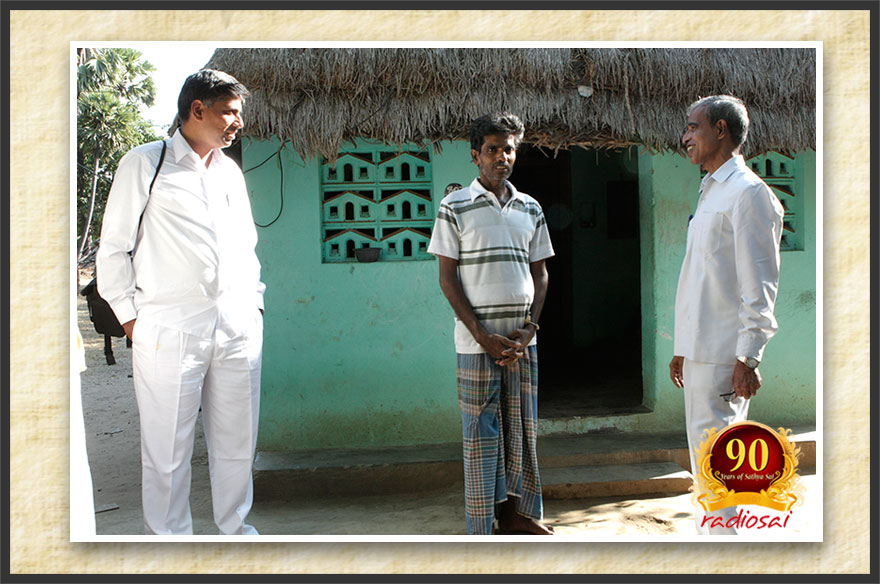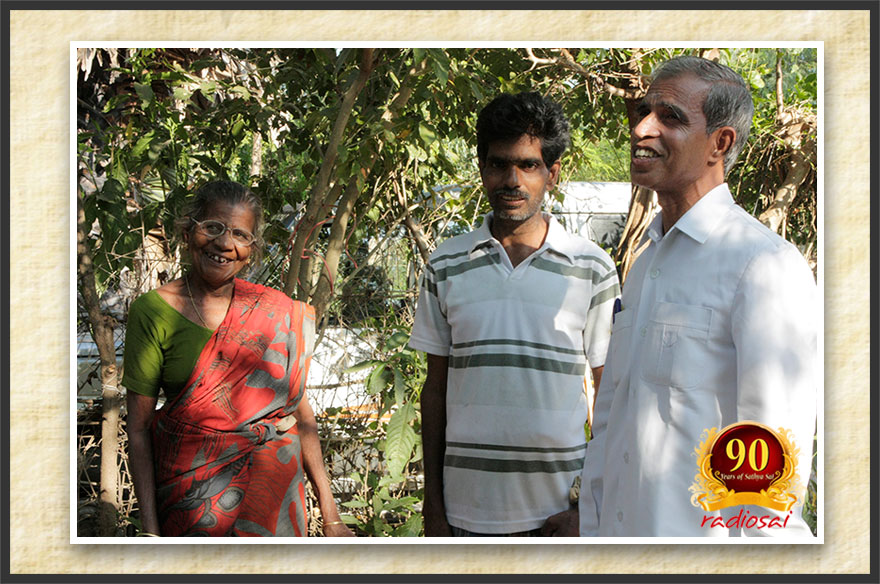 Once a nuisance in the village, Mathi (centre) is now loved by all and his mother is most ecstatic, all thanks to Mr. Sekar who of course is extremely satisfied too.
"He is Mathi," he pointed to the young man standing next to him. "Two years ago he was a terror in this village. He had lost complete control of himself. He would simply go and beat somebody or destroy something or harm a child without reason. People became highly scared of him. In fact he was such a nuisance that they even thought of permanently putting him to sleep. When I came to know of this I told Mathi's parents that if they permitted me I would take him and get him medically checked up. They agreed. So we took Mathi to the Medical College Hospital in Chidambaram, about 30 km from here. The psychiatrist there started his treatment. We paid for all the expenses. By God's grace Mathi responded to the medicines very well. In fact we took him to this hospital at least six times and now he is completely alright. He just has to just take tablets twice a day.

"Inside the hut is his father who is a leprosy patient. He suffers from bed sores and pus formation. I was dressing him. He too is getting better."

As we spoke, an old lady with round spectacles and a bright smile hovered near us to my right. "From the time her son was cured of his mental malady she is very happy, even though they still have many other problems," Mr. Sekar said.
Restoring Selva Kumari's Smile
We then started walking. We crossed an open field and now came to another thatched house. A teenager was standing there. Her face lit up when she saw Mr. Sekar. "She is Selva Kumari. A few months ago she was bitten by a snake. She just rushed to her house and took Vibhuti. Her parents took her to the Government Hospital at Sirkali, 9 km from here. But she could not be treated there. We then took her to the Medical College Hospital of Annamalai University in Chidambaram, about 20 km from here. They asked for Rs.15,000 for the injection and medicines which we immediately organised. She is hale and hearty now. This family feels so grateful to Swami. Her mother recently went to Prasanthi Nilayam to do seva in the ashram for one month," said Mr. Sekar narrating her story.

In a little while, the girl's mother emerged from the thatched house and it was a sight to see the mother-daughter duo, arms around each other and gleeful.

As we crossed a ledge, we came across another barren patch of land but this one was bubbling with life. In one corner were rural folk cleaning, drying and de-husking their paddy in the hot sun. In another corner was a lively group of 10-12 year olds having fun. Seeing me with a camera they got even more excited. Joyously they shouted "Sairam!" Fortunately I was ready to capture that moment.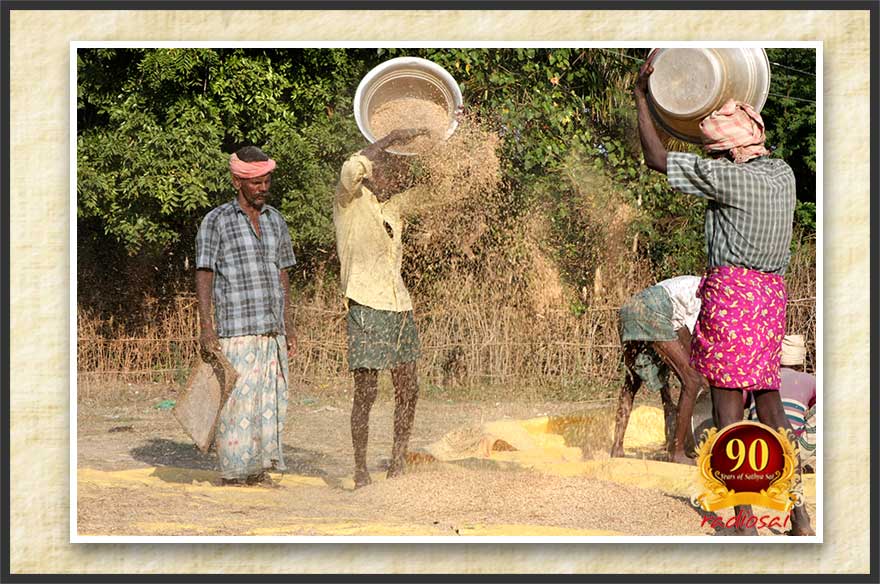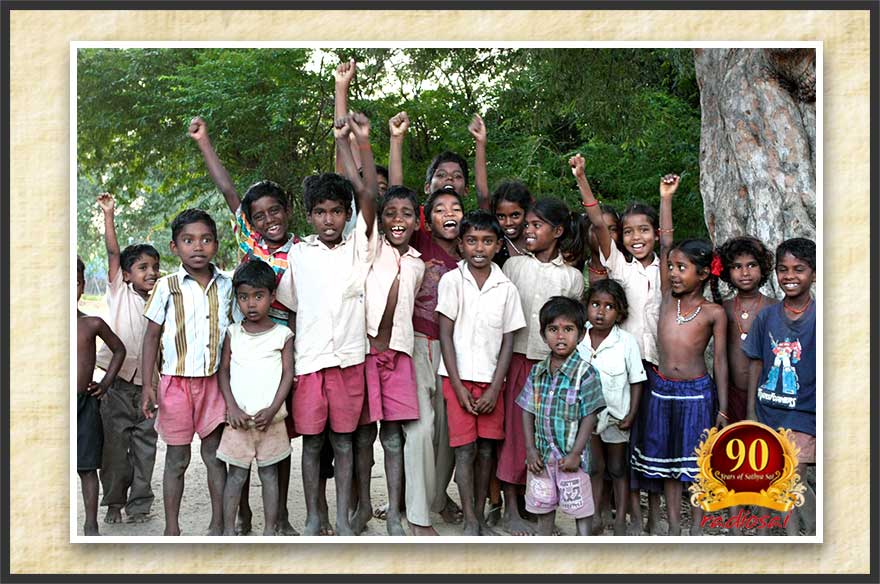 Ask them to say 'Jai Sai Ram' and they are jubilant!
Happy Stories of Transformation Galore
Mr. Sekar now picked up one boy and said, "This one sings very well!" The little one flashed a beautiful grin. "I love to take care of them," Mr. Sekar continued, "Sometime ago one of them had the problem of incontinence – he had no control of his bladder. As he grew older it became very embarrassing for him to attend school. So I took him to specialist doctors in Kumbakonam and we spent a lot of money on his treatment. By Swami's grace he is fine now. In fact, he already completed his 10th grade without any problem."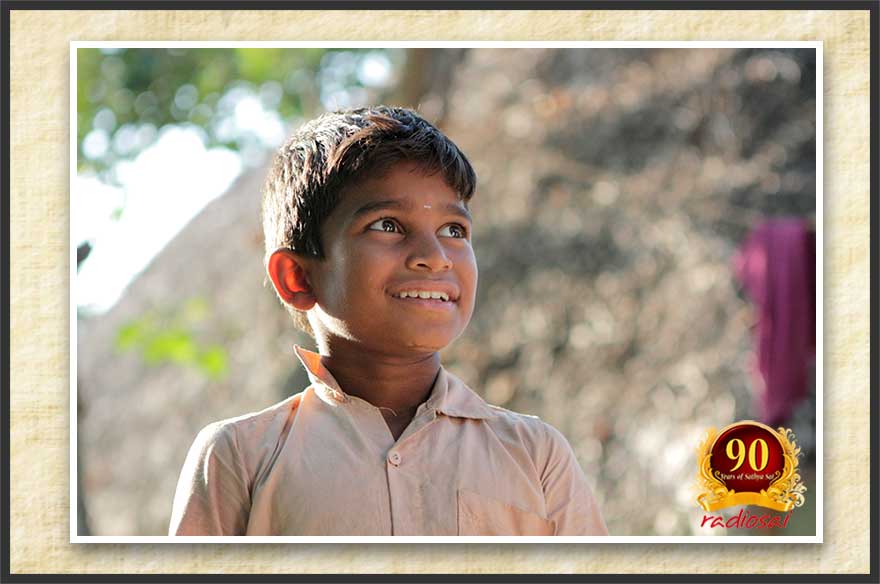 So many bright ones like him are slowly discovering their talent, be it in singing, playing musical instruments or sports.
Now I felt a tug at my shirt. I looked around and there was this vivacious lad in a red-striped T-shirt holding a little goat, smiling to the hilt and saying "Photo, photo!" It was a joy to take that snap and even before I completed shooting, another five joined him in a jiffy - but this time they let go of the goat and brought in a white dog. It was as if these dogs and goats were family to them; there was so much familiarity. The thrill of being photographed was so great for them that I wished I could stay there for an entire hour and only click, just to continue seeing that free and unabashed exuberance in them.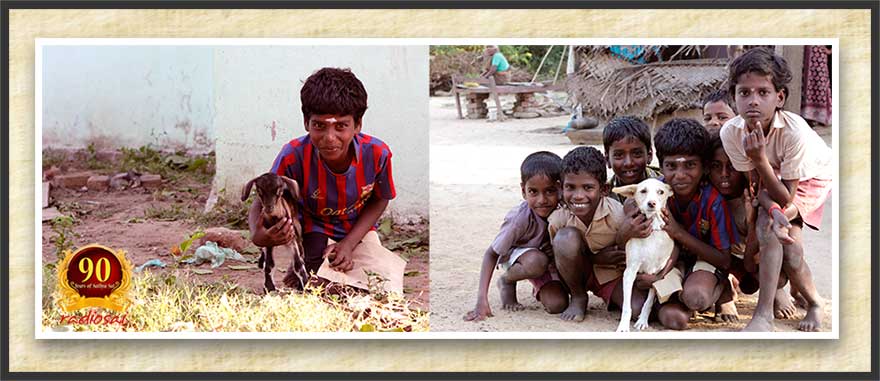 Oh! The pure joy of being captured!
We moved on after I had satisfied them at least to some extent, and now we came across a building with a huge hall. "This is where government teachers come and take classes for our village children," Mr. Narasimman explained, and out came from the gates 3-4 girls. One of them had her hair neatly plaited into two and tied in red ribbons; there was warmth exuding from her face. She greeted Mr. Sekar with a loving 'Sairam'.

"She is Rajashri. Her parents did not want her to go to school as everyone in their family works in the fields. But we spoke to them and convinced them to let her study. And you know what? She is the topper in the class. She is very intelligent and well-mannered too. We are so happy. She is the first in their family to read and write. And who knows? Maybe she will become a good teacher or an officer!"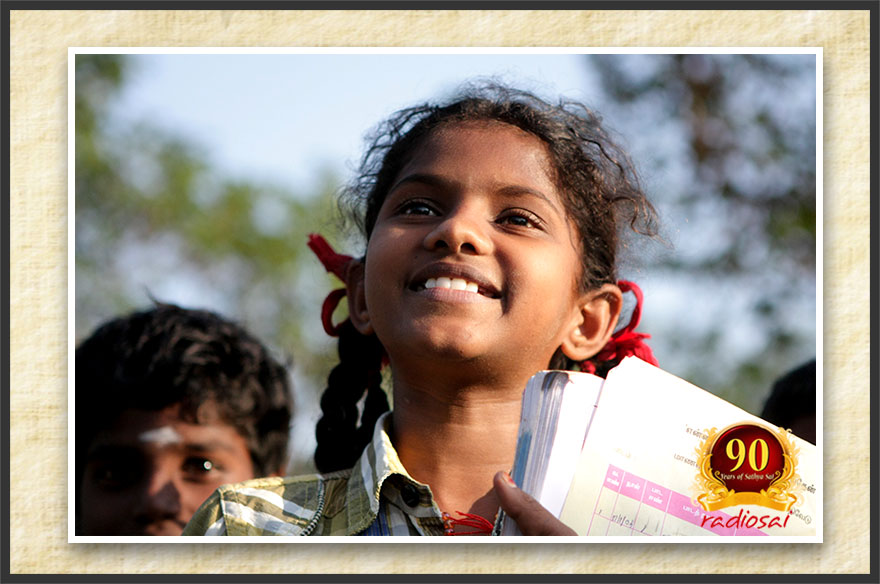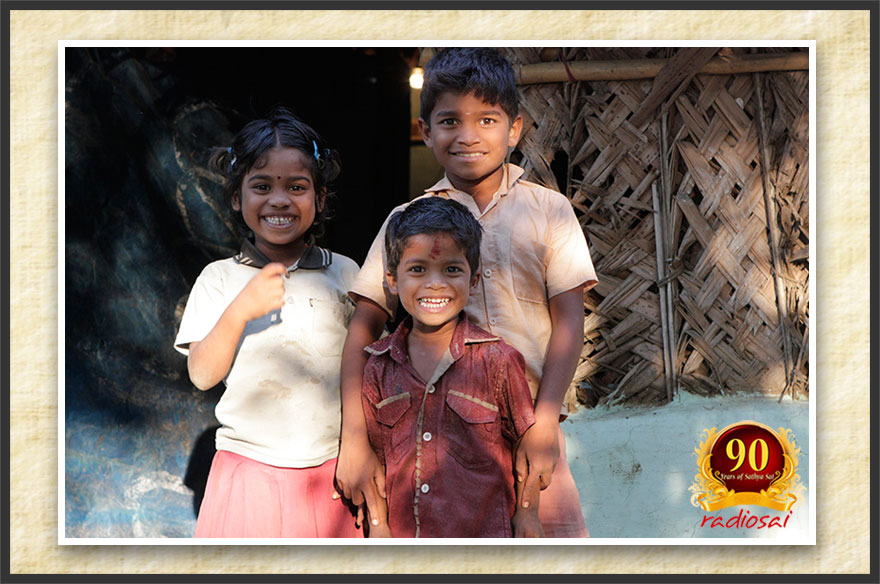 If Mr. Sekar had not insisted and convinced their parents, none of these beautiful ones would have been going to school today. Isn't their smiles so eloquent?
"That would be really great! What a paradigm shift in their family!" I said. As we moved on from one shack to another, Mr. Sekar continued with his stories – how a Christian couple were so deeply grateful to Swami after the lady was cured of an abscess in her chest that had troubled her for 15 years, how the 60-year-old Mayavathi was now relieved of the chronic pain in her leg, how another young mother, who had endured tremendous trauma because a careless doctor had left a sponge in her tummy after her delivery, was finally back on her feet and tending to her household duties.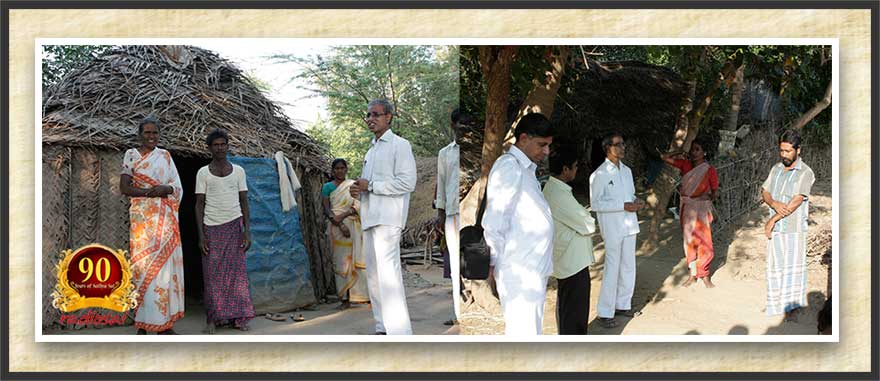 This is what Mr. Sekar does everyday - go to the doorstep of every downtrodden one and give them hope and more reasons to smile.
Rising from the Burns
Mr. Sekar knew about every child and adult, every tree and shrub, and every hut and garden in that hamlet. We then came across a sight that left me inconsolably sad. It was the burnt neck of a young girl. Mr. Sekar told me how a miscreant had dabbed petrol on her and lit a matchstick. Apart from severe disfigurement of her skin she was unable to even move her head left or right. Thanks to Dr. Thanikachalam they took her to Matha Medical College Hospital in Chennai for several rounds of plastic surgery. Following the treatment, she was able to move her neck freely.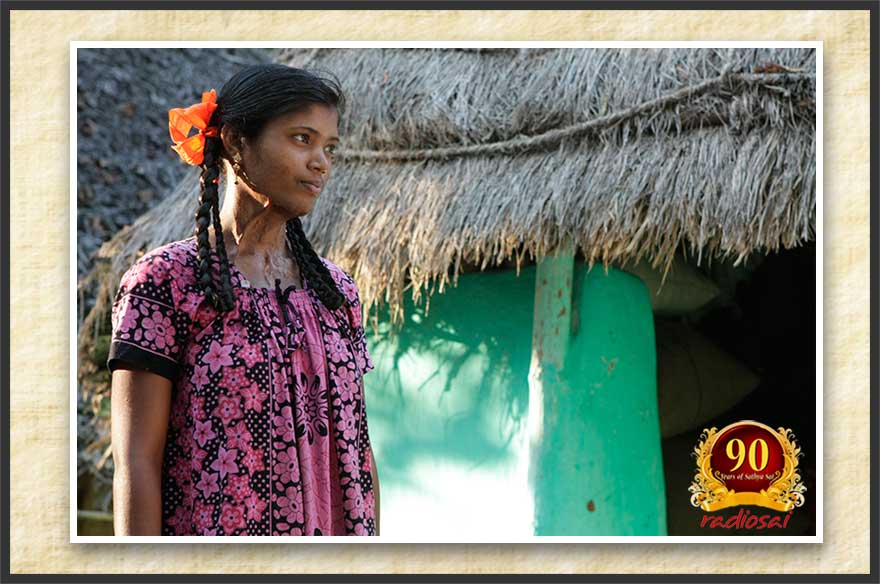 Destiny ravaged her countenance but Mr. Sekar's team resurrected her confidence and now she is willing to look ahead.
This girl, now in her 12th grade, did not speak but I could see in her face mixed emotions of sorrow and relief. Probably the trauma of the tragedy was so severely painful and pathetic that the very fact she was able to raise and turn her head was reason enough for her to smile, even though her skin still presented an abominable sight. It depressed me thoroughly. For once, I demurred from taking a picture but Mr. Sekar asked if we could click her and she agreed without any qualms. She had almost had a rebirth and I could see from her body language that she was now gathering confidence to rebuild her life.

It was the latter part of the afternoon now. In between all this we had made a quick trip to Mr. Sekar's residence for lunch and returned to continue the round. The picture of the sad plight of this girl would not leave my mind. And even as I was talking to Mr. Sekar to find out more about her, we found ourselves in front of another hut where a young mother with her infant in her arms stood outside.


- By Bishu Prusty
(Radio Sai team)
What are your impressions about this Story? Please let us know by writing in to 

[email protected]

 or you may leave your thoughts in the comments section. Do not forget to mention your name and country.