'Like' us on Facebook
Follow us:
Implementing IT to Enhance Quality of Patient Care
First International Healthcare IT End Users' Conference
at SSSIHMS, Bangalore
PART 02
Now, how far has the hospital reached in terms of the level of IT implementation? And what is the road ahead? Dr. Voleti Choudhary again:
The Healthcare Information and Management Systems Society (HIMSS) is a non-profit global organisation that focuses exclusively on providing leadership for the optimal and best use of information and management systems for betterment of healthcare. This body has laid down seven stages of adoption of IT in hospitals for patients' benefit. It is indeed heartening that Baba's hospital in Bangalore is fast approaching stage 6 (though no official accreditation has been carried out).
To put this in perspective, as Dr. Voleti Choudhary mentioned, only 0.1% of hospitals in Bangalore have come this far. In fact, in the entire country of Canada, only 0.5% of hospitals have achieved this and in the US, only 6% of hospitals have this level of use of IT.
What this means is Bhagawan's hospital in Bangalore now has a very advanced Electronic Health Record (EHR) of patients, which very few hospitals in India can boast of. Though it is difficult to say which stage exactly the hospital can be categorised under, the extent of implementation is truly comendable, so much so that the consultants who came over to help in implementation were happy to say that it was as good as stage 6. The members of the IT team of the hospital though, humbly add that they are far from Stage 6 and there is a lot more they wish to do before they accept these accolades. EHR has helped patients in many ways like reducing their waiting time during discharge, decreasing their stay in the wards, offering them consultation even if they are miles away through telemedicine technology and so on. Dr. Voleti gave a few examples: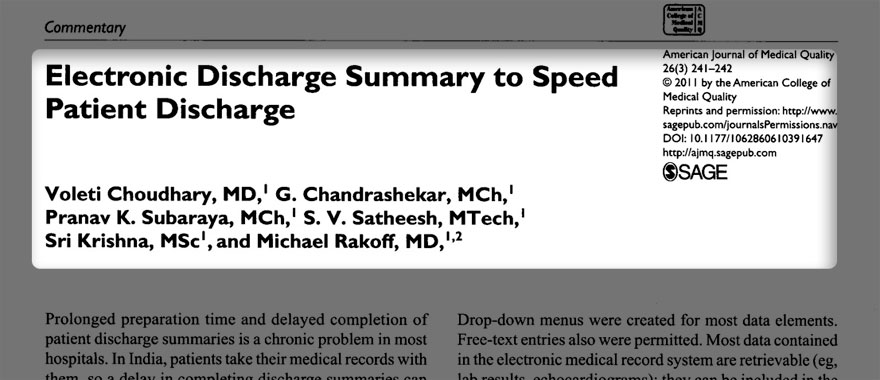 Snap shot of the paper published in the American Journal of Medical Quality. Click Here to download the entire paper and other posters presented by the SSSIHMS staff about IT implementation in Healthcare
In fact, there are several other areas where technology has helped the doctors in Baba's hospital. Three years ago, Computer On Wheels (COW) was introduced so that doctors can access all information about the patient right at the patient's bedside. In addition, doctors get SMS alerts automatically if any of the patient's lab reports show alarming numbers.
Academic researchers too can benefit from the data mining, owing to the organised patient information being collected over the years. There is also good progress on Clinician Decision Support Systems (CDSS). Thus, the hospital is certainly well abreast of all medical and technological advancements, but all these are targeted at providing high-quality patient care.
The Computer On Wheels gives a doctor access to the patient's electronic records right at the bedside of the patient
As we all know, technology is a double-edged sword; it can help you as much as it can harm you, but in the hospital in Whitefield, it has been harnessed effectively for the good of the patients; this is in fact a case study of this unique nature. However, there is still an issue here, which Dr. Voleti Choudhary spoke about.
| | |
| --- | --- |
| | |
| | Prof. John Kirklin |
What Dr. Voleti Choudhary meant by technological iatrogenesis is the patient harm caused, at least in part, by the application of IT. These could include unintended errors from the healthcare information system when the users do not use it in the intended manner.
A simple example could be a nurse making mistakes while typing out the prescriptions for a patient. There is always some scope for errors no matter how high-tech a system is and so all the people using the system have to be trained well.
Secondly, as Dr. Voleti Choudhary said, no system can ever interact with the patient to know his/her condition – that only the doctor can do; technology at best can only aid in this process.

In fact, Mr. K. Chakravarthi, one of the members on the Board of Trustees of the Sri Sathya Sai Central Trust, who spoke next, referred to this remark of Dr. Voleti Choudhary and then went on to share about the origins of the establishment of the Hospital Information System department in the hospital.
- Team Radio Sai