| | | | | | | |
| --- | --- | --- | --- | --- | --- | --- |
| | 'Like' us on Facebook | Follow us: | | | | |
Posted on: Aug 05, 2015


RECREATING SUPREME SEVA THROUGH SUPREME PREMA
Part 01
This is the story of someone who excelled in his selfless service to such an extent that Baba Himself acknowledged his work as 'Supreme Seva'. Mr. B. M. Wadegoankar from Maharashtra is today a colossus of inspiration who has led hundreds and thousands to His lotus feet through this fool-proof formula of Nishkama Seva – service with no expectation or reward whatsoever.

Continuing our 90th Birthday series 'Commendable Servitors of the Lord', we are glad to offer yet another awe-inspiring tale of a humble servant of Sai.
Construction of 125 temporary bathrooms and an equal number of toilets outside the ashram premises. Another 100 each inside Prasanthi Nilayam. All of this done in 13 days. No one paid. No workmen hired, be it labourer, mason, carpenter or plumber. But the task completed to perfection.
The Lesser-known Wonder of Baba During His 85th Birthday
"Workers will work for money but when devotees do it they will serve with earnestness and devotion. This is what pleases Baba. So I had with me brothers who had experience in all these skills and we completed the work on time. Everything was ready as instructed on November 1, 2010. In fact this is one of the greatest miracles of Bhagawan during His 85th birthday," said the jubilant octogenarian Mr. B. M. Wadegoankar whose inspired leadership made the execution of this herculean task possible.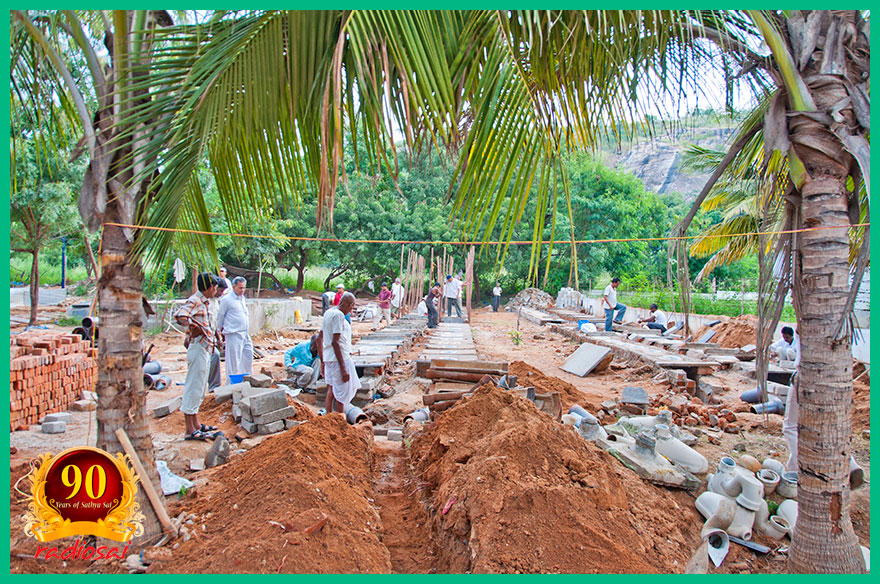 The construction of temporary sanitation facilities during 85th birthday celebrations which was made possible
by over hundred dedicated workers led by Mr. Wadegoankar
"Not only this," he continued, "after these facilities were built, even their maintenance during the entire period from November 1 till 24, 2010 was our responsibility. Even though more than 10,000 people used these make-shift structures, not once was there a blockage or breakage or any disruption in this sanitary service. We dug 1,200 pits to lay the pipeline and could use only 6-inch pipes and not the 9-inch ones because of various constraints. Still nothing untoward happened and no devotee was inconvenienced. I must tell you this: while the thousands of devotees assembled were relishing the blissful physical presence of Baba in the Mandir, we experienced the beautiful omnipresence of our Lord! Nobody can imagine how this work was executed in just two weeks with 100 or so people and then maintained for the following three weeks."
"But you were already in your mid-seventies then. From where did you get the energy to engage in such a physically and mentally exhausting task?" I was awestruck with his enthusiasm and commitment.
The Miracle Called Wadegoankar
"Oh, I am myself a miracle of Bhagawan! Clinically I should not be even walking, let alone working! Since the last 40 years I am carrying with me a prolapsed disc plus spondylitis, my friend. Along the way I picked up rheumatoid arthritis too. Now by His grace my knee joints are giving away. Hearing is also becoming difficult. It is all His blessing!" Mr. Wadegoankar smiled, as carefree as his loose white kurta.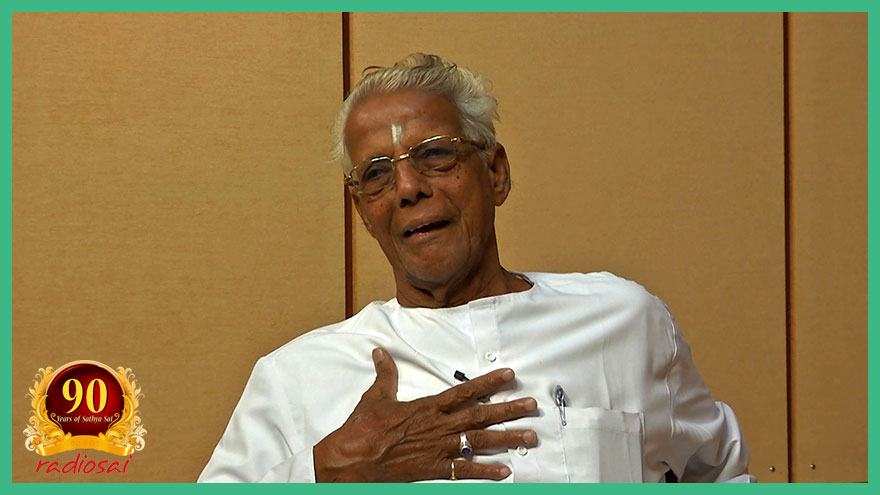 The ever-affable Mr. Wadegoankar who has made service his life-breath
"His blessing?" I was stumped.
"Of course, it is His grace! This body is not mine. This is His botheration! It may deteriorate or disintegrate as per His will. I am not concerned. From the moment I saw Him I have given myself to His work and that is how it will be till my last breath." The unqualified determination and inextinguishable zeal shone on his weathered face.
"In fact many years ago in the interview room this is what I directly prayed to Him for," Mr. Wadegoankar revealed, "'Maa, grant me this wish please. I should leave this body serving. Even as I die, I should be engaged in Your service.' And the most gracious Mother said, 'Yes'. How much He has loved me all these years!" His body trembled with emotion and his eyes were moist.
From Shirdi to Parthi Via Anantapur
| | |
| --- | --- |
| | |
| | Bhagawan in the Anantapur campus of Sri Sathya Sai Institute of Higher Learning |
It has indeed been a most fulfilling journey for him. Way back in 1952 at his sister's wedding, someone gave him a picture and a booklet on Shirdi Sai. Even though he felt drawn to that photo, He really fell in love with Shirdi Sai only when he visited the shrine in 1958. Then in 1969 when a friend told him that Shirdi Sai had re-incarnated in Andhra Pradesh, he said to himself "I must go and see Him".
But that had to wait for another three years. Meanwhile in 1970 he read in a local newspaper about a Sai Bhajan being held in Saoner, 22 kms from Nagpur. He was delighted to be there and enquire further about Sathya Sai Baba. "I have to go to Him" – this feeling became intense and he felt that the best way to prepare himself was to become a part of the Sai Organisation. But the nearest Sai Samithi was an hour away.
"If there are 11 willing Sai families you can start a Sai Samithi in Nagpur itself" a devotee told him. Immediately he gathered a dozen families and the Sai Samithi in Nagpur began. It then took two years of fervent praying for his dream to materialise.
"I saw Baba for the first time in 1972. It was the month of July. When I reached Puttaparthi I discovered that He was in Anantapur. The new building of the college was to be inaugurated. So I went there. It was a beehive of activity in that campus; so many were working voluntarily in preparation of the big day to be presided over by the then President of India. Seeing the dedication with which so many were serving, it became clear to me that the way to go closer to Baba was seva – selfless service.
"My wife and I immediately joined the group and we heartily worked dawn till dusk every day. We stayed in the veranda of a house, a little away from the campus. No inconvenience mattered. We lost ourselves in His work. And Baba too filled us with bliss. Every day during darshan rounds whether He came to me or not He definitely went to my wife and granted her pada namaskar. We were thrilled. Actually my wife became more attached to Him than me. But I had determined that I should do whatever was required to attain Him; also, I was getting convinced that there is no better way than seva.
"When Swami returned to Puttaparthi, we too followed. The ashram had very few rooms then and minimal facilities. We went to River Chitravathi for our morning routine. Outside the Ganesh gate there were only washermen's stalls then. In spite of all the limitations, I liked the ashram. I had no doubt of Baba's divinity; I accepted Him as easily as I had accepted Shirdi Sai. It was a spontaneous knowing. The only constant concern was – how to go closer to Him. So I engaged myself fully in the activities of the Sai Organisation.
What are your impressions about the Article? Please let us know by writing in to 

[email protected]

 or you may leave your thoughts in the comments section. Do not forget to mention your name and country.