| | | | | | | |
| --- | --- | --- | --- | --- | --- | --- |
| | 'Like' us on Facebook | Follow us: | | | | |
Posted on: Aug 05, 2015


RECREATING SUPREME SEVA THROUGH SUPREME PREMA
Part 03


The Beginning of Maintenance Seva
"How did you get this much courage to undertake such a challenging task? People run away from such work. What kept you going?" I wanted to know the secret of his incredible devotion.
"I told you, this Prasanthi is my home. I never did a stitch of seva for the sake of appreciation or reward from anyone, not even from Baba. I worked for my Maa and this ashram is my Mother's home. I am just working in my home; it is my duty to keep it clean.
"In fact in 1985 one day Baba called me and asked me to build two toilets adjacent to the ladies shed. Once I finished the work he called me for an interview. My younger brother, who is a veterinary doctor, was also there. Baba first asked him about his work, and then said, 'Look at your brother – he is a multimillionaire!' I was taken aback, and told myself 'There may not be another beggar like me! What is Baba saying?' Immediately responding to my thought, Baba said, 'This entire Prasanthi Nilayam is his!' Then He looked at me straight and asked, 'Isn't it true?' I immediately submitted to Him: 'Maa, when You are mine, of course this entire Prasanthi is mine too. How can it belong to anyone else?' Immensely pleased, Baba said, 'Take care of this home; look after its maintenance.'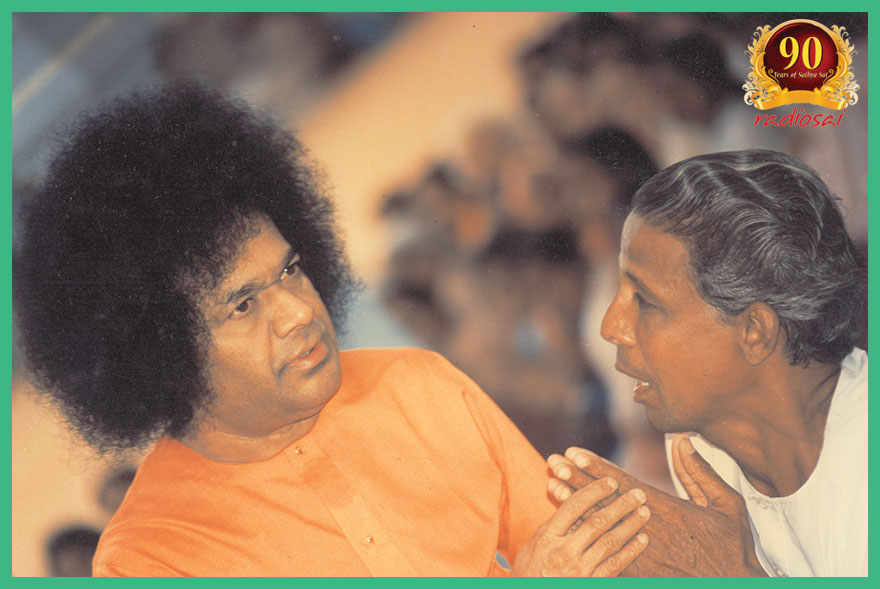 Once Bhagawan told him to look after the maintenance of the ashram, there was no looking back for Mr. Wadegoankar
for whom cleaning Prasanthi is more important than whitewashing his own home
"I took this seriously and the next year for a week in August we had our first Maintenance Seva Camp. We were 90 of us. When we finished our work Baba called all of us for an interview. He enquired about the welfare of each one of us and asked us details about where we were staying, where we were eating, and so on. Even as He was talking He suddenly rose from His chair, called Mr. Chiranjeevi Rao, the ashram caretaker then, and said sternly, 'How is it that you take money from My children to feed them?' Baba then calculated and had Mr. Rao return the entire expenditure incurred by everyone right to the last 25 paise."
"Wow! From then for the last three decades you have done so much maintenance seva!" I was left dazed by his dedication.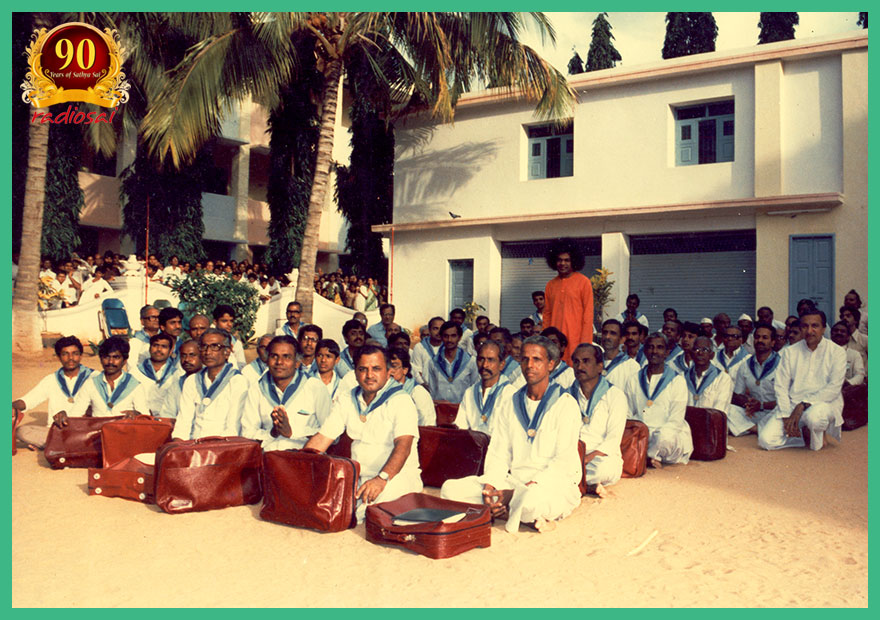 After every seva opportunity Bhagawan always filled their hands and hearts with His love
"I do not call what we do as Seva" - Mr. Wadegoankar
But he instantly retorted, "Seva? I do not call this as seva. When you do things at your home, do you call it seva? I am in my Mother's home. I am just maintaining my home. That is all it is. We call ourselves 'Children of Mother Sai'. In fact we do so little! We come only once a year to see the Mother and enquire about her welfare and then fix a few things – whatever can be done in 15 days. And for this the loving Mother rewards us profusely. So many times He has given us clothes, money, paid for our railway tickets, and taken care of our every little need. That is why I always address Him as Maa. If there is any relationship greater than God, then it is with the Mother. Have you heard the story of Pundalika?"
I nodded in affirmation.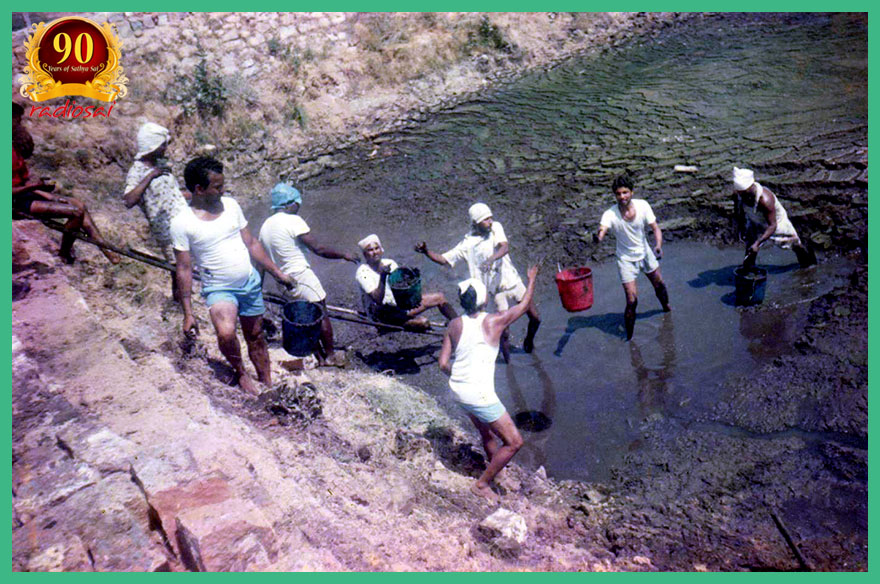 The heartily slog because they never think they are doing it for somebody; they do it for their own Mother
He went on, "Pundalika served his parents so well that even God came down to bless him and did not mind waiting for hours at his door. Serving the Mother, as I said before, is greater than serving God. To me, Baba always has been my Mother. So His guests are naturally my guests. During all these world conferences when so many people came, they were my guests too. This has been my constant feeling. And how much He has cared for me! Every time I was here He would ask 'When did you come?', 'When are you going?' and so on. I never asked Him for anything. Why should I? The Mother can sense when the child is hungry. In these last 45 years He has looked after every detail of my life including the marriages of all my daughters."
"Can you share some of those stories too please?" I wanted to document every bit of the story of this beautiful servant of the lord.
As He Worked for The Mother, She Looked After His Daughters
"When my first daughter came of age, Baba said, 'I will perform her marriage, here in Puttaparthi'. After the conference in 1984 I waited to get a date from Him for the marriage. I tried speaking to Him many times but somehow there was no response from Him. I was getting desperate because I was here with my three older daughters and my paralytic wife was managing with the little one at home. Finally out of frustration one day during darshan I shouted, 'Maa, I am going'. Baba turned and said, 'Go'. I came back and told my daughters to pack up and we started for the bus station. I was angry and sad. Angry because Baba did not consider my request and sad that I shouted at my Mother.
"Actually I was very repentant. I decided to ask His forgiveness before leaving. So I found myself returning to the Mandir even as my daughters were heading towards the canteen gate with the luggage. When I was at the Ganesh gate someone came rushing to me and said, 'Mr. Kutumbha Rao is looking for you. Baba wants you. Go back!' At the same time, another sevadal stopped my daughters just as they were about to leave the ashram and said, 'Swami said He will be speaking to you tomorrow'.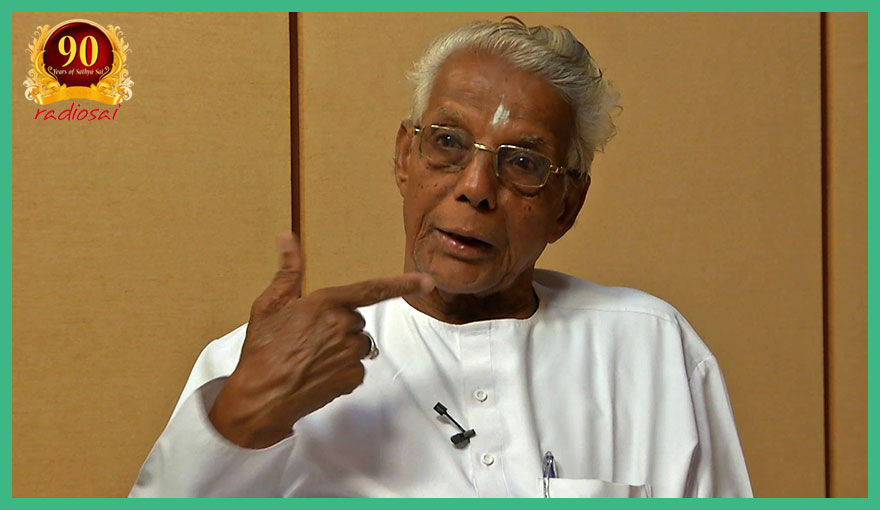 As he immersed himself in His work the Lord took full charge of his family
"Next day morning we were in the Mandir but Baba called us only in the afternoon. As soon as we went in my first question to Him was, 'Maa, I am waiting for You since so many days! Why didn't You speak to me?' Baba immediately said, 'It was not a good time to talk about marriages. You come in February. After Maha Shivarathri. I will perform the marriage.'
"I remember Shivarathri was on February 18 that year. We started the next day and reached Puttaparthi on February 21st. As soon as He saw us He enquired about our welfare and asked, 'How many people have come?' I said, '33'.
"'So many! There is no space in the interview room for such a big number,' Baba quipped.
"I immediately said, 'Maa, none of us will come. You take the bride and bridegroom and perform the marriage. That's enough.' He just smiled and left.
"On 22nd, He said, 'I will perform the marriage tomorrow. All of you come!' The next day not only did He allow all 33 of us to be with Him in the interview room but also called two other students too. He was so gracious. After performing the marriage, He blessed the couple and said, 'Come next year with the baby. I will name the child'. He kept His promise and named my first granddaughter as Premalatha. After choosing the name He looked at me, smiled enchantingly, and asked, 'Do you like it?' What could I reply? 'Maa, Whatever You say is perfect,' I said and fell at His feet.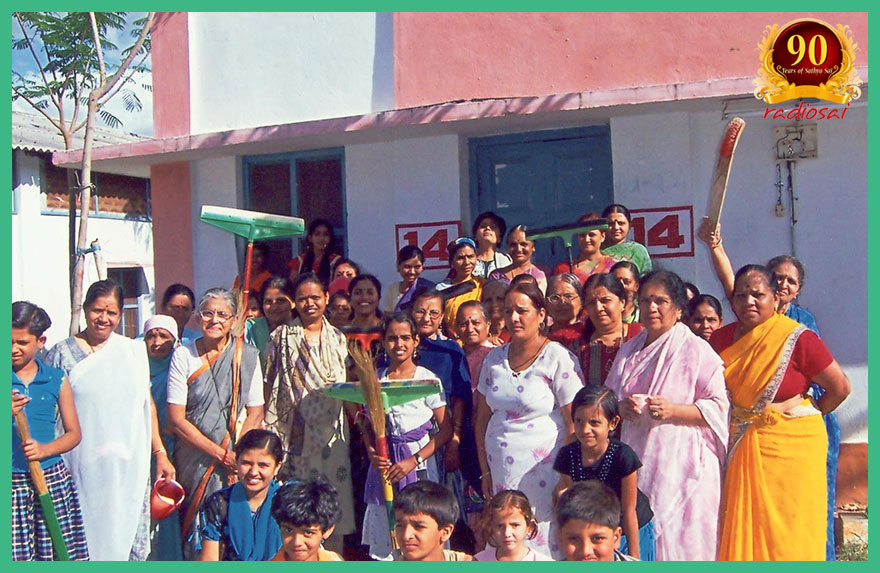 The Wadegoankar team had people from all age groups and a good number of lady volunteers too
"After this first marriage, He asked me to conduct the rest of the marriages in Nagpur. At the time of my second daughter's wedding, I took the invitation card and went to Brindavan where He was then. He came near me and asked, 'Why have you come now?' I said, 'Maa, I have come to take You to Nagpur. You told me to conduct the wedding there. You must come there now!' Baba smiled and blessed me profusely. After darshan He called for me specially and gifted me sarees for my daughter and wife. By His grace the ceremony went on very well in Nagpur; He took care of everything.
"Immediately after this marriage we came to Prasanthi. Again Baba did not speak to us. He actually left for Brindavan. But we waited not for one or two days or one month, but for 54 days! Finally He did call us and bless the newly wedded couple. It was the same thing with my third daughter too. In her case we waited for 18 days. But in the end He filled our hearts with His immense love. Only a Mother can love us so much!
No Tragedy Can Shake His Resolve to Serve
"Having been gifted with so much love, I only want to make every second of my life a worthy gift to Him. And the way to do it as I understand is service. In fact when I was busy working for the World Conference in 1990, my father passed away. The State President of Maharashtra told me that I could return to Nagpur. But how could I go? There was construction work going on in eight places and Baba's birthday was less than a week away. I only sent a message to Baba through Mr. Narayanan, who was then the Secretary of the ashram. Baba asked him, 'Has he gone?' Mr. Narayanan said, 'Swami, he does not want to go.' Baba then said, 'It is fine. Tell him I will speak to him soon. His father had become very old; he has now come back to Me.'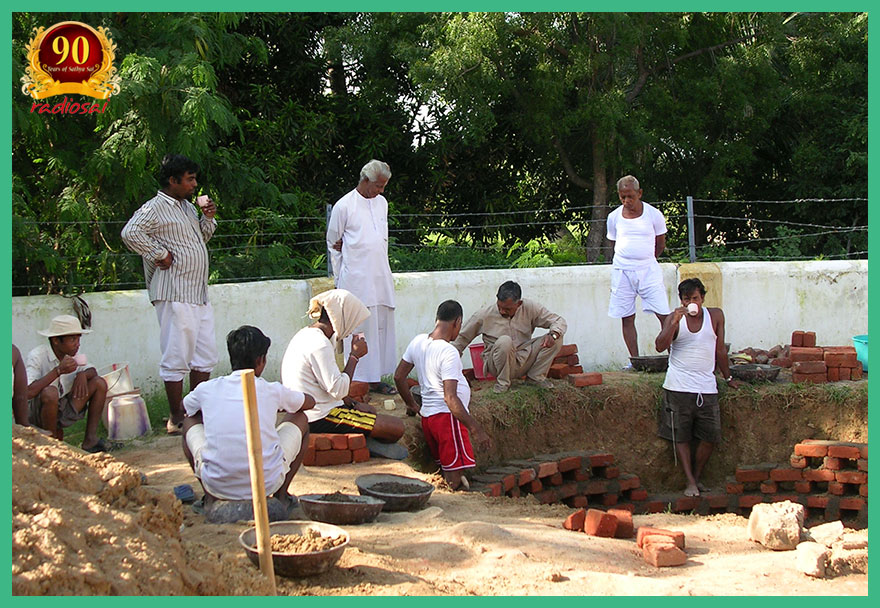 Even when he crossed seventy, he was always on the site and his presence made a huge impact on the volunteers
"After the birthday celebrations, He called me in on December 2 and asked, 'When are you going?' I said, 'Maa, how can I go unless You speak to me? I am receiving continuous calls from Nagpur to return home. But before I go I have three wishes.' Baba kindly consented to listen to my prayers. 'First, please perform the thread ceremony of all the children of my team members.'
"'Yes,' He said. 'Second,' I went on, 'Maa, such a massive world conference has just concluded. You worked so hard..." He instantly stopped me and said, 'It is you who worked hard'. 'Maa, it is You who worked through me,' I insisted and then prayed, 'Maa, You must be tired. Allow me to massage Your feet.'
"The loving Mother did give me this opportunity. My daughter also was with me that day. Both of us served His feet to our heart's content. My third request was to permit me to change the sanitary fittings in the buildings West-2, 3 and 4. All these rooms had 6-inch pipeline and I wanted to replace them with 12-inch pipes. Baba asked me to do this in the summer. I therefore returned in April-May when Baba was not in residence and completed the work. Baba had not forgotten about this. Before He left for Brindavan, He had given Mr. Narayanan enough money to be handed over to me for this task. That job was done successfully.
"Similarly, on another occasion, I fixed western commodes along with wash basins in 70 houses in Subbamma Nagar in 15 days! Again, it was Him working through me; it is as simple as that. In fact many a times I have experienced this: whenever I think 'I am doing this' the work just does not progress. On the other hand when I am constantly aware that He is working through me, the work gets done. When I take such a step, He takes not 10 but 100 steps! Indeed He has literally done this on so many occasions.
What are your impressions about the Article? Please let us know by writing in to 

[email protected]

 or you may leave your thoughts in the comments section. Do not forget to mention your name and country.