| | | | | | | |
| --- | --- | --- | --- | --- | --- | --- |
| | 'Like' us on Facebook | Follow us: | | | | |
Posted on: Aug 05, 2015


RECREATING SUPREME SEVA THROUGH SUPREME PREMA
Part 02


Receiving the Mantra for Life Directly from The Divine
"I returned to Prasanthi the following year. It was Guru Poornima, 1973. Bhagawan very kindly granted me an interview after the festival. That was the first time He was speaking to me. At the end of this session everything in my mind got completely sorted. "I have to be with Him" – this was my resolution. Moreover there was a complete turnaround in my approach towards Him too. Earlier I was thinking what to do to get closer to Him. Like many people I was also busy running after God. I decided to change this. Now I was determined to focus on what to do for God to come after me; to spend the rest of my life in those tasks that will make God think of me, that will propel Him to look for me, search for me and bless me. In the interview, after talking about my family matters, Swami said 'Seva Karo – Do Seva'. This now became the mission and mantra of my life.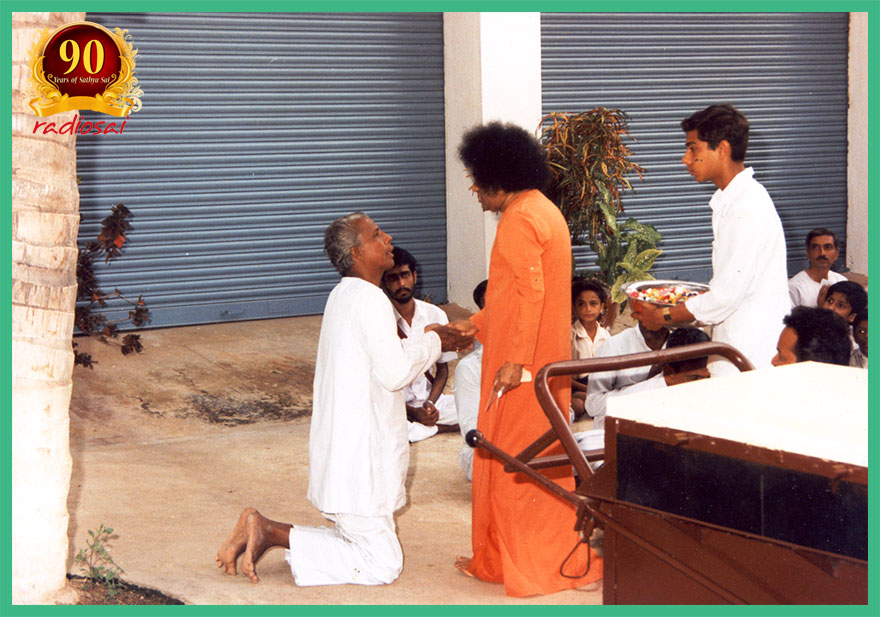 Holding onto His hand, he has given himself away to His work
"I was eagerly looking for opportunities to serve, especially in the Prasanthi ashram. When I came next year during the Dasara celebrations, I saw that people from Mumbai were doing sanitation work. They were making trench toilets and adding a super structure on it. I felt the devotees deserved proper toilets, even if temporary. I had worked in UNICEF as a health educator and knew how to go about these things and spoke to some elders in the ashram about this.
The Test and the Invaluable Reward
"The next year, 1975 was the year of the Second World Conference of the Sri Sathya Sai Seva Organisations. By His grace I was given the full responsibility of erecting and managing the bathrooms for hundreds of devotees. I was called during Guru Poornima of that year for a preparatory meeting about this. However after the festival was over, suddenly Baba left for Bangalore. I was now in a quandary. I could not even return to Nagpur as when Baba was leaving, He indicated to me from the car that I should wait for His return. I did not know what to do. I stayed on in Puttaparthi for not one or two weeks but 27 days! It was a hard time. I had very little resources. I used to save whatever money I had by surviving on a single dosa every day. I spent my time serving in the Sanathana Sarathi office of Prof. Kasturi. That is when I also experienced the loving kindness of this great devotee of the Lord.
"Prof. Kasturi used to genuinely enquire about my welfare. I was then very disturbed. About a year ago suddenly my wife had had a paralytic attack; she was now more or less confined to bed and I had four daughters to raise. Baba had left me high and dry in Puttaparthi, and my financial condition was poor. I was too distressed, to say the least. Everything seemed dark and dismal – no money, no seva, and a family filled with problems.
"When Prof. Kasturi heard my tale, he gently consoled me saying, 'Do not be so dejected. Things will get better... See, my wife too is down with paralysis.' The next day he took me to his room. When I entered I saw his wife who was bed-ridden. But the moment she saw me she started shedding tears saying, 'How much your wife must be suffering, that too at her young age! I know how pathetic this condition is. I can imagine how painful it must be for her. I feel so sorry for her.' She was so empathetic that her concern drowned my sorrows.
| | |
| --- | --- |
| | |
| | Prof. Kasturi - Baba's biographer whose life is an open book of translating His love into action |
"Prof. Kasturi did not stop with this. When Bhagawan returned he made bold and even recommended my case to Him narrating all my ordeals, and praying to Him to bless me and grant me courage and encouragement.
"In fact acceding to his request, Baba instructed to him that I should be made to sit in the verandah. When Baba saw me there, He came straight to me and showered me with His love. Most mercifully He assured me: 'Am I not there with you? Why do you worry? Everything will be fine. I will look after you.' I returned to Nagpur absolutely spirited and delighted.
Sweet Memories with Sai Maa
"I started making preparations for the World Conference work. I returned in August 1975 to demonstrate our action plan to Baba. Bhagawan was very happy with the agenda and blessed me to go ahead. So, promptly I was back in October itself to start the task assigned.
"I can never forget one incident that happened during this time. One evening we were working near the canteen gate. It was the time of Diwali, the festival of light and joy. Even as we worked, I mentally asked Baba, 'Maa, will you not give me sweets on this occasion?' To my amazement, after a short while someone was standing in front of me with a vessel full of laddoos with the message: 'Swami has sent this for you.'"
"Wow! Such a sweet memory!" With excitement and delight I added, "I am sure you have so many such precious moments treasured in your heart." I hoped this would spur him to share more, and it fortunately did.
"Yes, every World Conference was memorable," Mr. Wadegoankar went on, "During the sixth World Conference in 1995, I came down with high fever. But I did not want to bother anyone about my health, not even Baba. It was fine as long as only I was sick. But soon 12 of my volunteers also had high temperature. Now the sanitation work was getting severely affected. Time was running out and I became worried. I had no option but to send a letter to Baba. In fact I was so weak that I could not write myself; someone else penned it down for me. The letter was in my pocket and I was thinking how to send it to Baba. Unbelievably, in half an hour Mr. Veda Narayan came to me, handed over Vibhuti packets and said: 'Swami has sent prasadam for you and your team. He has also asked you not to worry. It is only viral fever. In any case Swami has asked Dr. Bhagvat to check all the volunteers in Shed. no. 24 and give medicines. Soon everything will be fine.'
"Like this He has cared for us every time we needed Him. Even before I could tell Him my problem, He was there safeguarding me."
Demonstrating What is No-holds-barred Seva for Baba
"Is this why you always address Baba as Maa?" I asked spontaneously, having noticed him do this a couple of times.
"Many address Baba as Bhagawan. But according to me our relationship with the mother is even superior to God. Right from the beginning quite naturally I addressed Baba as Maa. With that Prasanthi became my home. I felt I completely belonged to Him.
"Many years ago, in the early eighties, one day when I was in the accommodation office, Mr. Chand who was the in-charge then told me how sweepers were asking Rs. 12,000 to clean the septic tank at the Easwaramma Samadhi. I immediately rushed to Mr. Kutumbha Rao, the then Secretary of the Ashram, and said, 'Sir, I will clean the septic tank at the Easwaramma Samadhi.' He was actually flabbergasted. No sevadal had volunteered to do this kind of work ever. Obviously he did not believe me. But I convinced him saying I have knowledge of such jobs and requested for a chance. He reluctantly agreed, partly because he liked me and did not want to disappoint me.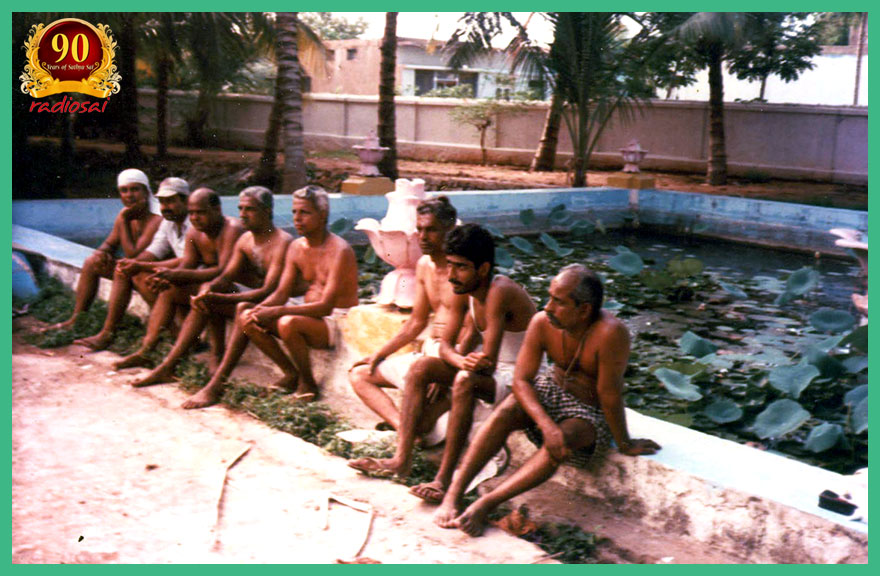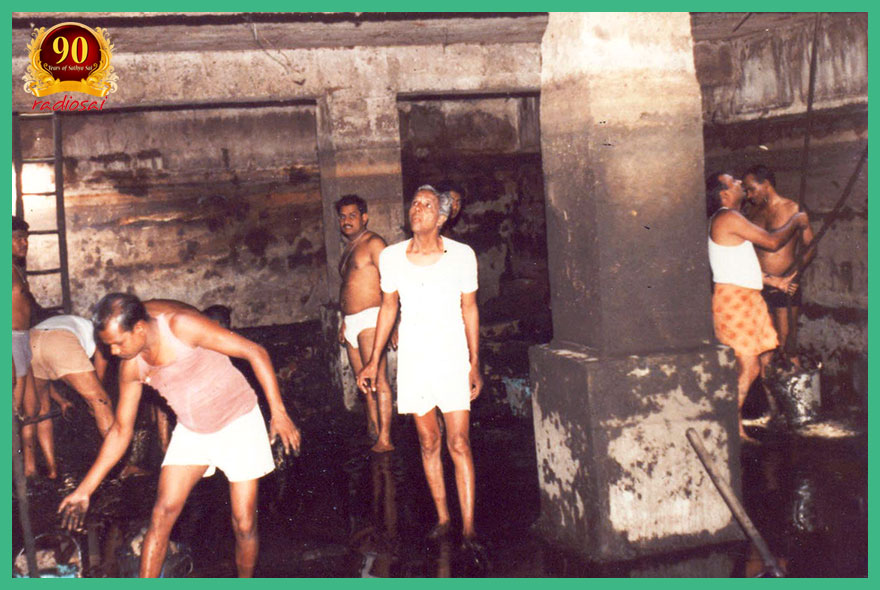 The Wadegoankar team always undertook tasks which even labourers hesitated to do and they did it better than anyone else
"I lost no time and got down to work with my team. In three days we completely cleared the septic tank. You may not believe this but we did it manually. Chanting His name, we went down the pit and bucket by bucket we removed the sludge. It was a large tank – 30 feet long, 20 feet wide and 10 feet deep. Once it was empty, we did not stop. We patiently rubbed and scrubbed all the walls till they looked white and clean. Mr. Kutumbha Rao was stunned. Not a penny was spent and the tank was spick and span.
"Sometime after this, do you know what Baba once told two students in the interview room? He asked them 'Do you know what is seva?' Then pointing to me He said, 'This man comes here in the summer when I am not here, and do you know what he does? He cleans the septic tank. Do you know how he does it? He does it personally with his own hands, and cleans even the walls so well that they shine like glazed tiles! This is what is called Seva – Supreme Seva! What you all do is only drama!'
Every year the Wadegoankar team took up one bone-breaking herculean task which resulted in creating yet another oasis in a desert
What are your impressions about the Article? Please let us know by writing in to 

[email protected]

 or you may leave your thoughts in the comments section. Do not forget to mention your name and country.