| | | | | | | |
| --- | --- | --- | --- | --- | --- | --- |
| | 'Like' us on Facebook | Follow us: | | | | |
Posted on: Aug 05, 2015


RECREATING SUPREME SEVA THROUGH SUPREME PREMA
Part 04


The Divine Mother Comes Calling...
"I remember how after clearing a patch of land in the north of the ashram adjacent to the South Indian canteen, I had a vision of Baba in a rose garden. So I decided to create such a garden there. For this I requested Baba to come and bless us before we began the work. And one morning He did arrive! He came so silently, not in His car but in Mr. Joga Rao's car so that no one would notice Him. He Himself planted the first rose plant. He washed His hands as I poured water and then asked for Arati to be offered.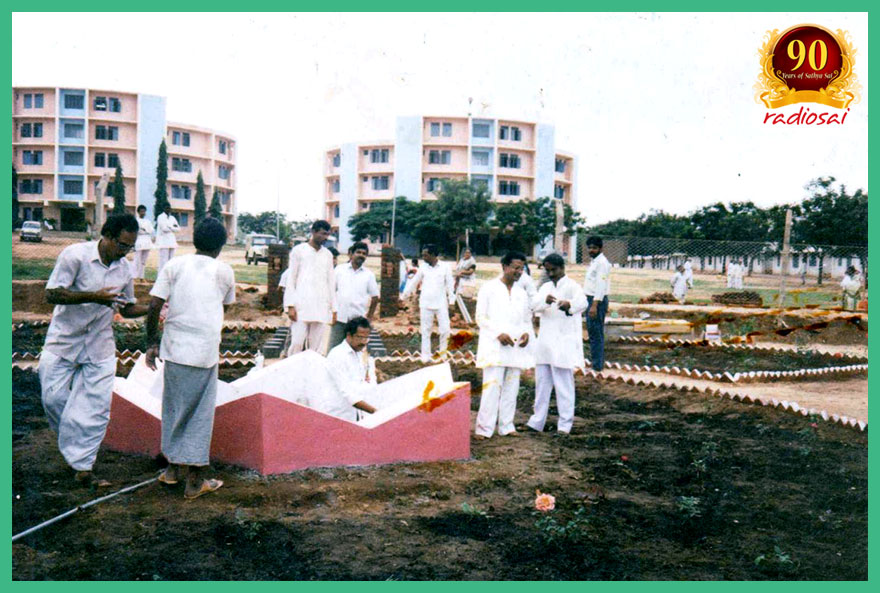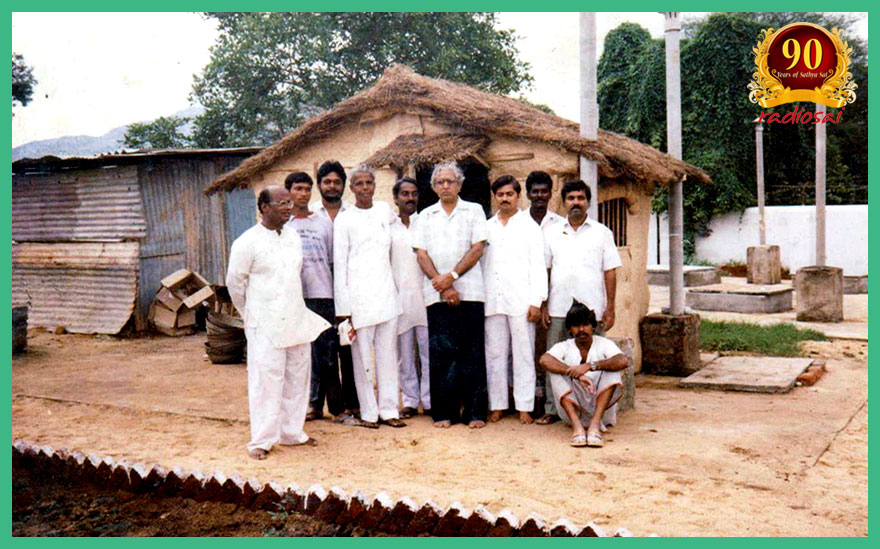 Creating the rose garden and a lovely hut to add to the beauty of the new creation
"Another time when I was busy attending to something in the old gas godown He came there and from the car itself asked me how I was doing and blessed me. There are so many instances like this!"
At this point, I could not help recall his initial interview with Bhagawan and connect it to what was so beautifully unfolding in his life. I said, "After your first interview, you had decided that you should engage in such tasks that would make the Lord come to you, and it happened! In fact, time and again!"
"Absolutely! In fact when Baba conducted Athi Rudra Yagnam in Chennai in January 2007, He remembered me. He sent message that I should be given the responsibility to do all the arrangements for sanitary services. He never forgets me."
Always in the Tender Care of His Sai Maa
"That is awesome!" I now wanted to slightly change gears and ask something that I thought was extremely relevant in today's circumstance. I said, "All these years He physically guided you, cared for you, instructed you, and showered so much love. But when Baba left in 2011..." Mr. Wadegoankar cut me sharply there and emphatically asserted, "He is not gone! Who says He is gone?" and added, "I will give you a recent example.
"This year, in May-June 2015 we got the opportunity to re-lay the concrete in many ashram roads. It was quite a job and I actually did not have many volunteers. I became worried, and made a few phone calls. In two days, as if from nowhere 140 people turned up. They came from all parts of India from Vishakapatnam and Kerala, Odisha to Punjab. We completed the work successfully with absolutely no expenditure to the ashram; we did all the labour work as well as the masonry. In fact this year we celebrated 30 years of our maintenance seva with a yagnam in the Dattatreya Shrine present in Mother Easwaramma's Samadhi. It was such a fulfilling moment. Two years ago, after we had cleaned up this entire area and made fresh roads and gardens, it was my wish to conduct such a ceremony here and Baba made it happen this year! I am so grateful to Him!"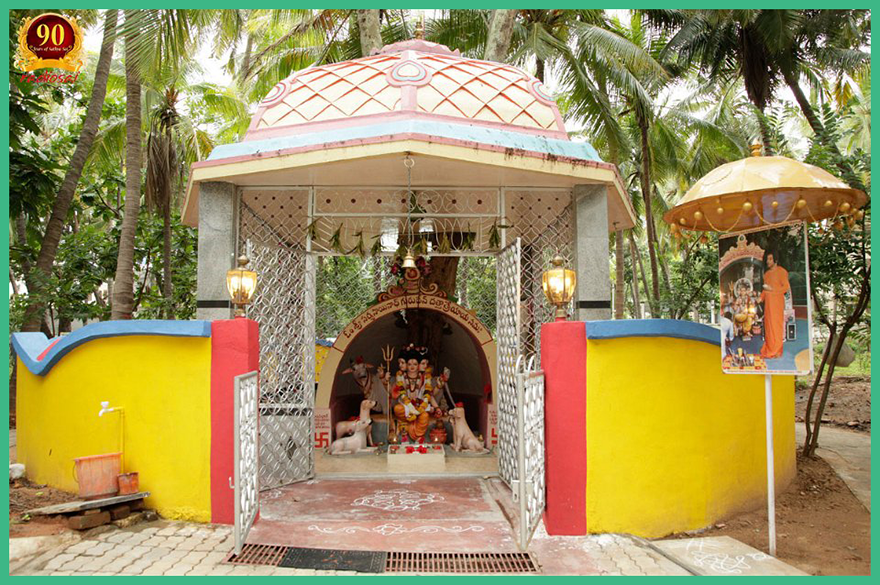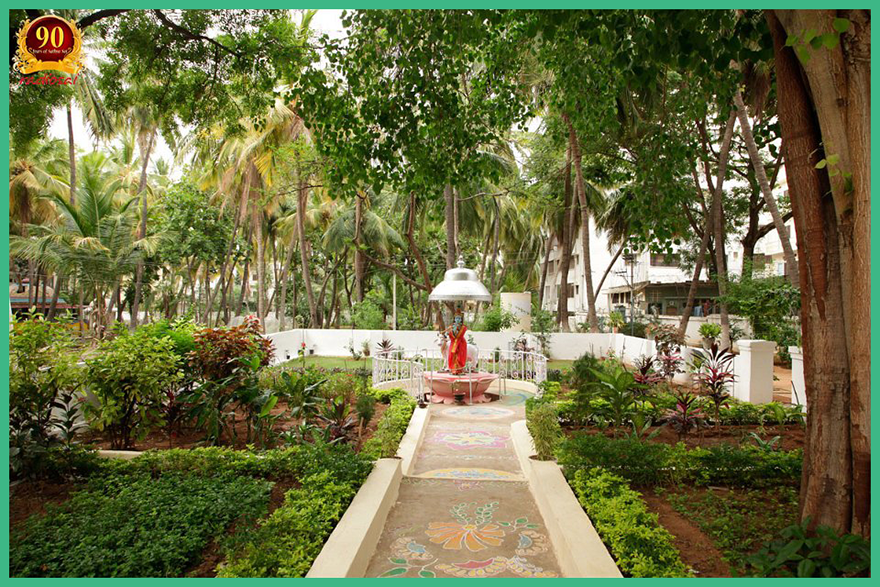 "That's so beautiful." I now surmised that a man like him will not remain content with just 15 or 30 days of annual seva in Prasanthi. So I asked, "Apart from serving in Prasanthi Nilayam, do you also take up service projects during the rest of the year in Nagpur?"
It is sheer hard work done with great willingness and happiness by people who are engineers, teachers, businessmen and the like
"Of course," he said without batting an eyelid, and added, "My hobby is to serve in the villages. There are four villages near Nagpur which the Sai Organisation has adopted. There are 200 families in these hamlets. I requested every Sai devotee family to adopt one rural home. Now all their needs are looked after by our devotees. I visit these villages often and educate the rural folk about health and hygiene besides attending to their problems. So, yes, I am busy all year round with this, besides several other organisation activities."
"I am the Happiest Man on Earth" - Mr. Wadegoankar
"But this must be very challenging given that you have so many problems in your home. Your wife is paralytic for decades. How do you manage all this?" I thought so much commitment to social service without support from family is practically not possible.
"Well, He manages everything. My wife has wholeheartedly supported me in all my work. In fact she is more devoted to Him than me," Mr. Wadegoankar explained, and added, "And look at my family. By His grace all my sons-in-law are Sai devotees. Which son-in-law will wait for 54 days to start his life after marriage? Indeed I must say that I am extremely lucky and blessed to have such a family. It is all His doing!"
"But at times do you feel that having spent all your life in village service or Prasanthi service, you missed out on many other so-called finer aspects of your life? Maybe you could have led a more comfortable life? Possibly built a house of your own or owned a car? I heard the restroom of your own home now is most basic." I wanted to know the regrets of his life, if any.
"Who says I am not comfortable? I am most comfortable," Mr. Wadegoankar was assertive. "By God's grace I get a pension and that is enough to take care of my needs and my wife's. And why do I need to own a house? Actually so many people come to me and say, 'Kaka (grandfather), stay in our house.' They love me so much! The other day a devotee from Hyderabad came with a car for me. I immediately said, 'Take it back please. I cannot afford a driver and petrol and all that.' But he insisted saying I am getting too old and I need it now. He himself drives whenever I come to Prasanthi. I am being showered with so much love!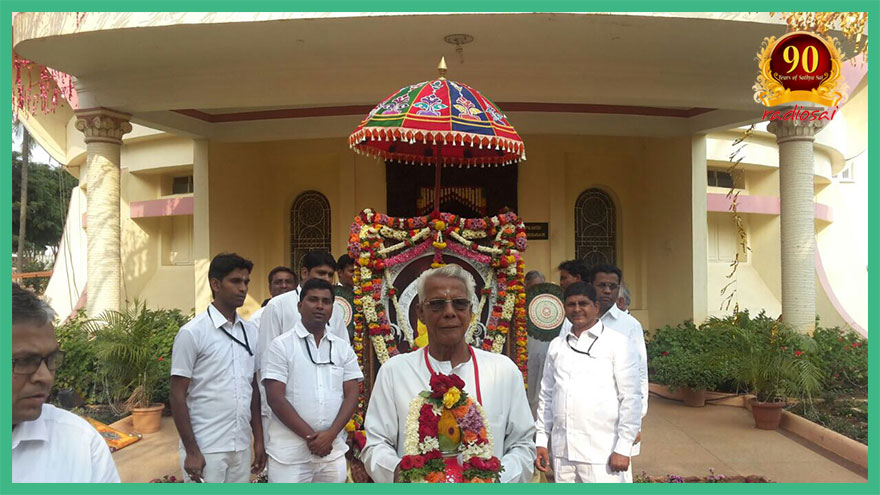 He always leads from the front be it work or worship, discipline or devotion, service or sacrifice
"I will tell you what happened just a few days ago. After the maintenance seva of this year (2015), I told my team that I was not sure if I could come next year as my health was deteriorating. Many volunteers started crying. They said, 'Kaka, you have to come. You don't need to do anything. You only rest here. We will do everything. In fact each of us will get one additional volunteer. So we will be not 140 but 280 strong. But you have to be with us please.' I was moved to tears. This is really His love flowing through so many hearts. All the people who work with me are His masterpieces. Whatever be the expenditure for the work, we share it among ourselves.
"Baba says that our journey should be from 'I' to 'We'. We try to practice this. There is this boy, Manu from Odisha. The moment he arrives he gets to work and forgets everything about food and sleep. Like this, each one with me is a gem. Baba is indeed true! I am really a multimillionaire! Indeed I am the happiest man on earth!"
"Wow! You are just amazing!" I did not know what else to say.
"But Sir, many youngsters of today might feel that you have lost out heavily on so many joys of life. What would you like to say to them?" I wanted a message from him for the youth of India.
"All I can say to them is this: my definition of happiness is different. True joy is not when I eat sumptuously but when I can feed another four! In fact we are indebted to society just like we have debts to clear with our parents. We owe it to our fellow brethren.
"Even if we leave this aside, there is another selfish reason why we should work for others: it is only when we think of others that God will think of us. If Baba has to take care of my family I should see Baba in another 10 people and take care of them with all my heart and soul. This is my conviction and understanding after years of being with Him. This is what fills us with true joy and contentment, and indeed adds real meaning to our lives.
"There is an old Hindi song which I can say is my personal anthem. It goes like this:
Kisi ki Muskuraahaton pe ho nisaar
Kisika dard mil sake to le udhar
Kisike waaste ho tere dil mein pyaar
Jeena issi ka naam hai

Spend yourself for the smile of the other.
If possible loan to yourself another's sorrow.
If you can love another genuinely,
That is what is called Life.
Maana apni jeb se fakir hai
phir bhi yaaron dil ke ham ameer hain
Mitte jo pyaar ke liye woh zindagi
jale bahaar ke liye woh zindagi
kisi ko ho na ho hamein to aitbaar
jeena issi ka naam hai
I may not have a penny in my pocket
Still, going by my heart I am rich!
A life that gives itself up for love
That burns itself away for others' welfare
Whether anyone else has faith in this or not
This is what I believe is Life.
But if I have to summarise my life in a couplet, it would be this:
Aisa hamara jivan hai apne Sai ke sang
Jaise ki phool khusboo ke sang
Mano parchaee ke sang
Aisa hamara jivan hai apne Sai ke sang
This is how my life has been with my Sai
Like the fragrance that fills the flower
Like the shadow that never leaves the owner!
This is how my life has been with my Sai.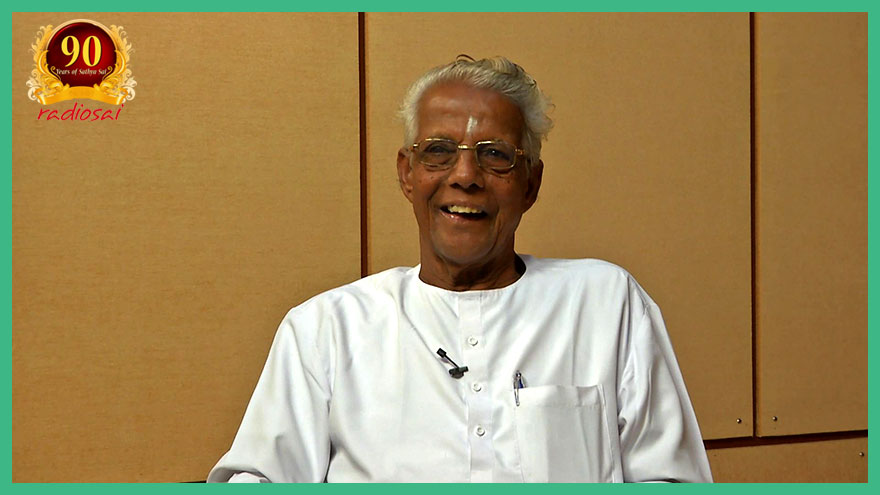 It is this joy of being His beautiful instrument that makes him forget his age and ailments, sorrows and fears, tragedies and trails,
and just lose himself in finding Sai in others and serving them with love and devotion
As he sang this, Mr. Wadegoankar choked. What a fantastic life he has led! I spontaneously bowed down and touched his feet. Rare are such souls in whose veins love for Sai flows instead of blood and even before an ounce of energy is created in the body it is dedicated to Him. As I bid him farewell, I thought to myself, 'If we can get inspired to emulate in our lives at least one-tenth of his passion and purity, definitely our lives would not have gone in vain. Most importantly, our Sai Maa would be so happy and proud of us. The Lord indeed would be searching and waiting to engulf us in His tight embrace. Our lives also like His love would then become an eternal song in the wind - whispering His melody.'
- Bishu Prusty
Radio Sai Team

What are your impressions about the Article? Please let us know by writing in to 

[email protected]

 or you may leave your thoughts in the comments section. Do not forget to mention your name and country.