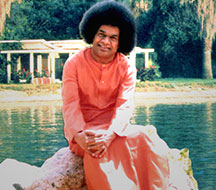 2003-04-02
Talli Garbhamunundi
Bangalore, Brindavan (Ugadi )
Description
Talli garbhamunundi janminchuappudu Kanthamaalalanevi kaanaraavu! Manchi muthyapusarul machchunaku levu! Melimi bangaru danda medaku ledu! Ratnala haaramul ranjillaga ledu!! Melimi poola danda medaku ledu! Kaladu, kaladokka mala meekantamandu!! Poorva janmaala karmalu ponduparachi, Brahma meekichchina varamu mala, Karmamulanniyu cherchina kantha mala!!! One is not born with garlands around one's neck! There is no trace of chains of precious pearls!! There is no wreath of pure gold around! There are no garlands of precious stones to adorn! There is no garland of the best variety of flowers! Yes, there is one garland around one's neck at birth, The garland of the consequences of actions from past births!! The garland put by the Lord himself!! It is the grand garland of the results of actions from past lives!! What chain is one adorning at birth? It is the garland of the sins accumulated from past births. Every action has a consequence. There cannot be an action without reaction.
Karanambuna Kalgu Ghana Moha

00:01:32

It is the cause, at the very beginning, which leads to the bondage of lust, Lust gives rise to foolishness, Foolishness leads to inappropriate actions, The results of inappropriate actions cause one to take birth again and again!!