| | | | | | | |
| --- | --- | --- | --- | --- | --- | --- |
| | 'Like' us on Facebook | Follow us: | | | | |
Posted on: Oct 24, 2014
The Bliss of Bhajan Offerings at Thy Lotus Feet
Part 01
Today is the most awaited and coveted day! For all those across the world who have been touched by the love of our Beloved Swami, it is a moment they are eternally grateful for. It is only because the Lord chose to let us know Him that we know Him. It is only because the Lord let us feel Him, that we feel Him. It is only because the Lord let us love Him, that we love Him, and yes, in joy we sing to Him, sing for Him!

It is to share this joy of singing for the Lord from the depths of our soul that we requested bhajan compositions from all of you about a month ago. Yes, we invited this in the form of a competition. And what a response we received!

Over 170 original amazing bhajans from Saudi Arabia, Germany, Nepal, Singapore, England, Bahrain, Canada, Malaysia, Croatia, Australia, New Zealand, Netherlands, UAE, USA, South Africa...... and plenty from India of course.
Just on the last date of submissions alone (October 13, 2014) we received about 40 entries! It was so overwhelming.

But what was even more heart-touching were the bhajans themselves - each one so soulful, so filled with intense emotion, so suffused with Sai Love. "The judges are going to have a difficult task," we thought. Nevertheless we passed on this treasure of 171 gems to each of the four distinguished members of the Prasanthi Mandir Bhajan Group who had kindly accepted to evaluate these compositions.

Two days passed, and one judge came by and said, "Oh... it is not as easy as I had imagined... now I need to rethink my decision to be a judge." Another one dropped in and said, "I am sorry. This is beyond me. I can maybe examine the raga and the tala of the bhajan but who am I to judge the bhava? The Lord alone knows the deepest feelings of a devotee and I am no one to evaluate that. Please excuse me from this project."

The third judge returned saying, "I remember one occasion when Swami stopped us from singing one bhajan. We wondered why because it was composed well and its lyrics were meaningful too. When we asked Bhagawan about it in an interview, Swami said, 'It was not composed in good taste'. The Lord alone knows what has gone into the creation of these melodies. I do not think I can put marks on the feeling latent in these bhajans. I feel I am incapable to carry out this task. May I be excused."

So that is where we found ourselves two days ago and we prayed to Bhagawan for guidance. And now this is what we feel inspired to do.

a) We will release all these unique musical offerings for everyone to listen, relish and share. So all the 171 are available below for you to enjoy. We have also published the stories behind their emergence too.


b) As promised, we offered all these songs of love at the Lotus Feet of Bhagawan, at His Sannidhi, just after the Avatar Declaration Day evening programme. We felt so beholden to Swami for having given us this opportunity to present such beautiful pieces of your souls to Him.


c) Every single participant is going to receive a token of gratitude and love from Radio Sai! And this will be something which will definitely bring a smile on your face. So look forward to it! We cannot thank you enough for the joy you have given us.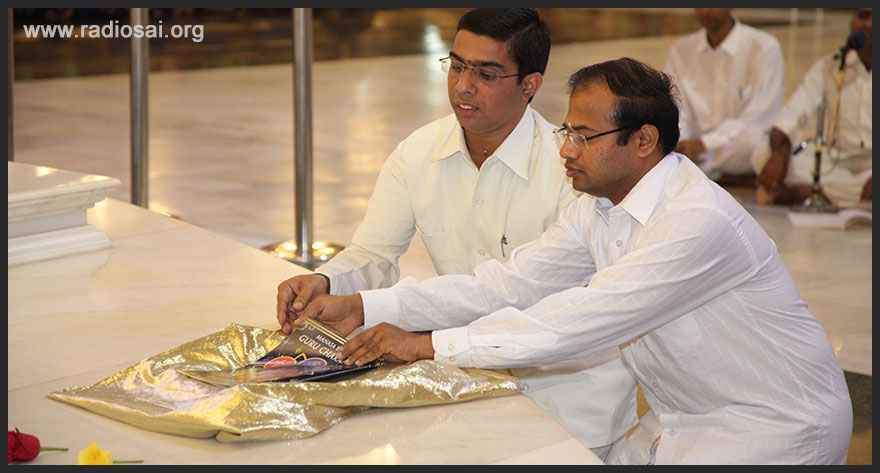 Dear participants, we want to reiterate that our original intention was definitely to have this as a competition and announce the winners. But now we stand humbled. How mistaken we were! How could bhajans, something that connects us to the Divine, ever enter the domain of being a competition? How can anyone ever measure the feeling that wells up in our being when we pour out our heart singing for Him?
Dear Lord, we offer our sincere gratitude to You for correcting us and enlightening us on this special day when You gifted to mankind this life-transforming Bhajan movement through Manasa Bhajare Guru Charanam....

Yes, at Thy lotus feet Dear Lord, we place ourselves wholly, soully, and completely. Let our lives become a song of Your Love.
Dear participants, please do not be under the impression that future competitions in Radio Sai also may have this flavour. That is not true. Just like we had award winning entries published on our site for our Photography competition and Poetry competition, we will do the same for all future such events too. But bhajans are very special and in this case we were left clueless in applying the conventional methodology of evaluation, appreciation and award-giving. We hope you understand. Thank you very much.

Let us declare to ourselves today that we live for Sai and Sai alone. To see Him in all. To feel Him in all. To sing for Him in all.

With Much Love
Radio Sai team
Name

Country

Lyrics

Inspiration

Bhajan Audio

Sanjay Patel

Sai Naatha, Hey Hrudya Nivasi Ram
Sai Naatha, Sai Naatha
Hey Parthi Vasa Hey Shirdi Vasa (2x)
Hey Guru Naatha Jagat Guru Naatha
Sai Naatha, Sai Naatha

Your browser does not support the audio element.

R. Jagdhish

Chennai, India

Bhagawan Bhagawan Darshan Do Bhagawan
Allah Sai Buddha Zoroashtra
Nanak Sai Yeshu Mahavir
Sabka Malik Ek Hai Bhagawan
Parthipurishwara Ram

The inspiration behind composing this or any other bhajan is SWAMI SWAMI and only SWAMI. It's all from HIM to HIM.

I composed this particular bhajan Bhagawan Bhagawan Darshan Do Bhagawan way back in 2002 when Swami used to skip morning darshan quite often. I used to come to Parthi twice a month (till Swami withdrew His physical form in 2011) and during one such visit I was able to have only two evening darshans and I felt it wasn't enough. When I came back to Chennai I sat in our shrine at home and started to pray to Swami to give morning Darshan regularly. And I composed this bhajan as my prayer.

Sasidharan V

Palakkad, India

Yadunandana Hey Ghanashyam
Brindavana Sanchari Shyam
Moramukuta Pithambaradhari
Bansi Mohana Shyam
Makan Chor Yashodha Ke Natkat
Devaki Nandana Shyam (2)

Govinda Bolo Hari Gopala Bolo

About ten years ago, after attending the Akhanda Bhajan in Calicut Samithy, with Divine Inspiration I could compose this Bhajan. Thereafter I composed some more bhajans and made into an album by name "Anubhuti". I have taken the attached Bhajan from this album. I humbly submit this Bhajan at the lotus Feet of Bhagavan.

Jyotsna

Suno Suno Hey Sai
Dil Se Kabhi Na Mitna
Sansar Ki Bandhan Se
Kar Dena Paar Hame
Duniya Ki Janjeeron Se
Kar Lena Moksh Hame
Hum Jeena Chahenge
Sai Naam Sada Japke (Suno Suno)
Jaage Duniya Me Preet
Faile Sandesh Yahin
Prem Hay Sai Jap Lo
Sai Naam Dil Me Bhar Lo (Suno Suno)

I came into Baba's fold a few years back and my first trip to Parthi in 2006 was a memorable one which I made along with my friend Suchithra, who was instrumental in bringing me into the ever growing Sai family.

While returning by train from Parthi to Bangalore, I had a short nap in the afternoon and was suddenly awakened from my sleep by the melodious singing of Sai bhajans from the adjacent coupe. l was so fascinated by the music that I was inspired by Baba's grace to pen down a bhajan then and there and I was also prompted to set it to tune.

When I arrived home, I found that my head was bursting at the seams with lyrics of bhajans that flowed unceasingly. It seemed I was haunted by bhajan lyrics. Words rushed inside me while I ate, walked, travelled, and while being engaged in other work. I penned them down in frenzy and by His grace the tune also was not hard to come by. After a few weeks this feverish activity came to a standstill and I no longer felt the birth pangs of bhajan creation.

When I came across the notice in Radio Sai about the bhajan contest, I felt an inner urge to send them to you, not just the one bhajan you asked but the others too because it is my ardent wish to offer all of them at the lotus feet of Bhagawan. These songs have been sung by my friend Jayashree Rajeev, a professional singer and it was recorded at a studio on 21/09/2014.

Gayathri Raman

Shyama Murari Bansidhari
Jagododharana Leeladhari
Radha Meera Rasa Vihari
Krishna Ranga Ananda Dayi
Yaduvara Shyam Shyama Ganashyam


I am a student from Bangalore, India.
I would really love to share one of my compositions.
I wrote this bhajan last year. A sudden inspiration when I was sitting with the harmonium. This particular version was later recorded with the help of a friend of mine.


Mohan Kumar

Dayakaro Dayakaro Sadguru Sai'
Shridi Nivasa Parthi Nivasa
Dayakaro Bhagavan (2)

Dayakaro Dayakaro…

Meera Ke Prabhu Giridhar Nagar
Tumho Brahma Eswar Sai
Radha Kantha Parvathi Ramana
Deena Bhandava Daya Karo


Sending this bhajan as an entry to "Bhajan Bliss". This song was written, composed and sung by Mr. Mohankumar, my guru, for a program.


Klaus Juergen Chmiel


1. We all are human and we are divine.

Love is our nature and birthright to shine.

Let´s join all together hand in hand.

The flow of life we will, understand (2x)

Chorus: Om Sai Ram Om Sai Ram Om Sai Ram Om Sai Ram.

Om Sai Ram Om Sai Ram Om Sai Ram.

Om Sai Ram Om Sai Ram Om Sai Ram Om Sai Ram.

Om Sai Ram Om Sai Ram. (2x)

2. Brothers and sisters from faraway lands.

Come here together united they stand.

They sing out their love wholeheartedly

Glory to the Lord, Almighty. (2x)

Chorus: Allelu Allelu Alleluia.

Al-le-lu-ia

Allelu Allelu Alleluia.

Al-le-lu-ia (2x)

3. People of different colour and creed.

Bow their heads down at Thy Lotus Feet.

The angels in heaven rejoiceful they sing.

Glory to the Lord, He´s our King. (2x)

Chorus: Bhagavan Bhagavan Bhagavan Bhagavan.

Sathya Sai Baba

Bhagavan Bhagavan Bhagavan Bhagavan.

Sathya Sai Baba


The story of the song is that I thought about a Sathya Sai Unity Song, like in a way of a hymn. And that is what came out in text form and rythm. The text I send you in a separate file, so you can read it out. The song actually was arranged only as a demo version. But it seems to be enough. Thank You

Matha Saraswathi
Jagan Matha Saraswathi
Vidyadayini Veenaapaani (Matha Saraswati...)
Shwethamayi Sangeethamayi
Chinmayi Chiraamayi
Vedamata Gayathri
Premamayi Sathya Saimayi

The inspiration was a sloka that was running in a local radio channel, one fine early morning. That sloka was tuned in this raga and sounded so meditative and deep. Swami has His own way of arousing the latent Supreme Awareness in everybody. I personally feel this Raga brings to one's mind, the divine and blissful form of Maa Saraswathi fully clad in white sitting on a white lotus, ever ready to bestow the Supreme Knowledge on any real and sincere seeker of the cosmic truth - the knowledge of the Self.

Dheavini Naicker

Every Minute Every Day Every Night
I want to Be the Divine Inner Light
Every Breath Every Word Every Thought
I want to know truly, that I am God
I am Jesus, I am Allah
I am Buddha and Zoroashtra
I am Krishna, Shiva, Rama
Bhagawan Sri Sai Baba

The inspiration behind this bhajan and all that I have written - Swami :) This one came on the 11/03/2013. Maybe a Shivarathri filled with the same English bhajans may have prompted this. 

Vineeta Arti Shrivastava


Murali Ki Dhun Kahe Aaye Gaye Ghana Shyaam          
Sugandhit Vibhuti Kahe Aaye Gaye Sai Raam        
Saavali Surata Mohini Murata Mora Pankhi Beecha Laam
Banaa Diyaa Banaa Diyaa Banaa Diyaa Vrindaavan Ko Dhaam
Banaa Diyaa Banaa Diyaa Banaa Diyaa Puttaparthi Ko Dhaam
Vasundharaa Pe Jaba Padhaare Ban Gayi Dharti Sukha Dhaam Sare Dharti Sukha Dhaam
Kan Kan Mein Hai Kan Kan Mein Hai Kan Kan Mein Sai Naam
Maawaa Mishri Maakhana Laado Bhoga Lagaano Maine Raam
Maawaa Mishri Maakhana Laado Bhoga Lagaano Maine Shyaam
Dabe Dabe Paav Aaye Dabe Dabe Paav Aaye Le Leeno Ghana Shyaam



Since my Swami accepted me whenever I heard bhajans, I would think / feel / want and wish I could sing like this – will I be able to feel & write such beautiful words.  What resonance and what a heart stirring tunes! 

And one day while trying to sleep in the afternoon words just poured into my head "Sai Vandan Karo….." before long the whole bhajan was there. With his grace Swami kept giving me bhajans with tunes. This has been happening ever so often. I am grateful to my Swami because of this I met a devotee Baby Majumdar who is an ex-bal vikas student having a melodious voice. She was kind enough to sing this bhajan for me because now I am not able to sing. Though I am not a trained singer the bhajan has mixed raga this is due to Swami's krupa.


Mere Man Mandir Mein Sai Ram Aao Aao
Bache Kuch Se Paron Ka Panchi
Girta Padta Shirdi Aaya
Girta Padta Parthi Aaya
Kuch Ansoo Kuch Anhen Lekar
Pooja Ka Samaan Sajaya
Tuj Hoon Phir Bhi Baba Meri
Pooja Na Thukrao (Mere Man Mandir...)

Duniya Ke Dukhon Se Jisdam
Nirmal Man Ghabara Jata Hain
Aur Nirashaon Se Bandha
Dwar Tumhara Kat Ka Tha Hain
Jeewan Path Ke Thake Raahi Ko
Baba Raah Dikhaaoo (Mere Man Mandir...)

Inspiration for this bhajan is our loving Bhagwan Sai who is our everything from mother to best friend. The bhajan is a loving request to bhagwan to always and forever be with us, next to us, holding our hand and guiding us through our journey.

Balakumaran Balasubramaniam

Los Angeles, California, USA

Narayana Hari Narayana Jaya Narayana Hari Om
Narayana Hari Narayana Jaya Narayana Hari Om
Paramatma Hari Narayana, Parabrahma Hari Om
Narayana Hari Narayana Jaya* Narayana Hari Om [*Sai]

I've been wanting to come back to Parthi for a while. I haven't been back since Swami took His Mahasamadhi. And all the feelings, the anticipation: joy, being terrified, emotional breakdown, happiness at being back in Parthi after so long, etc has been stewing inside me for some time in the form of this tune... The melody for this bhajan submission had begun forming prior to the call-out for submissions of bhajans, so all that was left was putting words to it. I am no lyricist. These words are simple but the act of saying them resonated in me, and that is how the lyrics came to be.

It's been a joy and heartache making this bhajan, thank you for the opportunity.

Poorna Avatara Kaye Poojya Charan
Poojya Charan Sai Poojya Charan
Shirdeeshwar Kaye Punya Charan
Partheeshwar Kaye Pavitra Charan
Nirupam Nirmal Sai Charan
Sai Charan Satya Sai Charan
Jaya Shubh Mangal Sai Charan

I received A Paduka Poojan Booklet and looking at the pages of The Booklet I got the inspiration to compose this Bhajan.

Har Pal Gaaun Tero Naam, Krishna I call to You
Sundar Roopaya, O Sai, Krishna I yearn for You
Radhe Govinda Krishna Mukunda
Radhe Govinda Nanda Ke Chanda
Murali I sing for You, (O Shyama) Gopi I am to You

Charanon Mein Tere Mit Jaaun Shyam, Let me be one with You
Govinda Mukunda Gopala, Ghana Shyama Dina Dayala
O Lord of Radha and Meera, Dance with me Raasa Leela
Govinda Mukunda Gopala, Ghana Shyama Dina Dayala
Dance with me Raasa Leela, O Lord of Radha and Meera
Radhe Govinda, Radhe Gopala, Krishna I call to You
(Mere) Radhe Govinda Radhe Gopala, Krishna I yearn for You
O! Sai, Let Me Be One With You

In April 2013, around Aradhana Day, Siddharth and I set out to compose a "hybrid Bhajan" in which half of each line would be in English, and the other half in Hindi. We came up with this base line of "Har Pal Gaaun Tero Naam, Sai I Call to You." The tune was also made. But for some reason, we were not too happy with the bhajan. So, Siddharth's mother suggested that we add Krishna to this Bhajan and gave a few ideas. This took the Bhajan to new heights! I will let the lyrics speak for themselves, on how touchy this song is.

Parthipurishwara Hey Paramesha
Eswaramba Nandana Jaya Jagadeesha (Parthi...)
Karuna Sagara Kalimala Bhanjana
Premaswarupa Prabhu Saideva
Aavo Aavo Man Mandir Mein

I have composed this guru bhajan as an offering to Sadguru Sri Sathya Sai Baba, who has made me what I am today and whatever guru I have got till date is because of His divine grace.

Vedantha Sarini Jagatheeshwari
Kalikapalini Karunasagari Jagatheeshwari Amba Jagatheeshwari (Veda…)
Mangalakarini Abayapradayini Anandadayini Jagatheeshwari
Jagatheeshwari Amba Partheeshwari
Partheeshwari Mama Hridayaeshwari

The bhajan which I am sending today has a great story of blessings from BABA. Around 3 years back before my engagement Swami appeared on my dream. Swami walking near through our interview room at Kulwant Hall. I was behind Him. Suddenly He turned back and looked at my face with a smile. He asked me "YOU SHOULD SING THE BHAJAN STARTING WITH VEDANTHA SARINI , I WILL TAKE CARE OF U……." from that day onwards I kept searching for the bhajans starting with VEDANTHA SARINI…. But I failed. Last November before Swami's Birthday I suddenly got an intuition to compose the bhajan. Within a day I managed to complete the lyrics and tune for the bhajan even though my knowledge on music is only the inputs I got from the expert singers in my samithi.

Hey Karunakar Ram Hey Man Mohan Shyam
Bhakton Ke Sairam Deenon Ke Bhagawan |Hey Karuna...|
Tulsi Ke Sreeram Meera Ke Ghana Shyam
Darshan Do Bhagawan Sai Sharan Me Lo Bhagawan
Hey Parthipuri Bhagawan Sai Parthipuri Bhagawan

Mangala Daayakam Gananayakam
Vinayakam Vighna Nashakam (Sai)
Pashankushadhara Pavana Roopam
Pranavakara Jyoti Swaroopam
Anand Dayakam Gananayakam
Vinayakam Vighna Nashakam (Sai)

Swami Blessed me with this Bhajan when I thanked Him for blessing us with our first son Pranav back in 1997. Since that day I have not sung this bhajan and I am very thankful to Radio Sai Team for giving me this opportunity to sing it once again and offer the same at His Divine Lotus feet.

Jai Jai Gurudev Tum Mera Sahara Hoon
Sai Brahma Sai Vishnu Sai Shiva Bhi Hi Tumho (Jai Jai...)
Sai Rama Sai Krishna Sai Hai Meri Bhagawan (Jai Jai...)

This particular Bhajan lyrics was written by myself. For all of us He is our soul support, our Guru and God and my everything.

Sushmi Gahatraj

Bintee Tere Charano Me, Sai Baba Hazar
Aba To Aao Na Sai, Aakar Karo Uddhar

Har Pal Ye Lag Rahaa Hai, Jhutaa Saaraa Sansar
Maayush Hun Mai Dil Se, Dekhake Ye Andhakar
Aba To Aao Na Baba, Le..Kar Sai Avataar

Sai Praneetha

Krishna Kanhaiyya Krishna Kanhaiyya
Tum Ho Mere Maa Baap Bhaiyya
Krishna Kanhaiyya Krishna Kanhaiyya
Giridhara Naagara Sai Kanhaiyya
Radhamanohara Raas Rachaiyya
Bansidhara Ati Sundara Roopa
Krishna Kanhaiyya Krishna Kanhaiyya (2)

I always had a wish of composing a bhajan and singing it for Swami. This was for which I tried many times to compose one but all my trials went in vain.

Later I just put this thought aside leaving it to Swami thinking that if He willed it, He would bless me with a lyric as well as a good tune. Later on HE blessed me with the golden opportunity of singing HIS glory in HIS divine presence at HIS divine abode Prasanthi Nilayam for three times and even in the recent past for two times.

I was very happy thinking that though I couldn't compose a song or bhajan and sing it for Swami, I'm blessed to have sung directly sitting right in front of HIM which I feel is a lifetime blessing for me.

With this I just forgot about the thought of composing bhajan.

It was then that Swami blessed me with a dream where I was sitting in front of HIM and was singing a Bhajan!! Swami was in a blissful state swaying HIS head while I was singing and as I finished the bhajan He looked at me with a loving and a beaming smile and then blessed me with padanamaskar. I would also like to mention here that I always wanted to compose a bhajan on SAI KRISHNA and the bhajan that I sang in the dream was on my loving SAI KRISHNA.

It's not me who composed this bhajan but it is Swami who blessed me with this bhajan and fulfilled my wish. I would really feel happy and blessed if this is going to be put at His Divine Sannidhi.

Prem pradayak Sairam
Prem pardayak Sai Shyam
Prem pradayak Sairam
Karuna ke Sagar Deenadayala
Eswaramba ke Hey Gopala
Sharana mein lelo Sairam
Sharana mein lelo Hey Bhagawan

Back to 5 years ago it was the month of bhadra, Krishna Janmasthami was coming near, I was reading a book of letters written by Swami for His students and suddenly I feel emotional with lots of tears, feeling His love towards students and sad thinking when He will write letter for me and guide me and love me.

At the same night He was at my dream, He sat near me and told me, "You wish to be my student then I became your guru, don't worry if you aren't student of Prasanthi, if you thought me as your guru from heart then you became my student. So stay happy. Sai is always with you. He will always guide you and he will always give u best, not only the good".

At early morning when I woke up I was feeling refreshed with his words, after prayer I was thinking of last night dream with my harmonium, this bhajan got composed in 5 min of time. I don't know how but just know that He is my inspiration for every breath.

Saraswathi Sundarakrishna

Ambe Bhavaani Maa
Sai Bhavaani Maa
Jaya Jaya Maa Jaya Jaya Maa Jaya Jaya Maa Sai Maa (2 Times)
Ambe Bhavani Maa Sai Bhavaani Maa

Jagathkaarini Jagathpaalini (2 Times)
Jagadhodhaarini Jagan Mohini
Deenonke Tum Ho Maa Rakshakaro Hume Maa (2 Times)
Hum Deenonke Tum Ho Maa Rakshaakaro Hume Maa

Ambe Bhavaani Maa Sai Bhavani Maa

It was in the year 2006 Dasara time, and SWAMI gives this song in the morning along with the tune!

What else did I need, the Divine Mother had blessed me with HER song and since then, whenever we sing bhajans along with the children, we sing this bhajan too.

Annemarie Marwaha

Tere Nam Bhajo Mere Sai Ghanashyam Bhajo Mere Sai
Sairama Ghanashyama Raghupati Raghava Sai
Ram Ram Sairama Shyam Shyam Ghanashyama
Sairam Mangalanam Puttaparthipurishwara Ram

When I first came into Swami's fold I was very inspired to write down what I was experiencing and this culminated into a book.

I also woke up in the mornings with a song on my mind or lips (I can't really define). Many songs were lost until I realised that I should record such songs. The songs came to me with the text. I am sure that Swami put them into my mind during sleep. I have been very private with these songs and have so far not made them public. I sing them to my Baba in privacy.

K Subhashini

Tujko Pukarey Mera Mann O Sai (2)
Mera Mann Tere Charanomey Arpan ... Tujko
Darshan Paney Tarsey Yeh Nayana
In Nayanonko Doori Nahi Sehana
Sehanu Ko Deejo Varadhan Mere
Varadhan Mere Prabhu Hrudaya Vidhan
Varadhan Sai Prabhu Hrudaya Vidhan .... Tujko

The inspiration behind this bhajan was the waiting experienced during Swami's darshan those days which we all miss these days....

Apurva Patel

Bhavnagar, Gujarat, India

Aapke Hee Sab Santaan Hum, Ek Doosare Ki Hain Jaan Hum,
Aap Prempoonj Ho Parmaatmaa, Aapkee Prakat Pahachaan Hum.

Sevaa Ki Raah Dikhaanewaale, Prem Kee Reet Sikhaanewaale,
Chalen Hum Us Jeevanpath Par, Sai Tak Pahunchaanewaale.

Deendukhiyon Ki Sevaa Karte, Sai Ko Humne Dekhaa Jaana,
Aankhon Men Harshashru Aaye Aur Man Me Sai Muskayaa.

Sai Se Hum Ek Hue Phir, Jeevan Ka Parmaanand Paaya,
Araj Tumhe Karte Hai, Swami Sevaa Do Har Janam Jo Paaya

Aapke Hee Sab Santaan Hum, Ek Doosare Ki Hain Jaan Hum,
Aap Prempoonj Ho Parmaatmaa, Aapkee Prakat Pahachaan Hum

Swami! As with all creations, You only are the inspiration and creator of this bhajan too.

Vaishnavi and Vandhana

We want to walk with you, my Sairam
We want to walk with you, my Sai Shyam
Lead us with your words and guide us with your deeds
Fill us with your love and teach us purity.
We want to walk with you, my Sairam
We want to walk with you, my Sai Shyam

Thank you very much for giving us this beautiful chance to do this for Swami.

G. Jagannathan

Krishna Mukunda Radhe Gopala Sai Krishna Hare
Kodanda Rama Kalyana Rama Sai Rama Hare
Navaneetha Chora Gokula Bala Sai Shyama Hare
Allah ho Allah Maula ho Maula Shirdi Sai Hare
Parthipureesha Prashanthivasa (Hrydayanivasa) Sathya Sai Hare.

The inspiration is to sing Sarva dharma bhajans in praise of our beloved Lord which captures many forms of the Lord.

B Saraswathi Prasad

Siva Kameshwari Palayamam
Jaya Jagadeeshwari Rakshayamam (Siva Kameshwari)
Mangala Rupini Manjula Bhashini
Sai Maheshwari Namamyaham
Jyothi Swaroopini Pranamamyaham
Pranamamyaham Namo Namamyaham

For all that Swami is doing and enlightening us and also HIS love of infinite mothers, inspired me to compose this Bhajan to offer as a flower at HIS lotus feet and show our gratitude with "Sashtanga Pranamam."

Invoking HIS blessings in the form of SAI MAA to guide and protect all of us.

Saluting Swami for spreading his divine rays around the universe.

Neeraj Mohan

Hey Sai Ranga Jai Pandu Ranga
Shirdipuri Sai Ranga Partipuri Sai Ranga
Govind Govind Narayana
Govind Gopal Narayana
Hridaya Swaroopa Karuna Sagar
Shirdipuri Sai Ranga Partipuri Sai Ranga

Padma Srinivas

Shree Guru Charanam Bhava Dukha Haranam
Sakala Charachara Vyapaka Charanam (Shri Guru)
Jaya Shubha Mangala Divya Charanam
Pavana Charanam Sadguru Charanam
Sharanam Sharanam Shri Sai Charanam

It is my personal experience that surrender at the Lotus Feet of Swami manifests all that we need without our asking for it. It is a pleasure to describe such Lotus feet.
What do you think about this initiative? Please let us know by writing in to 

[email protected]

. Do not forget to mention your name and country.