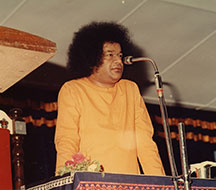 1996-06-19
Ramakrishna Paramahamsa on practice
Puttaparthi, Sai Kulwanth Hall (1996 Special Discourses )
Description
The great saint Ramakrishna Paramahamsa used to live in an ashram in a village named Kamarakpur in Bengal and located on the banks of the river Ganges. Unlike their counterparts elsewhere, Brahmins in Bengal eat fresh-water fish and are thus known as Matsya Brahmins or fish-eating Brahmins. Whenever they went to the river for bathing, they would bring some fish back home. For going from Kamarakpur to the city of Calcutta [annotate in text version], one had to cross the Ganges by boat. Often while Ramakrishna made such trips, he would gather all the children in the boat and tell them stories that promoted devotion and spiritual values. Thanks to the influence of the Kali age, both young and old made fun of Satsang and good company. Thus the youth and the parents of children in the boat did not like what Ramakrishna was doing and raised questions like: "Why is devotion needed at this early age? Worship of God and chanting Divine names like Rama, Krishna and Govinda can wait till retirement." Back then, many youth were drawn to Ramakrishna and everyday he would assign one of them to get fish from Calcutta. One day, it was the turn of Brahmananda. Seeing the orange-robe clad Brahmananda get into the boat and recognising him to be one of Ramakrishna's disciples, the people managing the boat immediately began making very critical remarks about Ramakrishna saying, "That mad man does not do any work nor do his boys, like this one." In their view, Ramakrishna was collecting talented youth and ruining them. Back then, it was common to regard Ramakrishna as a mad person. When Brahmananda heard his master being vilified, he was deeply upset. However, being a soft person he did not raise his voice in protest. Instead, deeply troubled and full of anguish, Brahmananda returned to the ashram with fish. Seeing Brahmananda Ramakrishna asked, "What happened and why are you in tears?" Brahmananda replied, "Master, I just could not bear to hear the way people on the boat talked about you. I do not care if people say bad things about me; but when they abuse you, I feel deeply hurt!" Hearing this Ramakrishna became angry and said, "Can you call yourself a disciple after putting up with abuses hurled at your master? You are unfit to be here in the ashram. Leave this place at once! You are not a good disciple. How could you remain silent when your Master was being vilified? How could you put up with all that abuse? Is it not a sin to tolerate the abuses directed at one's master? The one who abuses a Guru commits a sin as also a disciple who puts up with it." Brahmananda did not respond but just went on crying. Next day, it was the turn of young Narendra, also known as Vivekananda, to do the boat trip. And as earlier, people on the boat began mocking him as he approached. Even as Vivekananda purchased a ticket and boarded the boat, the boatmen began to mock him. Infuriated, Vivekananda shouted, "Shut up!" This only served to encourage the offenders to become more aggressive. Vivekananda then resorted to force and picking up one man warned that if the abuse did not stop he would begin throwing them into the river. That frightened the mob and everyone promptly became silent. Vivekananda was thus able to make the trip, buy fish and complete his assignment. When Vivekananda returned, Ramakrishna asked him, "What happened today?" Vivekananda replied, "Whatever happened when Brahmananda went happened again." "How did you respond?" Ramakrishna then asked. Vivekananda answered, "Will I remain silent if my Guru is vilified? I thrashed them and even threatened to throw them into the river!" Hearing this Ramakrishna reprimanded Vivekananda and said, "You are wearing ochre robe and live here in the Ashram. And yet, you seem to have no forbearance. When you have no control over yourself, what purpose is there in your staying in the Ashram? Deeply perplexed, Narendra who had earlier been a member of the Brahmo Samaj asked, "Master, yesterday you gave Brahmananda some advice but today you are telling me exactly the opposite! Which of these two is the correct advice? The one you gave yesterday or what you are telling me now?" Ramakrishna then said, "O foolish young man, when there is excess air in the tyre that excess has to be let out; likewise, when air is lacking, the tyre must be filled to the required extent!" Teaching and preaching must always be tailored to the situation and the circumstances and cannot be the same for all. They must be tuned to the nature of the person receiving the teaching and the capacity of the person to absorb the teachings. There is plenty of water in the Ganges. However, what each person carries home depends on the size of the container he brings. In the same way, teaching must be tailored to the recipient; all cannot be taught the same lesson. Where spiritual seekers are concerned, God bestows energy according to their capacity to absorb, which in turn is determined by how disciplined they are. It is through discipline that you can enhance your capacity to absorb. Without discipline, it is not possible to attain God. Lack of steadiness would not do!
More Audios of
Chinna Kathas
-
Practice
Never break your promise; Tarkad story

00:09:38

People sometimes break their promise. There cannot be a greater sin than going back on one's word, which is why Emperor Bali declared: "Can there be a greater sin that failing to keep one's word?!" A word given becomes sacred and must always be kept. During the days of Shirdi Baba, many people used to go to Shirdi for Darshan. There lived in another town a person named Tarkad, whose wife and sixteen year old son had great faith in Baba. While Tarkad himself was not a devotee of Baba, he did not object to his wife and son worshipping Baba. One day, Tarkad's wife and son wanted to go to Shirdi. Tarkad who belonged to a sect known as the Brahmo Samaj did not like to go on pilgrimages. He therefore excused himself but permitted his wife and son to visit Shirdi. Such restricted thinking is a sign of spiritual weakness. Those with such limitations fail to realise that though people may profess different faiths, there is only one God and not many. Thus it is that Tarkad told his wife, "I am not interested in visiting Shiridi; however, you may go, along with our son." Hearing this, the son said that he did not want to go. When the father asked his son why he did not want to go to Shirdi along with his mother, the son replied, "Father, every day I offer prayers to Baba, at the end of which I make an offering of sugar candy to Baba. Later, I eat the sanctified candy as prasadam or a Divine gift. Going to Shirdi would upset my daily routine and that is why I prefer to stay here and not go to Shirdi." Tarkad who loved his son very much was moved and asked his son to accompany his mother, promising that he, Tarkad, would perform the daily ritual on behalf of his son. The son repeatedly asked his father: "Are you sure you would worship Baba as I did, offer Him candy and then partake of it as Prasadam? Unless you give me that promise, I will not go." The father was deeply moved by the faith his son had in Baba, and felt ashamed that he did not have the discipline his son had. He then gave his solemn promise to his son that he would follow the same routine as his son used to. The mother and son then left for Shirdi while the father began to observe the daily ritual his son used to perform. As a part of the ritual he offered candy to Baba and later reverentially partook of it as prasadam. Three days had passed and it was Thursday. That day Tarkad had some important work in the court. In the morning, Tarkad had his bath, offered worship, ate breakfast and rushed to court. Tarkad then returned for lunch time and asked his cook to first bring Baba's Prasadam before serving lunch. The cook replied, "Sir, this morning you did not offer candy to God; so I cannot serve you any Prasadam." Tarkad felt great distress not because he had omitted to offer candy to Baba but because he had broken the promise given to his son. On the following day, Tarkad's wife and son went to have Darshan of Baba. Baba said to them, "I went to Bandra – that was the place where Tarkad lived – but no one offered food to Me! I did not get the sugar candy that is normally offered to Me. I am hungry and would be happy if you can give Me some food now!" Tarkad's son was absolutely shattered. Later, sitting on his mother's lap, the boy wept bitterly over the fact that his father had not kept his promise. The boy then said to his mother, "Father gave his word but failed to make the offering. That is why Baba returned disappointed! Mother, I cannot stay here any longer. I do not wish to miss my duties. I am returning to Bandra." Just then Jog, a constant companion of Baba, came to where the boy and his mother were and said, "Baba says there is no need for you to go back. You are not at fault and it is your father who broke his promise. You have My blessings and you can stay here as long as you like. Though somewhat unhappy about the broken promise, the boy and his mother stayed in Shirdi for ten days and then returned. The moment they returned, the father apologized to his son and said, "Though you are much younger than me, I ask you to excuse me." The son replied, "You have to ask Baba to pardon you and not ask me to excuse you." One might belong to any faith group like the Brahmo Samaj or Arya Samaj or Daiva Samaj. A promise is a promise and once made should not ever be broken. The son continued, "It is important for you to adhere to Truth. As a lawyer you argue in a Court of Law. Think how many families would be ruined if you deviate from Truth." "Emperor Manu preached and strictly adhered to sacred Dharma. Therefore, if you do not adhere to Truth, all your study would be a waste. Father, you should be a lawyer and not a liar." Thus, when one leads a disciplined life, one can attain the Divine. To begin with, the body must be sanctified through good actions. It all begins with discipline. From dawn to dusk, all the daily duties must be performed in a highly disciplined manner.