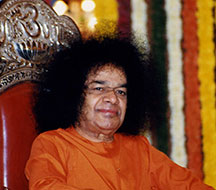 1983-10-08
When you lead life with Dharma, Artha and Kama in proper balance, you will attain Moksha
Puttaparthi, Prasanthi Nilayam (Hospital inauguration )
Description
With the unison of the three aspects namely dharma, artha and kama, one naturally attains moksha, liberation. In marriage ceremony, the priest recites, "dharmecha, arthecha, kamecha naathicharami" "You shall follow your partner in dharmecha, righteousness, arthecha, in acquiring wealth, and in fulfilling desires, kamecha." But the priest does not say anything about moksha, liberation. What is the reason? When the dharma, artha and kama are experienced through fair means, moksha is inevitable. But due to the influence of the kali, man keeps moksha alone in sight forgetting all about the dharma, artha and Kama. People are not experiencing the dharma, artha and Kama through proper means. One attains liberation when one experiences the three aspects through fair and proper means. How can one aspire to attain liberation, without experiencing the dharma, artha and Kama through righteous means? Hence one must seek artha, wealth through righteous means. With the wealth so earned, one must fulfil one's desires. How should one experience the desires? It must be done so with righteousness. How should one earn the wealth? It must be earned with righteousness. It is said that the wealth without righteousness and desires without righteousness will not confer moksha, liberation. Dhanadhaanyamulu kaligi Dharma gunambunna, santhathi ledane chintha yundu, Vidyaadhikaari ayi virraveeguchunna Udyogamukoraku vethalanondu, Kootiki lekanu alladuchunnatti nirupedakendaro biddalunduru! One might have prosperity, material wealth and righteousness too, but is seized with sorrow of being childless, Being arrogant of high education one finds it difficult to find a job, A poor man labouring to make both ends meet has many children! What is the cause? When one does not experience in the proper way, these miseries arise. When one experiences the purushardhas namely the dharma, artha and kama in a proper way then, there will not be any scope for sorrow or troubles. It is food that governs these three aspects.
All our acts must be done righteously

00:00:36

Dharma, righteousness, is important for everything. The dharma should be with compassion. Therefore all the four objectives of life viz, 'dharma' righteousness, 'artha' wealth, 'kama' desires and 'moksha' liberation must commence with dharma. 'Artha', wealth is needed but it should be earned in righteous manner. 'Kama' desires must be fulfilled righteously. Therefore those that are attained with dharma have also the element of compassion.

Dharma and Adharma

00:01:55

Embodiments of Love! The flux that you see in the world is the dance of Shiva. This is something which one cannot see, one cannot comprehend and understand. There are the waves of night and day, death and life which go on forever. It is something very natural that we have death and birth. Dharma (righteousness) and unrighteousness is also very natural. When dharma increases, naturally adharma declines. When unrighteousness increases, dharma naturally declines. The reason for dharma and adharma are men and women. Man is under delusion, because he cannot recognize the divinity within himself.