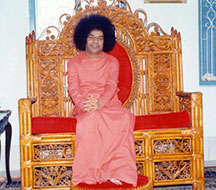 2001-08-31
Remind yourself, "I am a human"
Puttaparthi, Sai Kulwanth Hall (Onam )
Description
All of humanity belongs to one clan. In fact, there is only one race - the human race. It doesn't matter whether one is a theist or atheist or whether you are a Jew or a Buddhist. You belong to the human race - that is the truth. It is enough if you remember this. Keep aside questions like whether you are a theist or an atheist. 'I am human being'. Human values have to be fostered. Having been born as a human, if you not have human values then you are human only in form but not in reality. We find certain traits such as anger, pomp and show and jealousy entering into humans. Anger and jealousy are animal qualities. Anger is the quality of a dog. Wavering nature is that of a monkey. You are not monkey, you are not dog, you are man. When you are carried away by feelings of anger think ten times - 'I am man, I am not dog. I am man, I am not dog'. Today, we find human qualities are on the decline. Animal qualities are finding a place in man. This is not true human life. You must develop such sacred qualities as compassion, truth, forbearance, empathy, etc.