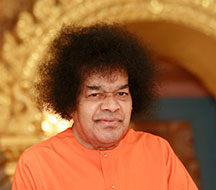 1984-11-21
What is Seva and how Seva instills in you courage and determination:
Puttaparthi, Poornachandra Auditorium (Sevadal Conference )
Description
The one who calls himself as "Sevak", a servant, should always be ready to serve others but should never receive service or attention from others. On the way towards the "paratatwa", the other world, there is a mighty, sprawling tree that blocks the path. That daunting tree is the tree of "samsara", the tree of material, physical world. The ignoble sees the tree and turns back frightened. The noble seek ways and means to side track the tree and reach the destination. But the noblest of them, cuts the tree of samsara with the sword of detachment to go beyond. Hence the true servant must be ready to face any hurdle without getting scared or depressed. It is the 'Seva' that instils courage and determination in man. Through Seva man can become divine. Hence one must not look down upon Seva. To belittle Seva is an evidence of one's petty mindedness. One must strengthen the conviction that the human birth is given for serving others. One must firmly believe that this human birth is not to be wasted merely in eating and sleeping but for serving others till the last breath. One must empathise with the sufferings of fellow beings and give succour and help them to the extent possible. Then alone will God install Himself in one's heart.