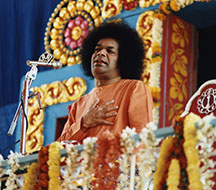 1998-12-25
Have the feeling "Swami belongs to you"
Puttaparthi, Sai Kulwanth Hall (Christmas )
Description
Bhagawan has said this many times. When sarees were distributed to the messengers, they said, "Thanks, Swami!" Swami said, "I am not third person, I am second person". We have to thank the third person not the second person. When your mother feeds you, will you ever thank your mother? When an outsider serves you food, you thank him. Bhagawan is not an outsider, so never say, "Thank you Swami." You can fight (with Him) with right. Have this feeling, of having the right to say, "He is my Swami, my Swami alone". Then you will have all sorts of rights. But you are not fighting with this spirit. You have been thinking with bad feelings, with wicked thoughts.