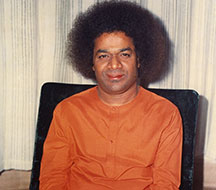 1996-06-23
Why does the Divine take the form of a human?
Puttaparthi, Sai Kulwanth Hall (1996 Special Discourses )
Description
So, divinity doesn't surface with a special form. Divinity also puts up a human form and appears. God comes down in human form. If God doesn't come in human form, humans will not be able to access and see Him! Purandardas told that human beings place candies and worship, doing rounds to a stone idol of a Cobra. But when a real cobra appears, the same human beings pelt stones and run away! Therefore, God appears in human form to ensure proximity and develop rapport with the human beings. Similarly, in appearance, between a real human being and God taking a human form, helps develop a better understanding between them. Human mindset has its own limitations. Human mind is below the senses whereas Divine power is beyond senses. It is not possible to understand the gulf between the two. Therefore, in order to foster proximity, nurture friendship and instill conversations, God chooses to don human form and manifest divinity. Instead, if God appears with all His divine ornaments, human beings will run away as they are not used to witnessing such an unnatural form! God, therefore, appears in the conventional human form only to dispel any misgivings in the human mind, and imparts spiritual knowledge. God coming down doesn't mean that He had come down from an upper floor to the lower floor! It only means to convey that God comes down from the Divine level to the human level to help transform the human minds. It is by no means an indicator of devaluing His stature or degrading His Divinity. In order to take the child from bed into her arms, a mother bends down and lifts the baby. It should not be construed that the mother had lowered herself in stature by bending down to take the baby! In the same way, God comes down, in a human form, to uphold the dignity of human beings and help them in liberation from the shackles of bondage and wrong doings. When He comes down, He talks like us, behaves like us, and moves amidst us. But human beings entertain doubts about seeing God and recognising Him so, because of the similarity in behavioural norms in both! When you cannot comprehend God while in an ordinary human form, how can you understand His extra-ordinary form and His divine powers? Impossible. Humans have to try to elevate themselves towards the Divine level.