| | | | | | | |
| --- | --- | --- | --- | --- | --- | --- |
| | 'Like' us on Facebook | Follow us: | | | | |
Posted on: Nov 18, 2017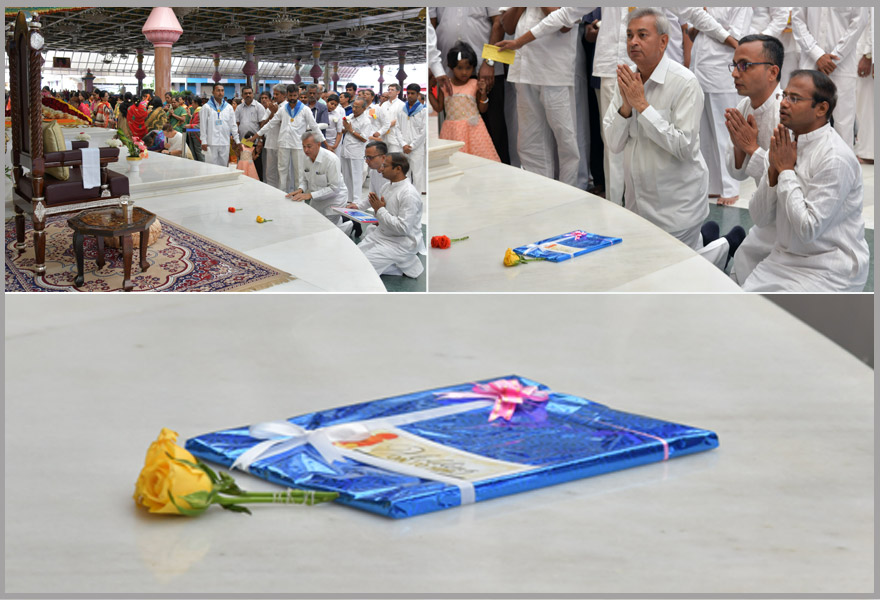 'Holding On To HIm' entries being offered to Bhagawan by Director & members of Radio Sai Team
NAME

Country

Offerings

Melbourne, Australia


"Divine Grace"

It is by walking with Sai, we receive so much grace, He is the gentle prompter within us all, guiding us, and holding us, He is our feeling of love, and our goal and destiny.

Hold onto Him, and do The Work your heart guides you to do, For you and Sai are but One.

India

The orange colour symbolises Swami, while the two golden roses are two buttons on Swami's Robe. The butterfly symbolises heart. And the baby sleeping with the wings, symbolises the child aspect in us, along with the flowers that are "Holding On To Him!"

Ramesh Babu

Sudha Narayanan

J P Pavan (Group 1 Bal Vikas, TN)

K Kavya (Group 3 Bal Vikas, TN)
name

Country

Offerings






name

Country

Offerings

Gurgaon, India

It's an offering of a Heartfelt Poem with a Video art.

The Poem

When I hold on to him!
"I lose my mind!"
And in that state of
Pure Unconditional Love!
"I Dance & Glide!"

The Concept of this offering is that state of happiness and Childlikeness one feels, when one holds on to Swami.

The Balloon signifies the state of loosing ones mind, where all of ones worries, pain, concerns, troubles are given away as soon as One holds on to him and in that state one feels light and like a child can dance through this life.

And in that later part of video where there are varied colours balloons it depicts a stage, that when one holds on to swami, Swami then makes his/her life filled with all colours of life.

The mural of Swami is a mix-media of charcoal & pastels.
name

Country

Offerings

Saraswathi Devi Sundarakrishna
India

Na Chodenge Tumhe Swami...

Parthiwaale sabh rakhwaale
Chodenge hum na tere dwaare
Kitna bhi tum lo humare pareeksha
Hum sab lenge bus yahee dheeksha
Ke Swami tum humare ho aur hum tumhaare

Zindagi ki her mode per dekha he Swami
Humne  aap ki pyaar ki nishaaniyaan
Kaise chukaasakthe he hum
Aap ki ye meherbaaniyaan

Itna pyaar diya he Swami aapne saari jagat ko
Ab kuch nahin chaahiye Swami bus taras raheehe
ye bechain dil aap mein samhaajaane ko

Radha,Meerabai,Soordas jo geet doharaayen
Hum bhi vohi geet aaj phirse doharaayenge Swami
na chodenge tumhe Swami, na chodonge tumhe, na chodenge

Anyatha Sharanam naasthi twameva sharanam mama
Tasmaath kaarunya bhaavena raksha raksha SAEESHWARA
JAGADEESHWARA, PARTHEESHWARA, HRUDAYESHWARA......

The River and the Riverbed


The burbling River to the Riverbed cleaves, faithful down its length,

And the little lost carp who's strayed afar,

Paddles home with newfound strength.

As the minnow swims the River's run,

he hears its murmuring refrain,

When drops of me drift away from You to none

while along my course I go,

Another surge of me folds unto You again -

My loving Sai, the Bed beneath my flow.

Dear Swami,

These two short poems are a humble offering at Your Lotus Feet:

"To love is to feel, to feel is to serve, to serve is to show, that there can be nothing more than the life that is given to love."

"As molecules jump from one place to another,

I can't but watch completely dazzled.

As I take steps closer to Him,

I can't but doubt that He is within.

A beauty that captures my mind,

Helps me leave all my fears behind.

As I go closer, little do I realize,

That this is the power that is within me, forever and ever!"

Click here

To My Sai, I Hold On


I am smitten with His orange clad form,

He selflessly loves so we transform.

His robe impeccable, not a crease,

His slender frame sways gently in the breeze.


His feet so soft, His Hands so giving,

His bewitching smile, His gaze intense yet loving,


His mole, nose and bridge very defined,

Beautiful face millions have enshrined.

Crown of hair as His weapon,

With intense gratitude I reckon,

That in grief and in joy, in cold and in heat,

In praise and in blame, in every heartbeat

I have no choice, but to Sai I hold on,

Madly besotted with Sai, eternally I hold on.


Click here

Oh dear Sai, HOW do I hold on to you?

Fear, doubt and pride have their clutches on me, your child!

The monkey mind and its antics, drives me wild!

Oh Lord, how do I hold on to you?

Oh dear child, how can you NOT hold on to me?

Every morning I give you the bird song and sunshine!

Every evening I embrace you as mine!

Radha, Meera and Sai Geeta I give to you as inspiration!

Love and light, to use in your meditation!

With Radio Sai, a digital age 24/7 connection!

My students the world over, with their unparalleled affection!

Oh Lord I Will hold on to you !

Forgive me for my weakness!

I failed to grasp your love's sweetness!

I will always count my blessings!

Whilst in my mind's eye, your tender lotus feet caressing!

Your wondrous name, with love I shall repeat!

All of my days, till my last heartbeat!

Samasta Loka Sukhino Bhavanto!

How can I NOT hold on to you?

Click here

Naveen Sharma

I am extremely happy and blessed for sharing  my views on the above subject on the occasion of our Beloved Bhagawan Sri Sathya Sai Baba's 92nd Birthday.
This is my experience or feeling which I have undergone in my life by HOLDING ON TO HIM in several critical situations and have come across successfully with his love and guidance. My entry in Sathya Sai Organisation has happened due to my previous birth Good Karma.
In recent past that is seventeen years before I lost my husband and alone to shoulder: entire responsibility of my family bringing up ,my two children in all aspects. I came from Middle class family and faced lots of physical and mental stress and lost confidence and felt that nothing is left for my survival and felt i am in full darkness. At that time as a light in darkness I came to know about our Beloved Bhagawan Sri Sathya Sai Baba and was closely associated with the seva organisation and participated in various seva activities and programs. By holding on to him slowly I received self confidence, came out of deep pain , sorrows and loneliness and a good turning point came in my life and my children life. This is because of my un conditional love and faith.
At present my children settled and all of us are leading a healthy peaceful life with the blessings of my Sai Maa. Even now also in my day to day issues whether it is big or small I hold on to him and get his guidance solution and full strength for facing it.
In conclusion I can assure that anybody by holding on him and keep unconditional love and faith we can experience Joy good health positive energy full strength. His divine unconditional love always covers us safeguard us from any crucial moment.
Till my end of this life I HOLD ON TO HIM for experiencing his unconditional love and when he takes within him the experience of pure bliss is felt but cannot express in Words.
OM SRI SAI RAM.



Vashtie Ramnath

हरि कहो अब आवन की

बहुत दिवस भये,दरस किये बिन

उस सूरत मन भावन की

हरि कहो अब आवन की..


नैन नीर निशचल भर लाये

पुलकित मन अधर मुसकाये

हृदय गति यूंँ बढती जाये

पाने रज पग पावन की

हरि कहो अब आवन की..


तुमहे देख के मन हरषाये

कौन किसे यहाँ धीर बँधाये

मन यूँ फिर ये सुधि दिलाये

तेरी कृपा के सावन की

हरि कहौ अब आवन की..



Gopi Krishna Polavarapu

When I came to You, stumbling as a child
You held on to me, even as I was running wild
Over the years I grew under Your loving eye
Always there for me through every low or high.
You shielded me from the world outside
And when I stepped out, You were at my side
Over time, I forsook You and went astray 
But You never let go, holding on every single day.

I did not fully realize Your infinite Love for me
While foolishly parading what I had come to be
You still held on to me like no mother would
You ignored all my sins and saw only the good.


In Your inimitable way, You led me back to You
Showering me with Grace as I started a life anew
And now as I hold on to You, I realize Swami
That without You, there never was or will be me.

Saisha Abha Ahuja

साई राम  के कमल चरणों को प्यार करते रहो

उन्हें साथ लिए हुए परीक्षा देते रहो 
कुछ भी तो यूँही नहीं होता है कि हम उनसे नाराज हो जाएँ 
सीखने की सीढ़ियों को चढ़ना होगा और 
कदम भी कभी डगमगायेंगे  और फिर उनके हाथ आकर 
सँभाल लेंगे पूर्ण निश्चिन्त रहो 
श्रद्धा,विश्वास और प्रेम से बढ़ते रहो 
उनके साथ हार नहीं बस जीत ही है
संसार की इस जदोजहद में
तुम्हें किनारे पर वही लाएंगे 


साई राम के कमल चरणों में अर्पित 
साईश आभा  ( बालविकास गुरु )


SWAMI it is so very difficult
When YOU are a BALVIKAS CHILD
Telling YOU to close the eyes for Prayer
YOU are pushing here and there 
Keeping our cool seeing YOU in the form
Loving, calling, playing ,singing with YOU.
In Balvikas classes You only are in many
Faces, dresses, actions and emotions
Teaching we gurus oneness, unity, variety,
Tolerance, patience, activity, energy, art,
Music, rhythm, humility and commitment and thereby
Letting gurus and children together manifesting 
Values of truth, righteous conduct, peace, non-violence 
And love.

Ashwin Suresh

Hold Me, and I shall never leave you!

It was September 2012, and I was pursuing my Final year in B.Com (Hons) at Sri Sathya Sai Institute of Higher Learning, Brindavan. Giving a brief background about the education system and hostel system at Swami's institute, it is more like a 'Modern Gurukula'; highly disciplined and routine based. Students are not allowed to go outside the campus under any circumstances and even if parents wish to meet their child, it is permitted only inside the campus premises.

Having said that, the students obviously need money for domestic needs and may need to withdraw money from the Bank. How is that facilitated when the campus does not have an ATM nor any banking operation? One of the teachers in charge collect our passbooks and money requisition slips on a weekly basis, takes them to a nearby bank where all our accounts are maintained, and withdraws the necessary money. However I used to deploy an alternative means to withdraw money. I had a debit card, which was linked to a joint account held by my mother and I. Whenever I needed cash, I used to give that card, along with my PIN to one of my teachers. Whenever he goes out of the campus for some work, he would withdraw the money and give it to me. On one particular day, I needed a sizeable amount to settle an academic transaction.  I went to that teacher and requested if he could lend me the money for now as I needed cash urgently, and he could later withdraw money from my Debit card whenever he goes out. He readily agreed and gave me the cash. I then wrote my ATM PIN on a slip of paper and gave it to him along with my card. Subsequently I collected the card from him, kept it inside my track pant pocket and carelessly gave the same for wash to the Dhobi the very next day, without removing the card. I realised this mistake only much later during the day, when a Banking Seminar was going on in the college. I was so worried and anxious knowing what had happened. In fact, my mother then was at Puttaparthi for registering our new house. It then dawned upon me that the joint-account had a lot of cash and I had given my pants with the card and the PIN. What a bumper for the Dhobi! I ran to the hostel after college to do the last rounds of checking if by chance I had kept it elsewhere, but all in vein. I was standing in the middle of my dormitory so helpless and petrified of the probable repercussions of my carelessness. I was narrating the entire sequence of events to a room mate of mine who was by my side, and was praying to Swami with so much of anguish and despair, "Swami, I know I shouldn't have been so careless. But this is Amma's hard earned money and she is at Puttaparthi to buy a house so close to You. Give me any punishment. I am willing to accept..But please don't allow....." Even before I could complete my sentence, suddenly I hear a 'clack' sound and realise something has fallen from the ceiling on to my foot. when I see what it is, it is MY LOST ATM CARD FALLEN FROM NOWHERE.

In fact, it had fallen along with the receipt wrapped around it; just like how I kept it in my Track pant pocket after collecting it from my teacher! My room-mate and I were speechless. I became numb and it did take quite sometime to get back to my senses. I had no other go but to just fall at the altar with tears rolling down my cheek. Time and again He reiterates the fact that His Love absolutely has no boundaries, and He goes to any extent to help His children when they hold on to Him.

Jayashree Balamani

pyari mann de dho sai maiya
haath na chodu var de dho (pyari mann)

1) bache hum to chod ke jaaye
baagh ke haathe vapas le lo
agar hum to bhool bhi jaaye
phool ke jaise yaad dhiladhe (pyari mann)

2) hum to na jaanu saagar kinaare
pyar ke saagar viswaas badadhe
theri sachhi pyar ko paakar
yug yug ke ek bandhan paye
hum to naadhan yuhi saathi
godh me le lo pyari maiya (pyari mann)


3) bahar vaale jo mitti maane
antaryami swarna hi mane
theri viswaas se mittiko thodkar
swarna ke jaise chamakenge
kangan banke haath me honge (pyari mann)

4) sagar ke ek bhoond ko peekar
jag par saayi prem ko dekhe
har ek praani me bas he saayi
jeevan dhayi mayi hamare
haath se haathon jodke jaakar
sayi ki charan pahunchenge (pyari ....var de dho)

Rehan Ashraf

A happy holy month of november  To all .
A blissful month, a joyful month
A month to give and to forgive all
A month to love all and serve all
A month to sing his glory 24 hours globally
A month to spread happiness in each one
A month to  invite all and to celebrate 
His 92 years advent of love
A month to smile from heart with joy of oneness

And a month to say...

Happy birthday dearest lord bhagawan sri sathya sai 
We love you swami dearest lord we love you.

Saraswathi Dinamani

I love you so Baba I love you so |
You--- in my heart, wherever I go |
You are my companion you are my guide |
You are my guardian. (I love you so Baba ----so.).

Grant me Thy grace that I may love |
Love is God, God is love |
Love is all there is! (I love you so Baba -----so).


Grant me Thy wisdom that I may know |
You are in me, I am in you |
You and I are one! (I love you so Baba ------so)

OH! SELF LUMINOUS DIVINE------I LOVE YOU!

Nithyananda Guru Mukthananda Guru |
Paramananda Guru Premananda Guru |
Satchitananda Guru Oh Sai-------------- |
Self Luminous divine-------I love you. ||


ou are in me, I am in you;
You love me, I love you;
You are mine, I am thine;
We are divine-----Oh Sai Maa;
I am you---- You are I, we are divine ||
I love you, I love you , I love --- you. ||

"Anantha Koti Pranams at the Lotus Feet of our beloved Sai Bhagawan."

Geethanath G


Remembering Swami (our beloved Bhagawan Sri Sathya Sai Baba)
When the sun rises,
majestic and bright,
I think of you, Swami.

When the sun sets,
preparing the beings
for a much-needed rest,
I think of you, Swami.

In the scorching heat of the noon,
I think of you, Swami,
since, as you have said,
the earth needs the heat
to produce food.


In the cold winter or rainy season,
I think of you Swami.

In the soothing scenes
like high mountain ranges,
gurgling rivulets,
waves of the sea coming on to the beach,
birds in flight etc.,
I think of you, Swami.


In appiness,
relaxed and thankful,
I think of you, Swami.

In sorrow and fear,
I think of you, Swami,
since you are my only refuge.


Shriramya. M

I remember the times I thought You were far,
When seeing You meant travelling by car,
But now You and me do not live apart,
Coz I'm feeling You each second in my heart.

Every little worry and every little fear,
Just disappears forever when Your voice I hear:
"You are never alone, I'm always near,
Just relax coz I'm staying right here".

Those days, if I wanted to feel better,
I would write down my thoughts and give it as a letter.
But now a need for that I don't find
As You are nearer to me than my mind.

Amidst a hundred others I used to sit

Into the first line I was struggling to fit
But now there is neither a queue nor a line
As You have become entirely mine.

Holding Your hand, a rare event it would seem
To feel Your touch, I had to wait for a dream,
But now I hold You in my heart's embrace
And Your presence I can feel in its pace.

Months and years I had to wait for the chance
To sing one song for You or perform one dance
But now You can sit and hear all day
Every song I sing and every word I say.

Many of us were in a stage
Where we had restricted You to Your image,
But now You have freed us from our cage
And proclaimed You are beyond time and age.

"Where have I gone, why do you whine
Look within you and see me shine
All this while that's where I've been
Through faith and devotion I can be seen".

You aren't a human for me to miss
You are the God who fills my heart with bliss
I will mistake You as gone no more
As I can feel You seated in my core.

Every man, woman and child I meet
Henceforth as You I shall treat
This whole world, as You I shall see
A true devotee of Yours I shall be.




Hirak Doshi

Prasanthi Nilayam 

Away from the dins and bustles 
Majestic, blissful and free from enmity, 
There lies a paradise on earth 
Far from conventional mediocrity. 

It is a conglomeration 
Where the destinies merge. 
It is a culmination 
Where all the roads converge. 

The duel comes to a screeching halt 
When the mind turns taciturn, 
Basking in the absolute bliss 
The heart says, "don't return". 

It takes really some time 
To know where we have actually been, 
But when the realization dawns 
Look for Him "within". 

The mind asked in a dilemma 
Why is this feeling so obscure? 
What is it that makes the difference? 
His Love, unsullied and pure. 

It is an impossible task 
To fathom the depth of this treasure, 
And a futile attempt to comprehend 
The one which has no measure. 

He chose to walk amongst us 
To show us what is actually real, 
To free us from the clutches of confusion 
By creating an ambiance, perfectly ideal. 

And thus to revitalize the inner self 
To recharge the spiritual battery to its optimum, 
The mind keeps telling again and again 
"Here I come, Prasanthi Nilayam".

Radha

TRUTH - FORM OF SAI

Truth is one...Form of truth is one
Sai is the form of truth..truth is the form of Sai

waves are You, ocean is you, source is You
everything is You, Sai all is You
sun, moon is You, horizon is You
You are the time that transgresses time
You are always!

You are within me, within everything, everyone
You are the inner soul residing in all,
Sai, You are the inner soul!
For all the universes You are the presiding deity
The only GOD...
The OM -  the pranava, Sai You are the PARAMATMA !

You are the Kamadhenu (wish-fulfilling cow)
You are the kalpaka vruksha, the tree that gives everything
You give all the boons that are needed, You give all
Till I reach the shores of Your divine lotus feet
You are the beacon of LIGHT, O SAI! SATHYA SAI!!!




Christine

One day out of the blue I had the urge of going to a bookshop and find an interesting book to read but about what?... Reading a book in my 30th was unusual - trying to survive in the outside world kept me busy -
But here I was, at the front door and as I walk a meter further, on the top shelf was a bright blue and orange front book cover that caught my eyes "Sai Baba the Holy Man and the psychiatric". Yes, I will read this special book. It took me a day and a half and I was at Brindavan 3 months later. After my 1st Darshan, I swim in a love bath & had the desires to hug all the women around me. It was paradise.
Deep pains, feeling lonely, lost & discarded, worried & anxiety have filled my agenda these last 40 years but despise these difficulties my experience of beautiful moments with Sai Baba help me not to drawn but to hold on to him in silence joy & faith. This is how lucky we are to know & believe that his divinity is inside of us, so...HOLD ON TO HIM.




Jaya Subramanian

HOLDING ON TO YOU

Oh Lord, my dear Swami,
If I didn't hold on to You,
I cannot dare imagine where I will be.
I know I will be in a world that is dark and dreary 

With monsters gnarling at me.
Monsters like anger, frustration, helplessness. 

Not to forget fear, the most terrible one! 

So, I prefer to hold on to You, My lord,
My dear Swami, My Bhagawan!
Your support gives me immense strength. 

Strength to face the monsters that lurk around. 
They don't scare me as 
I know You are there!

The eternal all encompassing Lord! 
But I must confess, I did live there, 
In the dark and dreary world 
Before, much before I found You 
And felt Your strong grip over me 
Telling me softly, whispering to me
Kindly, Lovingly, Tenderly 
To see the light! 

Through that shimmering light of Yours 
I can see
Your world, that has
Love, forgiveness, 
Sathya, Dharma, Shanti, Prema and Ahimsa. 
Filling the world with unimaginable beauty! 

Oh! My Swami
I dare not plunge back into that
Dark and dreary world which is no good. 

So, in every breath I think of You
And feel Your love
I know that means
I am indeed holding on to You


Today, tomorrow and forever! 

Klaus Ebner

Nalini Tavag

Dear Swami, hold on to me
In these turbulent times
Your grip is better than mine,
a heart pure and divine.
Dear Swami, hold on to me
I need Your presence
Not the gift of your vision
However lovely
A short while it is
Dear Swami, hold onto me
Now the time to go home
Is not where the mind roams
In dark, dreary places,
Please let me be surrounded
By Your light and love
Dear Swami, hold onto me


Lalitha Gupta

Oh Sai! i am Your Child, You are my Lord!
May I have the Strength to Be Gentle,
You Want me to Be,
In Thought, Word, and Deed!

May I have the Clarity to Be Worshipful,
You Want me to Be,
In Thought, Word, and Deed!

May I Have the Spirit to Live the Truth,
The Way You Want me To,
In Thought, Word, and Deed!
May I Have the Wisdom to Be in Peace,
You Want me to Be,
In Thought, Word, and Deed!


May I have the Grace to Be the Love
You Want me to Be,
In Thought, Word, and Deed!


Meera

Balajee Narasimhan

Zero and Infinity

When life appears bleak like a stormy day
tossing me in sorrow and gloom…
Whom could I hold on, except you, O' My Lord!  

When the ocean of SamsArik troubles appear
without any horizon in sight…
Whose Name shall I call upon, except yours, O' My Sai!
 
When material desires make the six-hooded* snake
dance with the fury
Who else can dance on my mind, to quell them O' Sai Krishna!  

When some little success comes intermittently
and tries to flatter and seduce me…
Which other name shall I remember, to be grounded and calm O' Sai Rama!

When life appears in full splendour and glory
like a bright summer's day
Who else can I thank, the one with the beaming smile O' Sai Sathya!  

When my mother showers me
with all the Love in the world
Who else can I think of, O the one who is a thousand mothers and more!

Holding on to you is the only way
Ever this Zero could glimpse Infinity!

*Six-hooded snake = Shad Ripus (Kama, Krodha, Lobha, Moha, Madha and Matsarya)


Nicolas

For Swami

My heart shines when it hears your name flickering in the darkness like an immortal flame My soul trembles when it beholds your form
for my mind still tries to create an inner desert storm

Your words are music in my ears
for they are filling my body with laughter and tears Your breath is full of love and bliss caressing the devotee's cheek like an invisible kiss

You were so beautiful to me
as only a mother to her child can be submerging my heart into the ocean of love and giving it the feeling of a free flying dove

You have woken it up from such a long sleep
for it was buried into the bosom of the earth so deep But now that I can smell the fragrance of its flowers it seems to me that days are passing like hours

Let me be a flute in your graceful hand and out of each note will grow a beautiful plant embellishing the sacred garden of the all powerful God where only bliss, beauty and truth can be sought

Per l'amore di Dio

Il tuo fiato è un profumo composto di mille piante e sapori è un arcobaleno svelando tutti i suoi colori

Il tuo sorriso è un fiocco di neve sulle nostre pelli bianche è un raggio di sole sulle nostre facce stanche

Il tuo cuore è un'oasi in mezzo al deserto
è l'albergo in riva al mare sempre aperto

Il tuo messaggio è un pezzo di pane in una mano affamata è un segno di vita in una notte disperata

Il tuo amore è un'isola in mezzo al mare
è una Dea senza più niente da inventare


Nicolas

Uma Ashok


When I am happy or sad
Anxious or bewildered
I try my best
To hold on to you....

In my most difficult times

I try to chant your sacred name You have assured  me
That you are my loving mother
To watch me, guide me, love me
Your grace has kept my life going
And I surrender fully to you my Lord...
Bless me to hold on to your Lotus Feet Forever and forever...

HAPPY 92nd BIRTHDAY SWAMI...


T S Vanishree

Lord SAI, You are the breathe we live on,
You are our culture, father, mother, leader and all doer
You are our food, blood, head and life ahead.
You are all our good thoughts and our heart
You are in all the cells, in all the atoms and beyond!
Dear lord, You have come to teach us that
we are from You, living in You and journeying towards You.
Make us remember to hold onto You and flow along 
the river of devotion and selfless service, reaching You - the ocean of bliss and love
SAI, my LORD, You are very gracious, very kind!
when we think of SAI every moment, You strengthen us,
when we remember SAI, You dwell within us and makes us shine,
we shine because we reflect Your light!
SAI slowly reveals to us, what He does, what He unfolds in and around us.
He speaks to us from within as conscience!,
He assures us to never doubt these as our imaginations,
and assures that these are His connections to us,
I pray to SAI to help us just remember this bond and hold onto Him,
SAI, when we remember Your presence with us, 
all our actions come out so well!
that our just being and breathing seems wonderful!
When nothing seems to be happening, SAI helps and heals silently!
So wonderful is the transformation SAI brings in us, that we will never be the same again!
If and when we dare to wander away from You SAI, owing to ego or desires,
SAI, You are ever present, watching us, waiting to pick us.
SAI picks up and lovingly corrects His erring child, 
He teaches lessons and breaks all the EGO and vices
and then, SAI allows us to hold onto Him and shows that only His WILL makes and moves all
SAI taught us - devotion is the best of all and dearest to Him
He taught that without god's grace, we fall prey to the least and the worst!
SAI taught us never to wander in mad mind's path.
Beautifully, He taught us to see the waves of evil as separate from us and just remember and hold onto HIM, 
Wow!, such simple & strong instructions from our lord!
I pray SAI to make us remember that we are nothing but His reflections,
may we hold onto Him and let His light shine through us and spread all around
No matter how the situation is going,
no matter what pain or gain, shame or name is coming to us,
our Lord, our father, SAI taught us to remember Him, and welcome all of them, face them joyfully.
SAI, You taught us to forget all the worries and just remember You, and to be happy always
I pray to You SAI that we remember You and only You and carry on Your duties!
I pray to You SAI - make us remember the greatness when we hold onto You and breathe in You!
SAI taught us - we are dearest to Him when we follow His teachings practically,
we are dearest to Him when we hold onto the path of discipline, morality and good character.
SAI taught us that He does not expect anything from us,
He just wants us to remember Him with pure heart
and carry on all duties with - purest feelings and selflessness
SAI taught us to love all and help all with humility
SAI, You held onto us in Your divine bond from times eternal, lives immemorial and beyond!
You made us realize that we have got the biggest gift - you have gifted yourself to us
almighty LORD, with tears of joy, I Pray to You that -
" You always bind me to You in the divine bond,
make me feel You, love You and serve You the way You want, 
make me live the way You plan,
make me live in You, for You and towards You forever and ever"
SAI, the lord of the universe!, it is Your mercy, that You have come to us.
You have come to bless us, enlighten us and take us to You.
It is Your grace and love that You gave us this life to experience You!
Having experienced You and all the bliss You give us,
SAI, I promise that I will ever hold onto You, act under Your direction
and I will be a star reflecting Your sunshine, with the strength of Your grace!
Words fail to express gratitude to You my dearest LORD.
In the deepest silence of my heart, I hold onto You and submit to You forever and ever!
May the flower of SAI blossom in all our hearts and spread the divine fragrance



Shruti Gopal

Holding on to our Swami

Holding on to Him can transform our lives,
A beggar can become a billionaire,
A robber can become a saint,
An illiterate person can become a scholar,
A rowdy can become calm,
A patient can become healthy,
A novice can become a professional,
All because of His grace.


Nandini Natarajan

Sairam! I offer my humble pranams to your lotus feet.

"Sairam" The word or the soul of my life has been present since my childhood. Getting to know about Him is such a divine pleasure and gift that I have earned due to his mercy. Swami has been kind enough to hold my hands from a tender age. The moment I utter SAIRAM I really feel that He blesses me with wellness and fearlessness. This thought has been a driving force of energy and has given me the faith that He will bless me and my family.

Even small hurdles and obstacles in life could be crossed if we pray to Him with full bhakti and surrender. One such experience in my life is "He" has cured my mother from breast cancer and is continuing to protect .Due to the ignorance and misery, I used to cry and think what would happen to her. But my mom who is a sincere devout bhakthai of Swami caught hold of Swami and I was amazed by the level of hope, faith and the devotion she had upon Swami that had cured her illness. The phase of depression in my life due to various problems have always been well handled only by "Swami" My mom always visually imagines as He is walking slowly out of the verandah path of Brindavan raising His hand that proclaims that "I am there to take care you" always comes before her eyes. That feeling is really mesmerizing. A feeling that could be experienced only by a clean and loving pure heart.

I feel really fortunate and blessed as Swami has always been in my life to help me cross the way of difficulties . He is Omniscient and takes care of His children like a pearl in a shell with his love and affection.

I pray that Sairam be with me and everyone in the world to lead, guide and always put us in the path of righteousness.


Priya S Tandon

Sai Madhuri

Holding on to Him.. Mother, Friend and Guide
Thoughts of whom infuse my heart with joy and pride
Forever does He in my heart reside
As He Holds on to me..
And takes me in His stride

Holding on to Him..
For He is the one I look up to
Standing by me, tall and true
In moments of joy; sorrow and sadness too
As He holds on to me..
Without slackening the grip, lest I do

Holding on to Him..
When all seems to be just perfect and right,
When the world turns against me and things don't seem too bright
When I writhe in misery or go dizzy with height
As He holds on to me..
Never letting me go out of sight

Holding on to Him..
Through the sojourn of a ceaseless dream
No matter how rigid does the journey seem
Marvelling at His flawless scheme
As He holds on to me.. Instilling life through every beam

Holding on to Him..
His principles, His ideals, His message…
And endeavour to abide by them as a sage
At every crossover and every stage
As He holds on to me..
Writing a new chapter in every page

Holding on to Him..
Without ever loosening the grip
His infinite love each moment do I sip
Love and Devotion, I strive to equip
As He holds on to me..
Guarding this eternal Relationship!!


Prof. Subrata Chakraborty

Savithri Srinivasan

I am a balvikas guru. I have had the good fortune of receiving Swamis blessings and guidance throughout my life. I'm going to narrate one instance, that of how Sai with the love of thousand mothers, watches out and provides for our safety and comfort, paying attention to minute details. During the 1981 world conference, I was very keen to do serve to all the devotees assembling in Parthi and was praying for the opportunity. I was also praying that i should find an accommodation, yo enable me stay and serve. One of my friends, another Balvikas guru had assured me she will travel with me. So we were making preparations. Just two days before the travel date her son was down with Chicken pox and she opted out. I was very keen, but worried about travelling alone, without pre booking any accommodation and prayed to Swami for guidance, just then amrith appeared in one of Swamis pictures, which had the saying "Hold on to him". I took it as a sign of assurance from Swami for my intended trip and service and resolved to go come what may. I left by a bus that started from Sundaram, Chennai and reached Puttaparthi at 12 midnight. Everyone else had an accommodation in either a room or in the dormitory sheds and left. I didn't have a pre booked place to go. A telugu lady came there just then and offered that i should go to her house and sleep in the verandah and get refreshed in the morning and have coffee at her place and then report for service. I went ahead and next day reported to Leelamma for service. when i reported to her, she said  Swami had already mentioned a lady from Chennai will report and I should assign her for dinner duty at foreigners canteen. And when i for Darshan that day, Swami came near and told me "So you have come!!" So my mother Sai had organised for my stay, my seva and blessed me with a blissful experience.


Sriram Swaminathan

Dipu Sreekumaran

Subhashini Koundinya

Holding onto Him

Holding onto Him, I toddle to peace, sweetly
Losing sight of Him, I toss on life's waves restlessly

Holding onto Him, I see a purpose, a path clearly
Losing sight of Him, I stumble around dazedly

Holding on to Him, I learn to give, unreservedly
Losing sight of Him, I crave to receive, undeservedly

Holding onto Him, I find courage ubiquitously
Losing sight of Him, I despair permanently

Yes I seek Him too rather selfishly
Trusting His infinite grace showered mercifully

Holding onto Him is the only way I know
Of unburdening myself, of letting go

And so I cling to His lotus feet
My only refuge, sole retreat
My only refuge, sole retreat


Hema Kalsi

Sai

When I cry my heart out over
stuff foolish & trivial
You listen & soothe
You console & counsel

My dearest Sai-Ma
You listen & soothe
You hold my hand
You calm me
You show me Your infinite love
You bless
you shower Your grace

For all those times & more
For all the secrets I have shared with You
For all the things I whisper to You
For everything my sweet ceaseless friend
I love You ever so humbly


Carey Lubow

"When I Hold onto Him"

When I hold onto Him life has new meaning. I lose myself and find eternity in which no self exists except as One.

When I hold onto Him in the vast sea of eternity, immense and infinite I immediately dissolve and once again become One.

When I hold onto Him dissolved with no sense of self, no differences exist for all appear as undifferentiated from the One.

When I hold onto Him take form and birth again only to merge with him and dissolve once again into the vastness of Sai!

When I hold onto Him there is nothing else that can provide a Love so immense, a Wisdom so profound and a Truth beyond human comprehension.

When I hold onto Him I am found!


Vidya

Like many who have come into Swami's fold, I have been fortunate and blessed to experience Swami's loving guidance, protection and presence constantly in my life as well as in the lives of loved ones. I humbly offer a recollection of one of His many leelas at His lotus feet. I was studying in Swami's college at Anantapur and while many of my classmates and roommates, would come back from darshan grateful that they have had padanamaskar, I never got a chance. So I was praying hard and wonderful Lord did come close enough but somehow I couldn't reach His feet. The mischievous Lord let His robe cover His holy feet and wouldn't give me a chance. I felt disappointed and naïve as I was, I mentally told Swami, "Two can play that game, next time You come close and offer me padanamaskar, I am going to turn the other way round and not look at You". No-one else knew that I ranted and rambled inside my mind. So we returned to Anantapur and got on with our routine.

Within a few days, a friend of mine, by name Hema, came up to me and said "Hey Vidya, I had Swami's dream and you were in that too. Swami was giving padanamaskar and when your turn came you turned the other way and wouldn't take the namaskar. Swami then came up to you smiling and threw chocolates on your lap and consoled you". I was touched and in tears. Swami sowed the seeds for some of His most important lessons to me, firstly that He is Sarvantaryami, the inner ruler of Hearts, not only does He know of every fleeting thought and hears every fleeting prayer and rant I offer Him, He also is the indweller of heart and mind of every being, the entire cosmos. Two, He can speak through any of His forms or choose to remain silent, but is always full of love. Delays in answering a prayer doesn't mean denial, and denial of a want or prayer, only means Swami with the love of thousand mothers knows best and will shower His grace in His own way. Through this lovely leela, He instilled faith and patience, and also taught me that He is not limited to His physical form and is always with me.

My humble pranams at the Lotus feet of mana Sarvantaryami Sai, the Divine Master, loving mother, father, true friend, constant companion and refuge.


Aruna M

Shreya N

Oh Sai! You are the source of life,
The eternal beauty, 
The supreme truth 
You are the king of Kings
The divine emperor in Shirdi You were,
But lived like a beggar there
You left the body with a promise 
To return with a new face
And bless us with all your grace
The same young lad of sixteen 
Who once meditated under the neem tree with divine face,
Danced as Rushyendramani with divine grace
Blessed is the land of Shirdi,
Blessed is the land of Parthi
You were son to the land 
So, were devotees blessed to see Your foot prints on the sand
  On the banks of Chitravati 
You showed us Your miracles, when we hear it, it removes all our obstacles.
WALKING WITH YOU throughout 
The life, the security we feel
Who are You Ram or Rahim?
But for Your kids You are the ultimate supreme.
You became the father and scolded us,
You became the mother and embraced us with love
You became the Sadguru and gave us the vision to lead is to the
Ultimate truth
Your cutest hair is that attracts everyone
And You repeatedly said that "all good is one".
You said "My Life is My message"
But it can't be written in a passage.
Oh Sai, You dwell in our hearts
You are my life, my love and 
My everything.
You are Rajadhiraja, Yogiraja, Parabrahma, Satchidananda, Satyanarayana Swami.
Om Sai… Om Sai… Om Sai…
Sai Om… Sai Om… Sai Om…


Mandira Chakraborty

My humble pranams at the lotus feet of Bhagwan Baba.

It was 22nd April, 1993. My husband was away for some office work for a few days. I was alone at home with our son and daughter. Those days we used to live in a place far from the city centre.

On that day, when our daughter came back from the school, she was very cranky. She was extremely restless and was not willing to eat anything. If I told her anything she would start crying. In those days she used to get fever quite often. Therefore, I was apprehensive, hence took her to bed and tried to put her to sleep.

By the evening she had slight fever. In my husband's office a doctor used to come, but only for an hour during the day. Therefore, the doctor was not available for face-to-face consultation. I reached out to him on phone and sought his guidance. He advised me to give her paracetamol in case her body temperature goes beyond 100 degrees. I did as advised and the fever came down, but only temporarily, after which the temperature shot up to 104 degrees .She went on crying and it was being difficult for me to handle her. By then it was past mid night.

I did not know what to do. I went on giving her cold sponging. It was almost 2 am, but there was no change in her body temperature. I was all in tears. It was absolutely quite all around, as everybody was fast asleep. It seemed as if the night was too long. I was eagerly waiting for the day break when I would get some help. Suddenly I felt that the entire room got filled up with some divine fragrance of sandal. I looked around, but could not find anything special. I thought, 'who is doing Puja at this hour?' But I forgot all this within minutes as my mind was occupied with the tension of my daughter's illness. Strangely, her temperature started coming down and after some time she fell asleep and she slept peacefully thereafter. Subsequently I also slept.

Next morning I woke up as usual and found our daughter was quite normal and cheerful. She started playing happily. I was in the kitchen when she suddenly came to me saying 'Mumma, the photo of Sai Baba is full of dust. Can I clean it?' I immediately remembered the previous night's experience. I ran there and found the photo was full of Vibhuti and the divine fragrance still lingering. I could not control my tears. 'Baba was here and I didn't even realise it.' I could figure out that it is He who had come to bless and cure our daughter. Because of His gracious presence our house was full of the fragrance of Chandan the previous night.

May Baba bless us for all the time to come. Jai Sai Ram!

M Rajesh

S Ramakrishnan

Puvaneswari Narayanasamy

Punam Gopal

Offering to my Lord
Swami ...
You are the BEAT of my heart,
The TREAT for my eyes,
The MELODY for my ears,
And the SWEETNESS of my taste,
You are the Lord, the God, the Guru, the Sakha,
The ONE who loves all HIS bhaktas.
Happy B'day to YOU
With my humblest pranam and buckets of love ...

Gauri Anand

Sairam: I like to share how I hold on to my beloved Swami every moment.

First of all I would like to offer my heartfelt gratitude to Swami for bringing me and my son in His divine fold in 2006.  I was introduced to Swami by a friend when I was going thru a difficult time in my married life. First time I went to Sai Centre, I just kept looking at his picture and developed the yearning to learn about him instantly. I did not have a feeling that he is God neither did I have feeling why people are worshipping a human being. No feeling other than to know about him. I had no clue of Swami at that time.  My family is not into Swami.  I watched videos on Swami, read his literature and immediately got so much hooked to his teachings and His captivating form. I was unable to come to India for almost 10 long years due to personnel reasons. Finally, I was able to visit India in 2012, by that time Swami had already left his physical body. I did not get the opportunity to see his physical form, no interviews.  Swami has never come in my dreams but I feel strong connection with Swami - heart to heart. Each and every moment of my life is dedicated to Swami. In fact I always call my son as Swamis child. We text each other so many times during the day and every time I address him Sairam divine son of the Supreme Divine Mother Sai and he in return always say Sairam divine Mom.

Last year in the month of April, I was driving to work in the morning around 7:15am or so, I saw a beautiful  huge Sun, it was Maroon-orange mixed colour sun. I have never seen such kind of a sun in my life, beautiful colour and huge size. It was so beautiful that I wanted to grab it.  I was chanting Rudram while driving. Suddenly I looked up in the sky again and this time I saw same huge round sun and right next to it I saw another sun, same colours, huge size,  beautiful but in "S" shape.  That was none other than my beloved Swami who gave me beautiful darshan in the sky. To me Swami is the divine light, divine energy.  I adore his physical form but I try to hold on to the 'S' shaped light I saw in the sky.  Gayatri Mantra which is a prayer to the divine effulgence has become an important part of my prayers.

Radio Sai keeps me connected with my Swami.  I listen to Shravanam Mananam Niddhidhyasanam, Vahini Satsangh and Answering Booth. Thank you to Sai Prakash, Hari Shankar, Prem Anosh, Bishu Prusty, Karuna Munshi. May Swami continues to shower His blessings on all of you and your families.

My salutations to Swami and I offer my whole being at Swamis Lotus feet.
Jai Sairam.

Arpan Bhattacharya

Sai Leela of Holy water

My name is Arpan Bhattacharya and I live in Kolkata. My entire family is a SAI devotee and we earnestly pray to Him coz He is the saviour of all. We have been to Shirdi in the year 2014 Oct. during Navratri and our entire trip was full of miracles. My mother is a pious lady and always engage in pooja and ritual s. She loves SAI from the core of her heart and has an immovable belief on our Lord SAI. When we were in Shirdi I and my mother tried to get the Holy water from the Samadhi; and by Baba's blessings we got a bottle of Holy water of the scared samadhi which was distributed by the priest to all the devotees who were eagerly waiting in the queue. My visit to Shirdi was a trip which I shall ever cherish in my life.

After couple of years, to be precise in the year 2017 June, my maternal Uncle suddenly feel sick and his health was deteriorating day by day. They were also SAI devotee and my Aunt was shattered and was crying incessantly. Their entire family tried many remedies but there was no sign of relief to his pain. The doctors after numerous medical tests admitted him to Calcutta Tropical Medical College. The entire family was going through tough time regarding the same. My uncle & aunt where praying to SAI with tears in their eyes for relief, and, their the Lord SAI, the most merciful mother and saviour of all was arranging things for him. My mother got the news from my aunt about my uncle's health. The doctors in the mean while did few more blood tests and the reports came negative. It says he was suffering from an advance stage of blood cancer. The doctors used the word advanced because clinically his ailment has increased a lot more and was not being able to get up from his bed. My mother went to the hospital to see him but, she din't go alone. She was carrying some Vibhuthi of SAI Baba and also the Holy water brought from Shirdi. My mother gave Vibhuthi to my aunt and also some Holy water to her, and asked to make my uncle drink some and pour little on his head. She asked her to continue this on regular basis. Every morning and night before going to sleep she practised the same. The doctors could very well understand that his condition has gone progressively worse and they wanted to go for a chemotherapy, radiotherapy, etc. The surgeon after the examination was very sure that it was an acute case of blood cancer. But behold my fellow SAI brothers and sisters, when the report came, there was no sign of cancer at all. The doctors where perplexed and were still thinking to go for a chemotherapy because they knew it was a sure sign of cancer but, how could they give chemo to the patient when the Lord, the Bhagawan SAI has cancelled his cancer. My aunt bursted into tears seeing this divine miracle of SAI and by the blessings of SAI, we all got a chance to experience His inexplicable miracle once again. The doctors did not go for any chemo. thereafter and continued with oral examination and medicines. Within a month he was discharged and went back home peacefully. We all devotees must have experienced many miracles of SAI in o ur life. SAI the true nature of God and a divine image of love always answers the prayers of His devotees. I have experienced many miracles in my life of our Lord SAI the creator of all. He is the doctor of doctors and the king of kings.

Hence I bow to Shri Sai and peace be to all... Om Sai Ram...

Suman Jagdish Vijapurkar

O Swami thou art our sole refuge,
In the times of a deluge.
Thy Lotus feet is our only solace,
No matter what hardships we may face.
Please take us across this vast wilderness of Life,
Help us to cruise through all the strife.
Please be our perpetual guide,
In our every trip and stride.
Enlighten us with the wisdom to see with the eyes of the heart,
And feel thy hands at work from the very start.
Pray my eyes open only to see thy blissful effulgent face and
My feet tread the paths which lead to thy blessed place.
My tongue utter words only of thy glory and grace,
And to do thy sanctified work, should my hands be raised.
My ears should always heed to your divine voice within me,
And my head should bow down to thee with utmost humility.
Please bless my soul to thirst only for thy nectarine love,
And to finally merge into thee when it reaches the heaven above.

Ananya Doshi

An Expression of Thoughts

I Wonder!
When I see the stars, the moon, the planets, and the sun
When I see the deserts, the oceans and the rivers that run
When I see the never ending fields and the huge mountains
I search for the doer, who made it done!

I Question,
Who has drawn all these in such a colourful canvas?
Who has planned the whole thing so beautifully for all of us?
Who constantly, cautiously, carefully looks after the whole universe?
Who is there to guide us in the right path?

I Ponder,
Do we hold on to Him?
Do we follow Him to reach our ultimate destiny?
Do we listen to His words, what He says?
Do we act according to His ways?

I Realise,
Some one is there way above our reach.
Someone is there with a wealth of values to teach.
Someone is there to love all of us,
We see not, but He sees through.

I Answer,
Yes, we are the chosen ones.
Yes, we are in deed fortunate enough,
Yes, we know that He is the Supreme Creator,
The Generator, the Operator and the Destroyer.

And thus I feel the time has come to hold on to Him.

G. Shyam Sundar

HOLDING ON TO HIM

Made to hear
While as a foetus

Made to experience
While in the toddlerhood
Made to attend
The nine years of foremost

Usually the maker gets
Something in return
For what is been made
But here, in this case
The maker always
Gives anything and
Forgives everything

Giving something
That is been asked for

Giving everything
That is been forgotten to ask for

Giving anything
That is been delayed for
Usually, the giver
Is always a taker
Of something useful
For what is been given
Here, the giver takes
All the inessentials
To give the essentials

Taking all that which
Seesaws the remembrance

Taking all that which
Thwarts the practice

Taking all that which
Fetters the realisation

Usually, the taker
Is always a holder
Of what is been taken
In the process of taking
Here, the taker doesn't
Holds anything but
Allows the holding
When becomes eligible

Holding is not
In the hands of the holder

Holding is in
The benevolence of the allower

Holding of the small letter
Grips because of the capital one

Manibhushanrao Sahini

Raji Kalyanakrishnan

He is still with us 
Hence we are
Holding on to Him
We are moving on and on.

Yesterday is dead and bygone
We have no groan or moan
Tomorrow is an uncertain crescent,
We happily live in the present,
As we are Holding on to HIM.

To those whose words,
Like a powerful sword,
Pierces our heart,
Into pieces apart,
We return a loving glance
And a sweet smile;
Holding on to HIM
Makes us do so.

Life is a medley of roses
And thorny forces,
Yet Holding on to HIM
Saves us from falling
And bleeding.

This world, a whirlpool
Wherein we toil and moil,
But we have no fear,
Or doubt whatsoever
Holding on to HIM
Gives us so much care.

Lakshmi Sunitha

Vaishnavi Mohankumar

 I offer my humble salutations at Bhagawan's lotus feet. I would like to share my experience on the topic 'Holding onto Him'.

It happened a few years ago. I returned home late from office that day. I saw my mother suffering from stomach pain and my brother told me that mother has been vomiting everything she ate since afternoon. My father couldn't take my mother to hospital since he had eye surgery that morning. My mother told me there is nothing to worry and that we can visit hospital by tomorrow morning but I felt something is not right and urged her to come to hospital. We (My mother, brother and myself) started from home only to find no autos. I prayed to Swami from my heart and suddenly from nowhere, an auto came with Swami's picture on it. We were relieved and reached hospital. As soon as we entered the hospital, we found the chief doctor was preparing to leave for the day. He saw us and enquired as to why we are here late at night and what was the problem. I explained him the situation and he instructed us to take scan immediately from the nearby lab. He asked us to rush by ambulance but to our dismay, the last ambulance left the hospital few minutes ago. I could only think of Swami at that moment. Surprisingly, another ambulance came and offered help at that time. We took scan and returned back. Doctor examined the scan and diagnosed that it was strangulated hernia. He explained us that my mother is in critical stage and the operation needs to be done as early as possible (by early morning). He told that a delay in bringing my mother to hospital would have been fatal to her life. When doctor informed of operation, I immediately told him that I didn't bring enough money. Without any hesitation, he told us not to worry about money and that it can be paid later. I thanked Swami with tears. We stayed at hospital for further tests. It broke my heart to see my mother in pain and tears. I kept small photo of Swami and prayed that He has to perform the operation. The operation took place successfully at early morning and doctor assured that my mother will be discharged in four weeks. Doctor's name is "Sathya Narayanan". It was indeed Him who did the operation. Finally the day came and to our astonishment, the same auto with Swami's picture came to drop us home. At that moment, I realized my ignorance that it was not me holding onto Swami, rather it was Swami holding onto me and guiding me each and every moment.

Bhooma R

Deep in my heart was anxious to find out
When all are in need
When all are anxious
Whom do they hold onto?
Where do they find Him?

A child ran unmindful of its surroundings
Tripled and fell on a stone
Clutched tightly in her wrist
Was a wooden cross
With a twinkle she said. "This is my armour, I hold on to it".

Slow was his pace, fragile was his look
But lost were not his thoughts
Bend down he moved on with ease
What makes you feel so confident, I enquired
Pat came the reply "Footprints of the Lord on the sand I hold onto".

A tiny bird perched on my shoulder and whispered
It's windy, can I hold onto you
With a smile I obliged
Are you safe I asked in a considerate tone.
The feathered friend with gratitude said "He sent you to me" and flew away.

Swami is Omnipresent, Omnipotent, Omniscient
Hold onto your Geetha, Quran, Bible, He is in them
Hold onto His feet, it's our only saviour
Hold onto His promise, He is the assurer
Hold onto His form, it's bliss supreme.

See Me in all, Swami says always
I am before you, hold on to Me
I am behind you, hold on to Me
I am besides you, hold to Me.
I am in you, hold onto Yourself.

Geeta Rao

To my dearest lord Swamy,

Every breath I take and live each day I thank Swamy as without HIM there's no life or purpose on earth.
Without HIS will nothing is possible.
HE is my first Guru and sarva antharyami God. HE transformed every cell in my being to be who I am (Soham).
HE is Sat chit ananda and divine bliss.

Pure bliss and divinity with unconditional love is our Prema swarupa Swamy.

Our universe that YOU are ,guide us each day.

Samastha loka sukhino bhavantu.

Master Kshiraj Sai Chowdarapu

Story Title: Devotion

Raman, a 10 year old boy, was a very ardent devotee of Lord Krishna. He was a nice boy and kind to others. He used to treat elders with respect and was obedient to parents. But, as he grew old he stopped praying to Lord Krishna and was rude to others. He was sent to hell after his death. After all his punishments he came back to earth in the form of a donkey.

A farmer caught him and used him for transporting heavy items. One day the farmer put very heavy load on the donkey. The donkey could not bear the weight and became unconscious. The former could not save his donkey and the donkey died.

When Raman, in the form of donkey, woke up and opened his eyes, he noticed that he was in the heaven. Raman asked God "How did I come to heaven?". God replied donkey was listening to Bhajans and God also said "In Kaliyuga, the easiest way to holding on to me is listening and singing bhajans".

Moral: Sing the glory of God and hold on to him.

Dr Sandhya Ramachandran

Holding on to HIM ….why is this even a challenge, I wondered…

I sat back & thought and realized…

Well, Holding on to Him should not be difficult because we have nobody else… literally and otherwise…

So, what then….

Holding on to HIM, if it's a challenge, then it can only mean that it implies

"Holding on to HIS MESSAGE"

because Holding on to Your Message and IMPLEMENTING them at every step, every moment, is a gargantuan task…my biggest challenge Swami…

'cos its easy for me to get so swayed, to justify my every thought word and deed…however unpleasant ..and un-Sai it may be…

For,

do I truly believe that You are Omnipotent… then why do I not pray for Your help when I am battling with my inner enemies… (I do pray for IHA but not the PARA)

do I truly believe that You are Omnipresent, then why do I not control my ego in the day-to-day small occurrences?

do I truly believe that You are Omniscient, then, why, oh why, do I criticize / gossip and think wasteful thoughts... why don't I push them when they threaten to crowd my mind.

Let me then, hold on to You Swami in the true spirit…

Let Your messages be my beacon light and Your happiness my only goal!

Let me remember that You are Sarvadheesakshibhootam... the Mute witness willing to but waiting patiently, forever and ever, for me to extend my hand and take that plunge which will put my hand in Yours

the onus is on me and me alone… to prove that I love YOU and miss You Swami

I pray that You should grant me the Iccha Shakti & Kriya Shakti & Gyana shakti to Hold on and…

… having established the HOLD, tighten it till we become ONE WITH THEE…

For, have You not assured that YOU, SWAMI, WILL NOT LET GO THE HOLD...

Samita Loomba

Holding on to you

"Baba, thank you for this day, bless me so I live this day with your presence in my heart so that my thoughts, words and actions all align with your teaching", is a small prayer with which I am practicing to hold on to you and to your teachings.

When I close my eyes there sits your form in my heart blessing me with understanding that you are right here with me and that confirmation propels me more towards my divine father. There aren't words to express my gratitude but dear father your divine love, a soft smile, a gentle walk and a sweet word has become my reminders that you worked tirelessly in your physical form so that I could have a foundation to hold on to on my spiritual journey. Simply this thought helps me to hold on to you.

But as I make these small efforts, Baba, please stay with me and hold on to me so I stay focused on you. Allow your memories to stay fresh in my mind so they continue to guide me to follow your footsteps.

You are my light,
You are my path,
You are my inspiration
and my guiding star
I surrender at your lotus feet
As there is no other desire
Simply an overwhelming gratitude
For your unconditional love
Oh, Baba, hold on to me
Mould me as you wish
For I am nothing but your creation
Waiting silently for liberation

Suseela Margabandhu

Holding on to Him

I am Suseela Margabandhu, 70 years old and have been holding on to Him last 29 years. I have three children and as I came to know about Swami, my two older children were settled. My youngest son was 10 years old and was very playful. I was worried about his studies. One day Swami came in my dream and asked me "What do you want from me"? I said you know it all. I want my son to show interest in studies and study well. He said he will study well. We three got associated with the samithi activities.

Near my house there is a Rama temple. The settlement around the temple were from humble backgrounds. With Swami's grace I was able to take Balavikas for them and also take tuitions for their school work. Initially I was alone later few more joined me and helped me with Balavikas. Those parents of the students also helped me every day. With their help and support I could train them for competitions like drama, song and dance. Also for Balavikas competitions. Today they have grown up with good values and they are taking care of their families very well.

From the time I have known Swami I was able to do more seva not only in the ashram but also with these children. During Margashrisha month we have nagarasankirtanam and many parents and children from the group used to participate in the same. Swami has also given opportunity to do seva in Puttaparthi. In those days sevadal were given padanamaskar also. I was fortunate to get Padanamaskar from Swami.

I have spent my time usefully by holding on to Him. Thank you Swami for everything. Continue to hold me and be a mother to me so that I can continue to do seva under your guidance. Our whole family is in His path. Thank you once again Swami.

Anju Pandey

उन्हें पकड़कर रखो

उन्हें पकड़कर रखो
जब जीवन मे चारों ओर हो ख़ुशहाली,
हर दिन लगता हो जैसे होली और दीवाली,
और जीवन की बगिया मे सदा  चाहते हो हरियाली,
तो "उन्हें पकड़कर रखो"।

जब कभी छा जाएँ निराशा के बादल,
आशा की किरण आँखों से हो रही हो ओझल,
उम्मीदों की रोशनी अगर जलाना चाहते हो हर पल,
तो "उन्हें पकड़कर रखो"।

यदि जीवन का पथ लगता हो दुर्गम,
कँटीली पथरीली झाड़ियों का हो रहा हो उद्गम,
और मार्ग को बनाना चाहते हो सुगम,
तो "उन्हें पकड़कर रखो"।

यदि चाहते हो अपनी चेतना को जगाना,
सेवा कार्य को निस्वार्थ भाव से करना,
षड् रिपुओं पर विजय प्राप्त करना,
तो "उन्हें पकड़कर रखो"।

यदि जीवन मे भरा हो उतार और चढ़ाव,
महसूस हो रहा हो भगवान की कृपा का अभाव,
तो मन मे लाओ पूर्ण समर्पण का भाव,
और "उन्हें पकड़कर  रखो"।

साई राम!!

Usha Gayathrie

Mahati Vanapalli

Calling to him

We call to Him, when things are not right
'Oh Swami! Please fill me with your divine light!'

We call to Him, when things get out of hand
'Oh Swami! When I fall, please help me to stand'

We call to Him, when we shake with fright
'Oh Swami! Give me the power, give me the might!'

We call to Him, when things get better
'Oh Swami! You're responding to my heart to heart letter!'

We call to Him, when all things go well
'Oh Swami! You really caught me when I fell!'

All the successes that happen, all the problems we face
Just a call to Him and it's all His grace…

Malti Loomba

In the silence of my heart I am saying something as I felt it.
Lord, my great Bhagawan Baba, my words have no power to express the thanks, the gratitude for all that You have been doing for me, for all the care, help and guidance You have been giving me, which I always need too.
The only thing I can say that I love You Baba. Make me an instrument in Your plans to accomplish Your wishes in the way You need them accomplished in this world.
Oh my lord Baba, make my yearning for Thee deeper and sincere. You the supreme spirit please protect all from doing evil, fill the universe with Your divine love and peace.
I pray to Thee, Swami, to help me to rise above all the worldly cares and bestow on me Thy abiding blessings.

"Man Re to Baba se preet lagaale
Jhooti duniya hai jodey bandhan
man ko un se hatale

moh maya ke is chakkar se apne ko tu bachale
Swami ke charno mein apna man lagaale

Sathya hai ishwar, sundar hai manav jiwan
perm se is ko sajale

acha karam kar kuch to dharam kar
shanti ko apnala
aapna jiwan safal banale

kitni sundar hai Baba ki vani
mukti ke saadhan ki hai kahani
kuch to yatan kar
perm se ley man ko bhar
yehi to hai Baba ki vani sandhesh sunati
manav se madhav hai banati

kyun nahi tu isey apnata 
apna jiwan safal banata"

Humble Pranam.

Group 2 SSE Children

O Lord with the healing hand,
The one with the orange robe,
You have an aura of kindness,
That radiates to all around,
You make the world a better place,
You are the reason we are here,
You are our guide.

You have many forms,
You are in all places,
At all times,
You help all who are in need,
Regardless of their differences,
You are an endless source of love,
You are the protector of the universe.

You make the sun come up,
You make the stars shine,
You ensure the crop grows,
You make the seasons come and go,
You give us rain and shine,
You do all this for us to thrive,
You run the universe.

I hold on to you for guidance,
To help me cross this vast ocean of life,
By being truthful,
Acting non-violently,
Following the path of right conduct,
Thinking lovingly,
And having a peaceful mind

Group 2 SSE Children

Swami is everywhere,
He is in your daily life,
Your dreams at night,
And everywhere you go.

He is in your every conversation,
Guiding your thoughts,
Your actions,
And helping when you are in need of words.

He is with you during every illness,
Giving support,
Cheering you up,
And helping for a speedy recovery.

He is in your every vacation,
Making sure things go right,
Keeping you safe from harm,
And anything that happens at a moment's notice.

It's the little things,
The award you earn,
The quick recovery,
The safe trip,
That show Swami is in everything,
Watching over you every day.

So hold on to that little part
Within you that speaks,
Guides,
And whispers encouragement into your mind.
Hold on to Swami,
For he is everywhere,
And inside of everyone.

Sharavan, Group 3 SSE Children

Dear Swami,
Thank you for taking me into your fold. Swami, sometimes I may forget to hold on to you when I distract with the worldly attractions around me. I'm sincerely praying to you to please hold me like a mother who hold her child tightly so he don't run away here and there and lost. Please hold my hand tightly so I'm not lost in this world. We love you Swami.

K Narayanan

MY EXPERIENCES WITH SWAMY

After serving for about 35 years as accounts officer, at Chennai Port Trust. I retired from service during Aug 1991.

I attended a meeting of Sri Sathya Sai Seva Samithi Chromepet conducted by convenor for the development of the samithi activities. From the very next day I joined samithi activities and was posted as spiritual coordinator of the samithi and served for since then.

During the year 2005 Sri Sathya Sai Seva Organisation Kanchipuram district conducted Bhima Ratha Santhi celebrations for 36 couples. With Swamy's grace and blessings, I was one among them.

As part of the above programme, my wife was presented a pair of silver golusu and nalangu was conducted a 4 days before the actual function. The pair of golusu did not suit my wife's legs, short by 2 inches each, I tried my level best to change the material. But in vain on a particular day, I was worried and prayed to Swamy to relive me of my worries. I saw suddenly both the golusus expanded by 2 inches each and they fitted my wife's legs!!. The miracle was then made known to the celebration committee which was on 23rd & 24th July 2005.

During the celebrations they asked me to explain to the devotees assembled about the miracle of Swamy. My devotion towards Swamy increased since then.

At frequent intervals, Swamy appears in my dreams & offers His blessings, saying that He is with me at all times.

I have completed 82 years this November and continue my devotion & worship of Swamy.

Rekha Ramesh

My first dream was – This was in 2011 – an early morning dream - I am carrying Swami in a blue basket (a Koodai – கூடை in Tamil) and climbing up in a hill. There were children following me but in between they all say their legs are paining and got back down. I was alone. I am continuing to walk with Swami in the Koodai and reach the top of the Hill. Suddenly a heavy rain comes up and I ran and kept the Koodai under a tree that Swami should be safe. I come aside and stand in the rain.

Swami looks at me and says in Tamil – I DON'T THINK YOU WOULD LEAVE ME. I WILL ALSO NOT LEAVE YOU (நீ என்னை விடமாட்டாய்போல இருக்கு. நானும் உன்னை விடமாட்டேன்)

From then on, I AM HOLDING ON TO HIM AND HE IS HOLDING ON ME TIGHTLY. THANK YOU SWAMI.

Seelyshia Naidoo

I crouch in pain as the darkness surrounds me...
Searching through the breaking pieces for that spark of light I yearn to see...
My fears and doubts become my life,
As my thoughts sear through me like a butcher knife..
Helpless and confused I bow my head as the molten tears fall to the floor..
I scream out my frustrations because I can take this pain no more!!
Help me Swami!!! I need You!!!
Silence! Silence!! Is all I hear..
Alone with the voices in my head,
I close my eyes and try to go to bed...
A sudden calm surrounds me
But still the light I can not see...
You gently hold my hand,
And I slowly feel the broken pieces start to mend..
"Place your head on my feet my child and it will soak your tears..
I am forever with you, holding you, protecting you, as you face your fears.."
As I closed my eyes again,
I saw the light gleam from within...
The darkness had disappeared, the fear was gone..
It was my strength and faith that was reborn....

Yogendra Prasad Y K

Gayatri Trasi

Kadayam Krishnan

HOLD ON

To me, the apt Bhajan "Hold On" led by the good Devotee Al Honig of NY comes to mind.
With his Baritone voice, he rendered this bhajan beautifully, every time.

In this the next verse, says "Say His Name, See His Form". This is the sadhana that one has to do and let it become, a part of your breath.

At this time of the year, when Swami's Birthday is on hand, this need to "Hold on" to Him via this sadhana is essential for all of us. All of us are fortunate to be born and be exposed to the "Kaliyuga Avathar" in one way or other.

Now let each of us proceed in of own way and be in constant touch with Swami in our heart, the nearest and easiest place to reach. Let this be more ingrained to the extent of it becoming as natural, as breathing. We must watch our inert "Laziness" or "Sussiti" and do not allow it to weaken this habit.

Swami will bless us all with the courage for such sincere wish to be at His feet, always.

Sanjula S

The charming eyes of yours,
all the pain it cures.
The beautiful smile smile you have,
with which you come and save.
The lovely talk you give,
trying to implement 'forget and forgive'.
You keep me close to your heart,
my humble request 'do not part'.
You take my hand and guide me,
in this 'life and death' journey.
You are the lake of love,
You are the ocean of nectar,
make me your instrument,
this is the only request Kripaalu Swami.

Amshula Acharya

When I visit to Puttaparthi,
I see Chitravati.
You are here and you are there,
you exist everywhere.
You have changed our lives,
and you are as sweet as the honey of bee hives.
Oh divine mother,
then, why would I wish to have someone other?

Aravindh R

Meghana Mandalappu

"Hold on to Him as close as you can Knowing Him as an intimate friend"

'Each human being,
A child.
And You,
Our divine mother.'

Your love is unconditional,
O Sai Maa.
Your children flock around You,
As You shower Your blessings.

You spread Your warmth,
The whole world deserves.
You paint the colours
Of prema, shanthi and ahimsa

So I will,
I will hold on to You.
Cause You mean the world to me,
And You will guide me through the world.

Priya Sujith

My beloved Swami…
When I sighted Your pretty picture,
I felt delightful;
When I heard Your bhajans,
I sat spell bound;
The sounds cheered me to see You
And when I sighted You,
Something from inside echoed,
"Yes, He is here, hold on to Him.'
'Shall I', I asked,
You signaled in Your own sweet way,
'Yes, You hold on to Me and never leave Me.'
On the land, in the water, in the air,
I held my hands around You,
That gave me solace;
That gave me confidence;
That made me forget all my fear.
When I doubted You left my hold
And I was all alone,
You showed Your Most Benevolent Form
which assured, "Don't worry, I will take care of You."
Life tossed me to and fro,
I felt so disheartened,
and again I thought, You have escaped my hold,
a voice said, 'He loves your hold, have eyes to see Him.'
'These are His blessings. Hold Him with more love.'
I trusted the voice,
Then, I heard Your consoling words,
I got solutions for every problem.
I love Your habits:
Of chiding me when I go off track,
Of giving surprise messages,
through dreams and vahinis,
Which sometimes gives shudders,
but brings transformation in me;
You interestingly taught me:
Foster love, that is the best sadhana.
I learnt, test is Your taste,
Though Your tests are too tough
It assures a tasty treat!
So, I pray thee,
Continue with Your habits,
And be Yourself with me,
As I am taken through the tunnels of tests.
But, allow me to hold on to You always,
as I love You so much!

I offer to You on this birthday
Boundless bouquets of Love!

Jayashree Rengarajan & Banupriya

Aridhu aridhu maanidarai piraththal aridhu
Adhilum Sayee bhakthanaai piraththal  aridhu
Adhaninum Sayee Piththanaai piraththal
aridhinum aridhu

Aayiram kodi Annaikku oppaana
Aanandha Sayee yin karunai,
Maa,....thavam. indri
Maadhavan thaal
pattrum bhaakiyam naan petradhu Yenne?

Kavalaigal karaindhida Sayee Un
Gaanam pattrinen
Sathya dharma paadhai arindhida
Sayee Un Geethai pattrinen

Sidhdha shudhdhi pettrida
Gayathiri manthiram pattrinen
Sarva Rogam agala Sayee Un
Vibhuthi pattrinen
Anbhum amaidhiyum pera
Sayee Un sevai pattrinen
Ulaga pattru vittida Un
Deiveega urai pattrinen
Oppilla Deivam unai
Varamai pettrida
Undhanaiye pattrinene!!!

Roopa Krish

Om Sadhguru Sai Sadhguru Sainatha   ||
Jai Jai Sadhguru Sai Sadhguru Sainatha||

Prashanthi Vasa Kailasa Vasa Sainatha  |
Atma Swaroopa Prema Swaroopa Sainatha  |

Mangalamoorthi Gnana Datri Sainatha  |
Antaryami Sarvantharyami Sainatha |

Netra Darshana Atma Darshana Sainatha |
Shanti Swaroopa Shakti Swaroopa Sainatha | 

Jai Jai Vittal Sai Vittala Sainatha ||4||


Thank you and loving Sai Ram,
Team Radio Sai